Who Is Cameron Diaz's Husband, Benji Madden? Inside the Pair's Relationship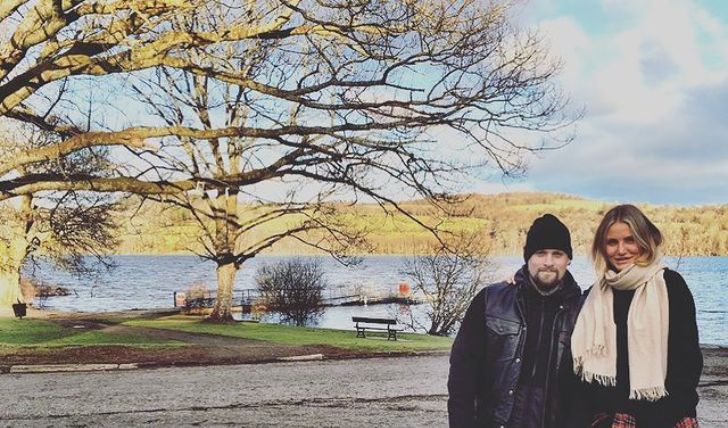 Cameron Diaz and Benji Madden's marriage: The complete story here!
Known for her roles in The Mask, My Best Friend's Wedding, Gangs of New York, Charlie's Angels and a myriad more, Cameron Diaz is an ever-celebrated actress, not to mention culturally iconic. Besides her successful course in acting, Diaz, over the years, has garnered significant traction for her high-profile dating life. Cameron's tabloid-magnetic romantic ventures came to an end when she met Good Charlotte rocker Benji Madden in 2014.
Cameron Michelle Diaz was born 49 years ago in San Diego, California. As a high-school-going girl, Cameron signed to kickstart her modeling career with Elite Model Management and was even featured in brands like Calvin Klein and Levis' advertisements. At 21, Diaz landed her breakthrough role as Tina Carlyle in the Jim Carrey starrer superhero comedy film The Mask.
Inside Cameron Diaz and Benji Madden's marriage!
Diaz had cemented quite the dating profile throughout her career, but Cameron's venture into marriage only came when she met her now-husband, musician Benji Madden, 43. Although six years younger than his star wife, Diaz says Benji's visible husband qualities preceded the slight age gap between them. Madden is best known as the lead guitarist of the rock band Good Charlotte.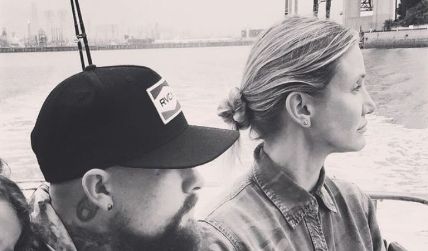 Before marrying Diaz, Madden was engaged to actress Sophie Monk. Photo Source: Instagram
The band comprises Benji's twin brother, Joel Madden, Paul Thomas, Billy Martin, and Dean Butterworth. Benji and his brother's joint venture includes The Madden Brothers band and a collective stint as coaches on The Voice of Australia. As a songwriter, Benji has contributed to many celebrities' albums, including Hilary Duff, 5 Seconds of Summer, and more. Before marrying Diaz, Madden was engaged to Australian actress Sophie Monk.
Don't Miss: Who is Ricky Martin's Husband, Jwan Yosef? The Complete Story Here.
The Charlie's Angels alum came across Benji through his brother Joel and his wife, also Cameron's close friend, Nicole Richie. Diaz admits to being instantly attracted to Benji, who she reveals is nothing like his twin brother. "But then when I saw him, like who he was, that's what made me really be like, 'Oh you, you're special, you're the guy, you're the hidden gem in my life," Diaz says while dishing on what made Benji so different from her previous boyfriends.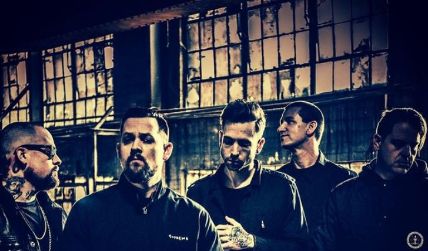 Madden is best known as the lead guitarist of Good Charlotte.
Photo Source: Instagram
The Oscar-nominated actress asserts there's nothing wrong with delving into marriage in your 40s or even later. 'I just hadn't met my husband, you know? I had boyfriends before. And there's a distinct difference between husbands and boyfriends," Diaz explains. The actress calls Benji and herself "two peas in a pod." Although many aspects of their put them in a contradictory position, Diaz says their similar sets of values bond them.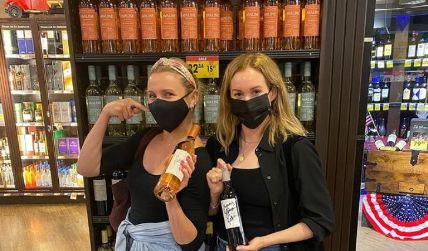 Diaz and Madden had an intimate wedding at her Beverly Hills home in January 2015.
Photo Source: Instagram
After only seven months of dating, the pair got engaged in December 2014. Cameron and Madden tied the knots in an intimate ceremony at Diaz's Beverly Hills home in January 2015, with stars like Gwyneth Paltrow, Robin Antin, and Samantha Ronson in attendance. After years of trying and bleak results, Diaz and Benji welcomed their firstborn, Raddix Chloe Wildflower Madden, on January 16, 2020, via surrogacy.
Inside Cameron Diaz's dating history!
During her early days as a model, Cameron dated video producer Carlos De Le Torre. Diaz's four-year-long romance with Carlos ended after the actress hit big in Hollywood. Cameron next dated her There's Something About Mary co-star Matt Dillon. Although the pair's romance fizzled out sooner than fans wanted, Dillon, after their split, described Diaz as his muse. "It's very powerful when you feel that way about somebody," Dillon says. He adds, "Cameron was a muse for me."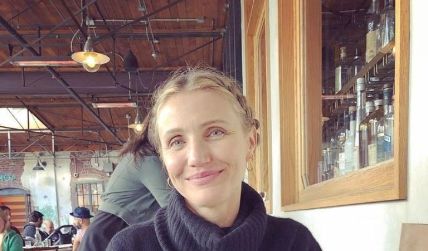 Diaz dated her 'There's Something About Mary' co-star Matt Dillon. Photo Source: Instagram
Diaz and Jared Leto were one of the very unlikely couple in 1999. The seemingly misfitted pair dated for over three years, from 1999 to 2003. Every actress has that one relationship in her life that the media intrinsically associates with, and for Cameron, it is her nearly four years-long romantic course with Justin Timberlake. After connecting at the Nickelodeon Kids' Choice Awards in 2003, Diaz and Timberlake dated till 2007.
Recommended: Is Tony Robbins Still Married to Sage Robbins? Learn their Relationship History here.
The Mask actress's dating profile isn't limited to singers and co-stars; Cameron briefly dated the magician Criss Angel soon after her breakup from Justin. Even though Cameron has found "the one" in her life, she has been someone's "one that got away," and that someone is rapper Sean Diddy Combs, who she dated from 2008 to 2012. Diddy revealed his regret for losing Diaz to someone else. "If I could turn back time," the rapper said.
Diaz and Benji are doting parents to one daughter.
Source: Access
The My Best Friend's Wedding actress was romantically involved with pro-surfer Kelly Slater in 2007 and model Paul Sculfor in 2008, but both romances were short-lived. Diaz's another highly scrutinized relationship surfaced in 2010 when the actress started seeing former New York Yankees player and Jennifer Lopez's ex, Alex Rodriguez. "She is probably one of the greatest human beings I've ever met and just an amazing light," Alex said about Diaz after their split.
Stay connected to glamour fame for more.
-->