Camille Kostek Dating Her Boyfriend Rob Gronkowski - Facts About Their Relationship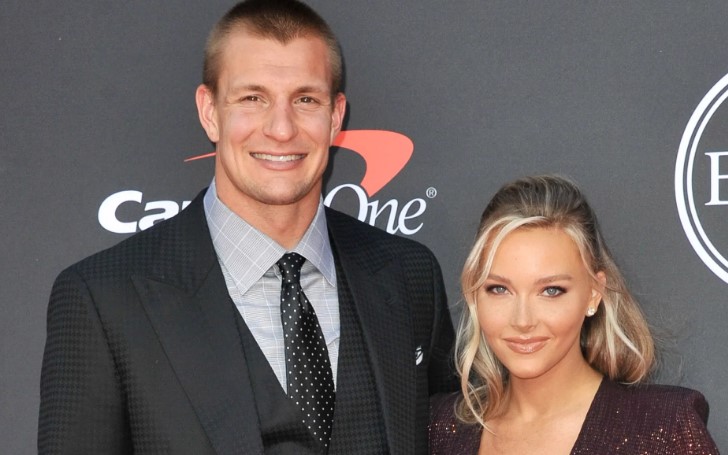 Camille Kostek, a resident of Killingworth, Connecticut, was born on February 19, 1992. Camille is known for her excellent career as a professional cheerleader, model, and actress. 1.73m tall model is undoubtedly good at her job, as she appeared in the 'Sports Illustrated Swimsuit' issue, but she is on the spotlight for dating Rob Gronkowski.
Camille and Gronkowski are a couple for a long time, and they share a beautiful love story, which is sure to inspire many couples and people around the globe. We gathered some facts about the couple, which we thought you should know. So, let's just find out what they have in store for us.
Camille Kostek and Rob Gronkowski Met in 2015
Camille Kostek and Rob Gronkowski started dating since 2015.
Source: CheatSheet
Camille Kostek, who is a successful model and actress, started as a professional cheerleader. The 27-year-old model was selected for the New England Patriots cheerleader roster during her junior year. While on the other hand, Rob Gronkowski, nicknamed 'Gronk,' was playing for the NFL team.
Also See: Eric Ciaramella, The Alleged Whistleblower - Some Facts About the CIA Officer
In fact, this is how the couple actually got to meet each other in the first place and has been to cross-country tour in China. The two formed a strong bonding, which led to a understanding relationship between the pairs.
While both Rob and Camille are very secretive about their relationship, Kostel revealed she and Rob got in touch only after she retired from the cheerleader team, which was in the fall of 2015.
Kostek stated, "I am such a private person. It was hard at first when people would send articles with my name on it. It's an overwhelming feeling to read something that you have no control over. But like most things, you get strong when you have to deal with situations like that. It's gotten a little easier. And usually, the people that are close to you know the truth. So it's one of those things where you just have to let people think what they wanted to think."
Though Kostek admitted she is a private person, she realized one thing, though. The 27-year-old model clarified her relationship with Rob and said, "We first got in touch once I resigned from the team. I always knew who he was before I was even a cheerleader. I knew who he was on the roster. I just never paid any mind. Once I resigned is when we finally met."
Camille Kostek and Rob Gronkowski's Were Rumored to Have Split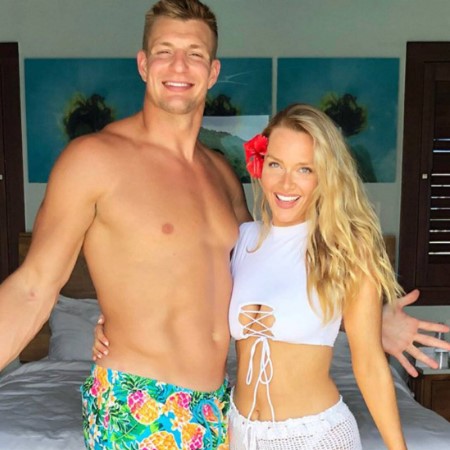 Camille Kostek and Rob Gronkowski were rumored to have split in 2017.
Source: E! Online
When Camille Kostek and Rob Gronkowski's relationship was just peaking up, the couple was rumored to have split following a fight. One of the media outlets, TMZ, stated the couple had separated their ways, and Gronkowski had already moved on.
Also Read: NFL Quarterback C.J. Beathard Facts; His Girlfriend, Family, and Brother
But within three months of the false claim, the 27-year-old crushed all the rumor posting a smoking photo of her in a Rob's jersey. Later, the couple was spotted on multiple occasions together, which debunked all the false claims.
Camille Kostek is thankful for Rob Gronkowski's Support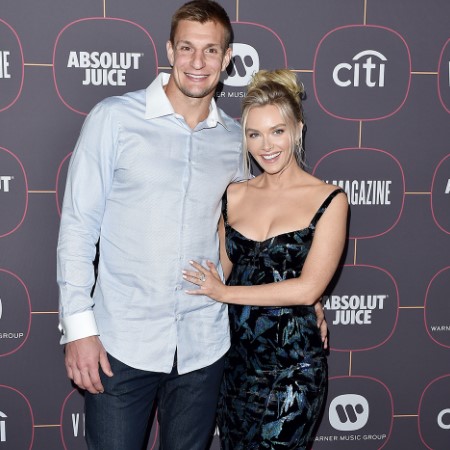 Camille Kostek is thankful for her boyfriend, Rob Gronkowski's, support. The two are spending quality time together after Rob's retirement.
Source: People
Camille Kostek stated she is really grateful for her boyfriend's support, and stressed there would not be a point of a relationship if two don't support one another.
Camille said, "Just a couple of months before I got the cover, Rob retired. And we both didn't know that this was going to come. But it's definitely cool for me to have him here to celebrate and see a little bit of what my life is like and the people that I work with. I introduced him to some of the other models, my friends within the industry, and MJ Day." Camille lastly added, "It just feels good. A relationship always feels good when you have your man supporting you."
You May Also Like: Halston Sage is Rumored To Be Dating Zac Efron, Facts To Know About the Actress
Since Rob's retirement, the couple is spending their free time a lot of quality time and getting to know each other even better. Kostek said she and Rob are having the time of their life while the former NFL player enjoys his free time.
For more information on your favorite celebrities' lifestyle, stay tuned to Glamour Fame, and don't forget to sign up for the newsletter.
-->