NFL Quarterback C.J. Beathard Facts; His Girlfriend, Family, and Brother
Published Sun Feb 02 2020 By Chester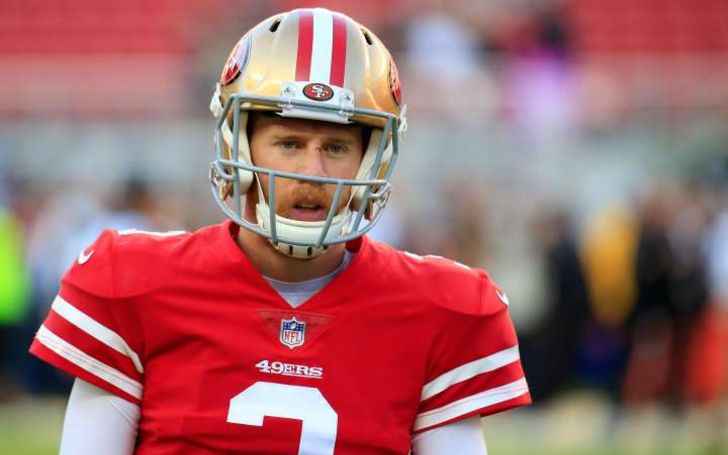 Learn the never-before facts of NFL Quarterback C.J. Beathard!
Casey Jarrett Beathard, aka C.J. Beathard, is an American football player noted for his marvelous play in as the position of 'quarterback' for the San Francisco 49ers.
Besides his fantastic gameplay in NFL, the #3 player has lots of stories to unfold. So, here we present you with some of the intriguing facts about the 26 years old football star to know his better in real.
Came From a Sports Rooted Family
Casey father and mother supporting him during a NFL match.
SOURCE: The Gazette
DuriBeathard was born from parents Casey Beathard and Susan Beathard on November 16, 1993. Father Casey played the position of quarterback but had to quit the career due to short height. He then decides to pursue his career as a musician, which was a wise choice as he's an award-winning songwriter.
However, C.J.'s and his family rooted the football passion from his grandfather, Bobby Beathard, who worked in the NFL for 38 years.
Check Out: NFL Star Aaron Rodgers Is A Bigger Game Of Thrones Fan Than You Had Probably Realized!
Baseball community sensation Bobby started his career as a scout in 1963 and later joined San Diego Chargers from 1989-2000 as a general manager. He was also declared as the smartest man in the NFL.
Beathard family and grandfather Bobby in the middle.
SOURCE: People
Grandpa retired from the NFL in 2000, but still, two of his uncle Jeff and Kurt are still working in the professional league. Kurt is the offensive coordinator and quarterbacks coach for the NFL club Illinois State.
C.J.'s cousin Bobo was a receiver at Appalachian State, but unfortunately, he was waived from the team due to his less impressive performance. Nevertheless, his younger brother is still playing in the position of quarterback for the Iowa Western Community College.
Almost Lost NFL Career Due to Height
C.J. is currently 1.88 m (6.17 feet) tall.
SOURCE:Getty
During his high school days, he was ticked off from playing football for his 5'7'' height and 113-pound weight.
Luckily he grew 3 inches in his sophomore year and subsequently grew to 6'2'' on his junior year. As in now, he is one of the well-recognized players of the San Francisco 49ers who hold a 225 passing completions, 393 passing attempts, and 57.3 completion percentage.
The Bachelor Father
The happy family of three.
SOURCE: Fabwags
Few might be familiar with the fact that Beathard shares a beautiful three years old daughter Lyla Val Beathead with girlfriend Madelyn Chupka.
The longtime lovers who's been dating since 2012 are yet to tie the knot; however, Casey and Madelyn carries beautiful bond and trust with each other. We sure do hope to see them married soon.
Don't Miss: Meet Michel Varisco Gleason; Former NFL star Steve Gleason's wife
We hope you enjoyed the facts, stay tuned for more Entertainment related article on Glamour Fame.
-->