Cancer Fighter Sonali Bendre Returns to Mumbai With her Husband Goldie Behl, Recovering Very Well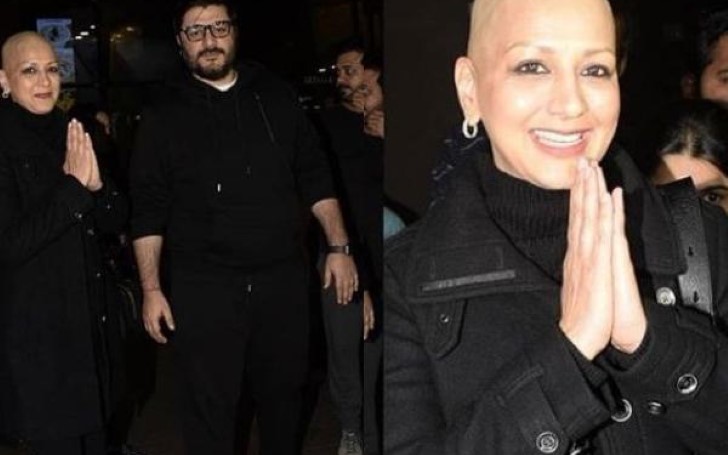 Actress Sonali Bendre Behl, who has been putting up a brave fight against metastatic cancer for months in New York, returned to Mumbai on Monday.
After 6 months of tough battle against cancer, actress Sonali Bendre finally made it to Mumbai on Monday. The cancer fighter was beaming with joy while welcoming paparazzi with a warming smile and gratitude at the airport.
The 43-year-old had undergone treatment for her metastatic cancer in New York. Though her fight against cancer is over, she will have to go for regular checkups and scans.
Her husband Goldie Behl who was accompanying her in the airport ensured that she was absolutely fine and is back for good. However, like any other patient, she will have to go for regular check-ups and scan to ensure that the deadly disease won't strike back.
"It's been six months and I would like to inform everybody that Sonali is doing good and she is back for good. She is recovering very well. Thank you all for the love and support. Her treatment is over, for now, Sonali is absolutely fine. Just like what happens in such diseases - regular checkups, regular scans - that we have to do since this disease can come back. For now there is nothing as such that she will have to go back for. I am very happy that she is back home. Like any other patient, she will have to go for regular checkups. She is a very strong and determined woman and I am very proud of her."
Earlier that day, Sonali made an announcement of her return via a social media post with a very long message and a photograph in which Sonali looked all set for the journey.
Also read: Priyanka Chopra and Nick Jonas Are Married, And Confirmed Their Husband And Wife Status With Photos
Sonali Bendre revealed about her diagnosis with "high-grade cancer" in July this year. The actress shared a lengthy note on her Instagram, in which she wrote that she did not see this coming.
"Sometimes, when you least expect it, life throws you a curveball. I have recently been diagnosed with high-grade cancer that has metastasized, which we frankly did not see coming."
With all the support from her family and friends, Sonali has remained positive throughout her battle against high-grade cancer in the first place.
You may also like: 10 Most Beautiful African Actress in Hollywood
Since then she has actively updated about her health conditions to the fans in social media.
-->