Priyanka Chopra and Nick Jonas Are Married, And Confirmed Their Husband And Wife Status With Photos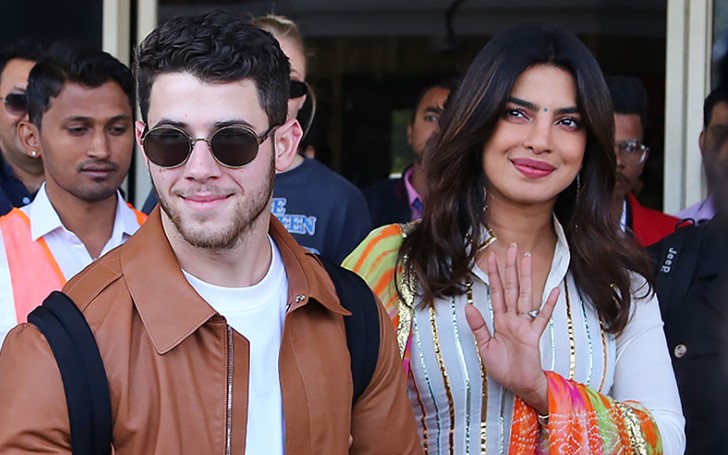 Nick Jonas and Priyanka Chopra are husband and wife!
It's finally confirmed! Nick Jonas and Priyanka Chopra are now man and wife. The newlyweds tied the knot in an intimate Christian style ceremony on Saturday, People reported. Earlier, the couple was getting cozy in Priyanka's home country.
The news of the two being officially married spread like a wildfire on the social media. Now fans seem eager to get their hands on the photos from their special day. While the two made quite a lot of noise for their relationship status, now that they are married the internet is going crazy for them to make it official.
The couple enjoyed their Western wedding ceremony at the Taj Umaid Bhawan Palace in Jodhpur, India on Saturday. As per Hindustan Times, Jonas and Chopra have reportedly been having a multiple day wedding, which started with their puja, a Hindu prayer ritual, on Wednesday.
Meanwhile, it was reported earlier that Pregnant Duchess Meghan Markle and Prince Harry will not attend Priyanka Chopra and Nick Jonas wedding in India.
You might also like: Jason Momoa and Matt Damon Are Hosting Saturday Night Live This Month
Ahead of the full wedding-dress photos from both days, Chopra and Jonas shared intimate photos from their Mehendi ceremony, a pre-wedding event where Chopra had henna applied in elaborate designs for her nuptials. It's part of the traditional Indian wedding Chopra herself said that she would have.
Jonas and Chopra both captioned their respective posts, "One of the most special things that our relationship has given us is a merging of families who love and respect each other's faiths and cultures."
Also read: Kensington Palace Confirmed that Prince Harry and Meghan Markle are Moving Out
They continued:
"And so planning our wedding with an amalgamation of both was so so amazing. An important part for the girl in an Indian wedding is the Mehendi. Once again we made it our own and it was an afternoon that kicked off the celebrations in the way we both dreamed."
Meanwhile, Ralph Lauren confirmed that Chopra and Jonas wore custom outfits from the designer and also outfitted their bridesmaids and groomsmen in the label.
As a matter of fact, Chopra and Jonas's wedding is not done yet. They will have their traditional Hindu ceremony today. The ceremonies being space out over two days may explain their initial delay in confirming their officially married news.
-->