Cara Delevingne - Dating History And Orientation
Cara Delevingne's Love Life And Relationship History! All The Details Here!
Cara Jocelyn Delevingne is a noted English supermodel, actress, and singer. Cara is an affluent figure in Hollywood who has achieved epochal success in the fashion industry.
Cara was born on 12 August 1992 in Hammersmith, London. Born to Pandora Anne Delevingne and Charles Hamar Delevingne, she grew up in Belgravia in London. Cara suffered dyspraxia as a child and was a troubled girl.
Check Out: Nicole Franzel Just Got Married - All About Her Love Life And Husband
At 15, she was depressed, struggling with anxiety and identity crisis. Keep reading to discover the fashion icon's marvelous journey through life.
Cara Delevingne Is Not Gay. Period!
The 29-year-old spunky model has often been a subject of media's scrutiny because of her sexual fluidity. You probably know Cara as a gay model, But she doesn't define herself as one despite what conventional media chooses to showcase her as.
You May Like: Is Ashley Benson Dating Cara Delevingne? Get All The Exclusive Details!
Cara Delevingne admits to going through a sexuality crisis at a young age when she fell in love with a girl at 20 and says it took her unlearning all the societal norms and discarding labels like gay, straight to finally accept her sexuality.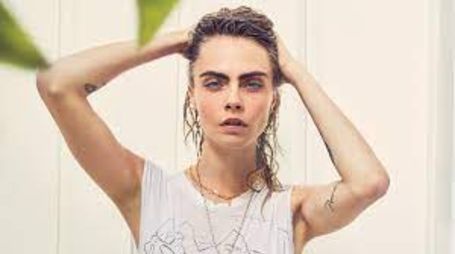 Cara Delevingne referred to herself as a pansexual.
Photo Source: Variety
Delevingne told The New York Times that "Sexuality is not a phase, we're all liquid, we change, we grow.
And because society follows a rigid pattern, where it only recognizes things when they are labeled, Cara Delevingne, for the sake of it, has chosen to describe herself as a pansexual, meaning that she is attracted to all genders. "Whether it is they, he, she, (as in a person's chosen pronoun), I fall in love with the person, and that's that," quotes Cara.
Cara Delevingne's Past Relationships
Given her own stature, Cara has dated a number of renowned men and women in Hollywood. First joining the list in Delevinge's most known relationships is Jake Bugg, a singer she dated for 5 months, and in 2014, she went out with actress Michelle Rodriguez for six months.
Cara Delevingne dated "Pretty little liars" actress Ashley Benson for a year and a half. Photo Source: Cosmopolitan
Cara's first notable relationship was with St. Vincent, a singer and producer, who she dated for a year and a half and called quits in 2016. And in 2018, Cara was spotted making out with Paris Jackson, daughter of Michael Jackson. But there was no news on the duo following that, so maybe it was just a fling.
Recommended: Daniele Donato Net Worth And Income Details - The Breakdown
In May 2018, Cara admitted to the rumor of her dating actress Ashley Benson, and fans even speculated that the couple was married when they were spotted wearing gold bands. But Cara and Ashley called it quit in April 2020.
Cara Delevingne is also linked with few more celebrities like Harry Styles, Jack O'Connell, Jay Electronica, Rita Ora, Gaz Beadle, Miley Cyrus, but Cara's romantic involvement with these celebrities is a mere rumor.
Who Is Cara Delevingne Dating In 2021?
In 2021, the 29-year-old beauty is said to be dating Will Smith's son Jaden Smith. The two were pictured kissing on Valentine's Day this year after Jaden offered Cara a bouquet of roses.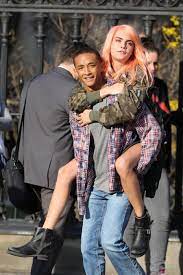 Cara Delevingne is currently dating Will Smith's son Jaden Smith.
Photo Source: The Sun
The two play love interest in Mija Okorn's romantic drama, "Life in a year" Cara and Jaden haven't given any statement on their relationship yet, but the two are definitely seeing each other, romantically or casually is a question now.
For more information and news on your favorite stars, stay connected to Glamourfame
-->