Cardi B Revealed That She's Done With Plastic Surgery After Liposuction Complications
Published Tue Jun 18 2019 By Chester
Cardi B shares 'She's Done' with plastic surgery after facing complications from her recent liposuctions.
We often heard the news of Cardi B facing backlash and complications from her made up beauty. However this time Cardi B herself opened that she's 'done with plastic surgeries.'
After her recent liposuction surgery failed which lead her to cancel her Memorial Day concert. The 'Money' hitmaker now regrets her surgeries and confesses among fans taking to Refinery29,
"Let me tell y'all something. I shouldn't really be performing, I should have canceled today because moving too much is gonna fuck up my lipo. But bitch, I'm still gonna get this money bag."
Cardi B candidly shares about her Liposuction recovery stating "It's A Long, Hard Process"
SOURCE: Refinery29
The 26-year-old took it to Instagram and didn't even glitch to hesitate and shared the news, the star shared
I been working out for the past 2 weeks cause bitch I ain't getting surgery again😂😂😂but let me tell you I haven't got a headache ever since .

— iamcardib (@iamcardib) June 12, 2019
The 'Please Me' star has always been open about her plastic surgeries, including the complication she had to go through during injecting synthetic fillers into the buttocks before she was famous.
Cardi B Breaks Her Silence Regarding 'Leaked' Instagram Video >>>
Well as in now, the rapper is now applying physical workout and exercises rather than cosmetic and plastics.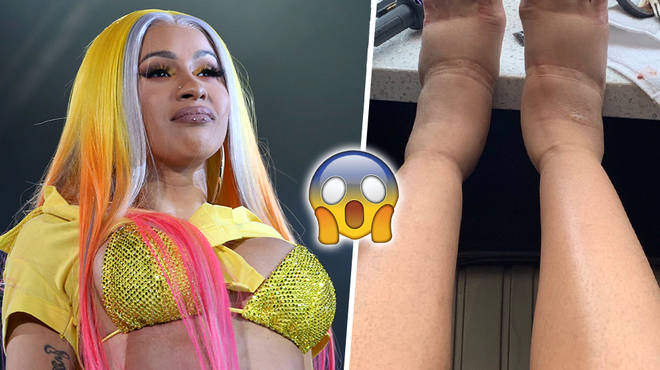 Recently, Cardi has been dealing with side effects, like extremely swollen feet, from two previous plastic surgeries.

SOURCE: Capital
'Bodak Yellow' star shared how short workout of just 2 weeks helped her to eliminate her multiple health complications and surgeries. Cardi adds that she had not been getting headaches and other mental problems ever since she started working out.
Cardi exactly didn't mention what happened after the procedure but liposuction recovery usually involves a painful week afterward, at the very least. It could take months of suffocation and pain for the swelling to completely disappear.
Well, it's not a normal type of thing that most of us can endure however Cardi was brave and strong enough to perform in front of a thousand fans. We wish for the rapper to shortly recover and lit the stage again.
Cardi B Responds To Backlash and Explains Why She Wants To Trademark "Okurrr" >>>
Stay tuned and connected to find updates and news regarding her favorite celebrities.
-->