Cardi B Says She Wants To Take A Page Out Of Lil Kim's Book Of Rhymes For A New Collaboration
Published Wed Aug 14 2019 By Eden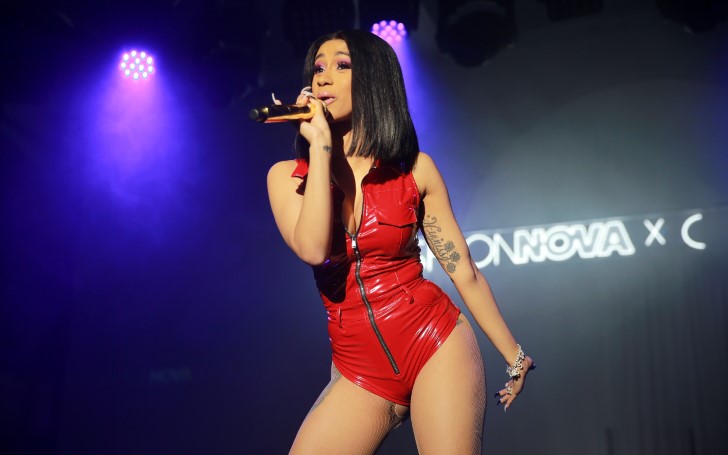 Cardi B is eager to team up with other female rappers for song inspired by Lil Kim.
Cardi B spoke with 92.3 The Beat's Big Boy's Neighborhood over the weekend where she talked about her desire to record with four female rappers in a secret project.
The rapper who previously wigged out during her concert in London at Wireless Festival was asked about potentially performing a remake of 'Ladies Night' (1997) by Kimmy Blanco.
Cardi explained she wants to do the collaboration without revealing the artists, "I want to do this remake, not of 'Ladies Night,' but it's definitely like a 'Lil Kim-inspired song. I definitely [have] a couple of people [in mind]. I would say it but it's a secret."
B who was forced to abruptly cancel her Indiana Concert continued, "It's very specific. I've really been having this idea from a Lil Kim song that I've been wanting to do for a very long time. I want to put four female rappers [on it]...one female rapper that is not signed."
Moreover, the 'Bodak Yellow' hitmaker famous for her racy snaps spoke in lengths about politics and motherhood. She also expressed in details about her wedding ceremony with husband, Offset, as well as her new album.
"It's definitely more pressure to do my second album because my first album did so good and it's like damn how in the hell am I gonna' beat that? But I feel like I have an ear for a hit…maybe I don't, but the numbers say something else."
Meanwhile, the Bronx rapper on Tuesday released a clip of her sit-down chat with Bernie Sanders to her more than 49 million Instagram followers.
-->