Cardi B Wigged Out During Her Concert In London At Wireless Festival
Published Mon Jul 08 2019 By Chester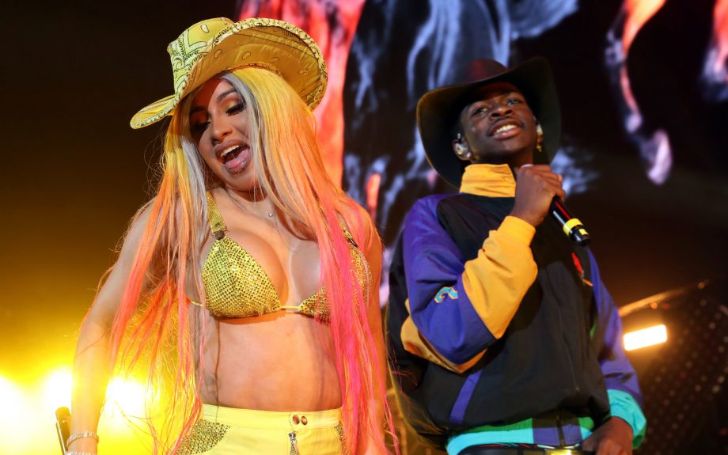 Cardi B steals the show on the opening night of Wireless Festival twerking on Offset and flinging off her wig!
On the first night of the Wireless festival, Cardi B stole the show, not only by her impeccable performance but flinging her wig off during the mid of the show.
Now, for numerous reasons, we enjoy Cardi and her euphonious songs. Firstly, her hot & sexy style of performance embodied by her arousing twerks surely brings hype to any mood we are in, and without forgetting her refreshing honest yet funny attitude, nails the show every time.
But this time it was more crazy, more lit as during her performance on Friday, the 'Money' hitmaker rolls over the stages, rips off her wigs and hurtles it into her loving fans who were going wild with her during the performance.
Cardi B Faces Wardrobe Malfunction Onstage And Completed Her Show In A Hotel Bathrobe >>>
Check out a short clip from her performance on Friday where Cardi goes crazy.
The Grammy Award winner played the London's Finsbury Park festival's on Friday with some of her hit tracks like Press, Finesse, I Like It, Money and Bartier Cardi.
Apart from her wig throw and catch, Cardi welcomed Lil Nas X to join the stage with his super-hit song 'Old Town Road'.
Lil Nas X Hints He Is Part Of The LGBT Community With A String Of Tweets Related To His Sexuality >>>
Coming back to her performance, the 1.6m tall rapper was clearly regretting few of her wardrobe choices last night, as she hilariously stopped after one song and asked her back-up dancer to help take off her shoes, telling her: 'Take it from the heel, baby.'
Nevertheless, the 26-years-old rapper was tempting in a tight orange playsuit with knee-length tassels swinging all around her enticing body. The overall choreography and music were outstanding and the crowd was very much enjoying the performance covered with seas of cellphones and screams.
Cardi ended her performance with her hit track 'Bodak Yellow' as the audience recalled every single word to her when the stage was sparkling with fireworks.
Cardi B Breaks Her Silence Regarding 'Leaked' Instagram Video >>>.
Stay tuned and connected to find updates on more of Cardi's show.
-->