Who is Caroline Kennedy's Son Jack Schlossberg's Girlfriend in 2020? Find Out About His Relationship
Here's what you should know about Jack Schlossberg's relationship in 2020, is he dating someone? Let's find out.
Jack Schlossberg (born John Bouvier Kennedy "Jack" Schlossberg) is the son of the former U.S. Ambassador to Japan, Caroline Kennedy, and grandson of John F. Kennedy. Well, he is the only grandson of Kennedy, so he is a pretty big deal, as you can guess.
Well, if you don't know, Jack is going places in his career, right after graduating from Yale, Caroline's son started working at 'Rakuten, Inc,' a Japanese company which is known for its large scale eCommerce and internet businesses.
Before moving to Japan, Jack also served for the U.S. Department of State, but he seemed to have some fascinations for Japan and its culture, following his stint at Department of State, Schlossberg started working for Japanese brewing, distilling and beverage company, "Suntory Holdings Limited."
Also Read: Who is Jeff Wittek's Ex-Girlfriend? Find Out What Happened Between Them
Well, as you can see, apart from being a progeny of a highly successful and powerful people, he is doing pretty good himself in his career. But how well do you know about Jack's personal life? By that, we mean, do you know whom Schlossberg is dating in 2020? Let's find out.
Jack Schlossberg's Girlfriend in 2020
It's really surprising, it's surprising because, as we all have guessed, he must be in a relationship with some model or something, sorry for the stereotypes but that's what usually happens, right? Even though we don't want to sound stereotypical, people do very predictive things, and we are sorry if we offended you. But again, that's the truth!
Anyways, enough with our stereotype! So, coming to the point, Jack is single as of 2020. However, it has not been the same way for too long. Jack, in fact, had a girlfriend back in 2019, but the former couple called their relationship off recently.
Who Was Jack Schlossberg's Ex Girlfriend?
According to the reports, Jack Schlossberg was in a relationship with his former girlfriend, Krissy Jones. Krissy is a yoga teacher and studio owner who fell in love with Jack in 2017, but they didn't make their relationship public up until 2019.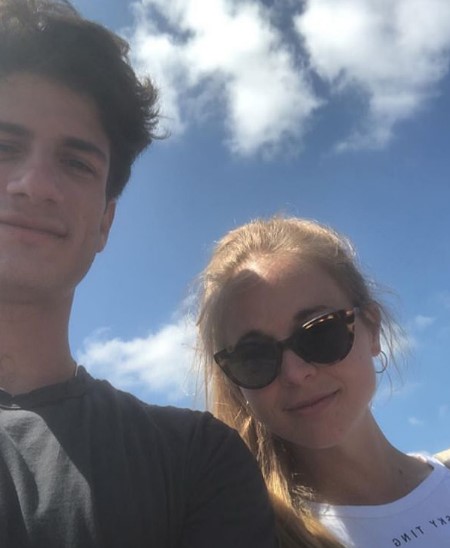 Jack Schlossberg with his ex girlfriend, Krissy Jones.
Photo Source: Daily Mail
So, what happened between them? The sources claimed, Jack allegedly cheated on his ex-girlfriend, following which the former couple parted their ways. It was really sad to know that the former couple called it off the same year they made their relationship public!
Anyways, if he really cheated her, then Krissy certainly deserves better. Well, we haven't heard from Jones since, and Jack hasn't dated anyone following the split. Maybe he is in some kind of guilt trip, but that's good, he should totally go that lane if he really cheated!
You May Also Like: Who is Cameron Davis Girlfriend, Jonika Melcher? Some Facts You Should Know
For more information on your favorite celebrities' lifestyle and other news, stay tuned to Glamour Fame, and don't forget to sign up for the newsletter.
-->