Chandler Riggs Addresses Judith Getting Carl's Storyline with Negan in 'The Walking Dead'
Published Sun Mar 17 2019 By David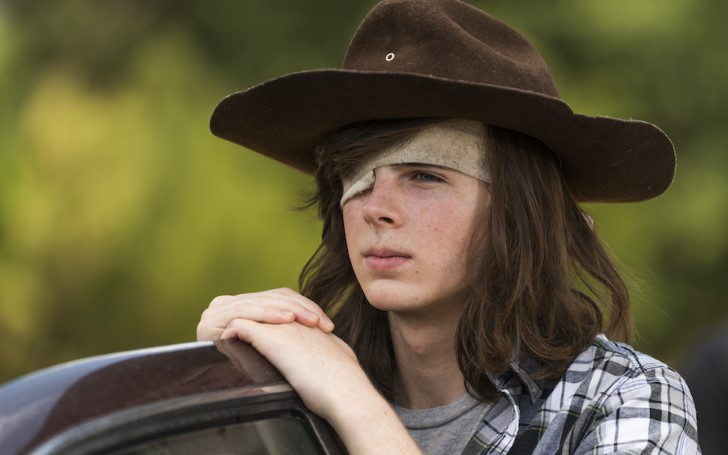 Know what Andrew Lincoln's on-screen son, Chandler Riggs has to say about his storyline being altered by another actress.
Chandler Riggs who previously played Carl Grimes on the AMC horror-drama television series, The Walking Dead (2010-2018) says he enjoyed his time with half-sister Judith (Cailey Fleming) and Negan (Jeffrey Dean Morgan), who both are now set to play in the arc that was originally written for Carl in Robert Kirkman's comic book. Riggs who is currently aboard in Walker Stalker Cruise said, "I mean, honestly, I really like the direction they're going with her character. It's super, super cool to see a completely different take on Carl's interactions with Negan."
While Riggs was just explaining his view on the matter, Morgan interrupted with a hearty ha-ha saying, "He doesn't watch the show anymore"—which in turn prompted Riggs to deny the accusation before he himself laughed it off with a smile (Given the actor said in December that despite the exit, he still watches the show).
Watch Carl Grimes Death in the Walking Dead
Apparently, if it wasn't for Carl's death in season 8, Riggs still would have been playing in the TWD, mainly engaging with the jailed Negan—an original plotline based on the series' comic book. Morgan wrote on his Instagram which was published after AMC had aired Carl's death episode back in February 2018:
"Honestly... the huge reason I wanted to be the part of it so badly was to join this band of misfits... because I was such a fan of the Negan Carl dynamics in the comics. That arc was one of my favorites, as I know it was of everybodys. I'll be forever [disappointed] we only took from the surface of what otherwise could have been a much bigger part."
Angela Kang, the current showrunner of the Walking Dead had also shared some of her words in regards to the subject,
"The Walking Dead story team like the closeness of Negan and Carl in the book and wanted to continue it as long as they could have, despite Carl's death. This gave us an opportunity to tell a very different narrative because Judith is a child with a different persona than that of Carl's. It will be exciting to see those two characters together." - Kang said of Judith, who as of now is being depicted into the show as a 10-year-old girl which in turn marks a six-year time jump within the series, following the disappearance of show's titular character, Rick Grimes (Andrew Lincoln).
Also Read: The Walking Dead Season 9 Spoilers: Father Gabriel Star Seth Gilliam Spills All On More "Shocking" Deaths
When Negan tried to flee from the captivation, Judith was the first to catch him. Despite confronting him, Judith allows Negan to run free only to later resist him with a gun, after which Negan willingly returns to the cell. This somewhat of a Stockholm syndrome taking place between Judith and Negan has been strongly condemned by Judith's mother, Michonne (Danai Gurira), though Judith is still seen trying to plead for Negan's rehabilitation.
'With Judith bears certain resemblances to Carl. On the same note, she also maintains her own character.' Kang further explained of Judith to EW.
Recommended: Jeffrey Dean Morgan Not Best Pleased Being Replaced As The Walking Dead's Greatest Villain
'She's really spunky, funny, and also an apocalypse native. That makes things a little different than a kid who remembers life before the utmost destruction. What's so worth noting in this, is that we get to feel the Grimes kid who's 10 years old, much similar to the comics, but we've been continuously seeing Judith's unique version of what that story is because she, again, has a whole different backstory than Carl.'
Don't Miss: 'The Walking Dead' and 'Stranger Things' Named The Most In-Demand Series In The World For 2018
During the same cruise, when asked to Morgan, if Negan would ever turn against Judith, the actor answered,
'To be honest, I think, he wouldn't. He holds her in very high regard. He somewhat adores her. I like [Rick's] children. They have been always good kids. All they need is a little proper guidance.'
The next episode of The Walking Dead is airing in a few hours on AMC.
-->