The Walking Dead Season 9 Spoilers: Father Gabriel Star Seth Gilliam Spills All On More "Shocking" Deaths
Published Mon Mar 11 2019 By David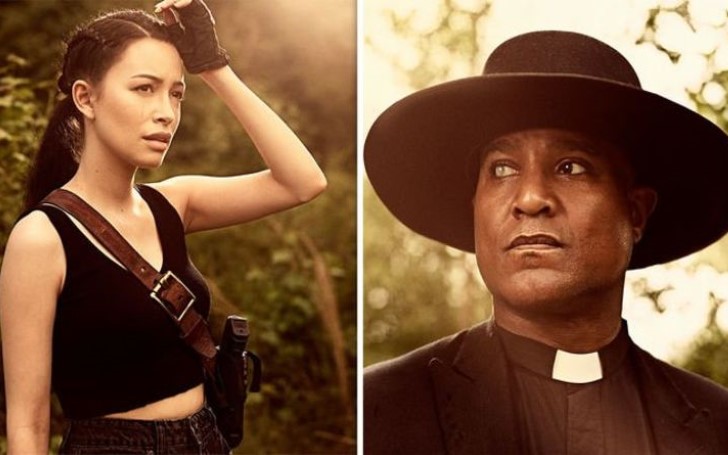 The Walking Dead season 9's major spoiler; The Last Day On Earth recurrence.
Over the course of its run, AMC's "The Walking Dead" has shown us a goriest most bloodbaths in the history of television. And now the show has promised to give its most shocking deaths before ending its current and ninth season on March 31, 2019.
In the last episode of The Walking Dead season nine, we saw Alpha (played by Samantha Morton) continue her autocracy by slaughtering anyone who challenged her rule; as when she beheaded one of her followers Helen (Natalie Miller)—who Alpha claimed she was putting her other supporters' lives in danger.
While doing so, she brutally uses a razor wire to cut off her head from her body and then proudly raises it up in front of her pursuivants as a frightening reminder of who is in charge.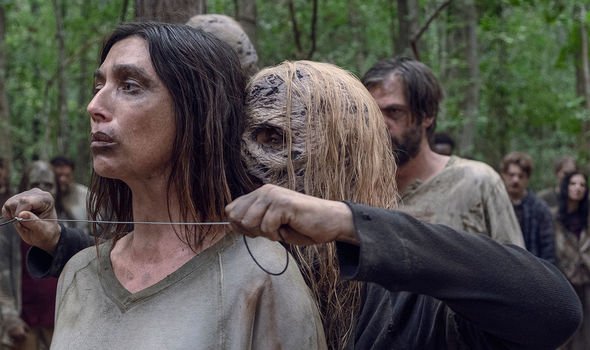 Alpha could give the most shocking death during the rest of the episodes of The Walking Dead season 9
SOURCE: Daily Express
Seth Gilliam, who portrays the role of Father Gabriel Stokes in the series, has said there are many more deaths to come.
While speaking on the Talking Dead (a live television aftershow), he simply confirmed:
"Yes, there are some shocking deaths to come."
However, Gilliam remained frivolously reticent on who would be dispatched in coming episodes.
Also Read: Jeffrey Dean Morgan Not Best Pleased Being Replaced As The Walking Dead's Greatest Villain
The inhumanity of Alpha has been incredibly shocking so far and it wouldn't be a surprise if she is actually the one to give the viewers that unexpected killing.
Season nine has already seen the death of Jesus (Tom Payne), who was killed by the Whisperers and they have since carried on with the similar murderous acts.
Angela Kang, the member of the show's writing team and also a co-runner recently teased to Comicbook.com: "We knew that there needed to be something momentous to happen to kind of kick off this season's Whisperer storyline. And in the show, we often diverge from the paths from the comic book, because it's just our array of characters is so different. But it had to be something that really would affect the story at Hilltop and a character whose life really mattered, and what they stood for matters to our characters."
Recommended: Diane Kruger and Norman Reedus Make Emotional Appeal For Their Baby's Privacy
Writers know momentous deaths are important to the continuation of the series which longs the show thereby helping it to meet a climatic ending.
If not the exact plot, fans could at least expect an improvised version of the comic book story in which Alpha murders Rosita (Christian Serratos) and Ezekiel (Khary Payton) amongst others and puts their heads on pikes to set an example much similar to that of Helen's.
However, an unexpected change in action is also likely to happen and recent events are definitely suggesting some high profile names are to be axed by Alpha as recently she is behaving like someone who would go to any extreme for the power.
Don't Miss: The Walking Dead Star Steven Yeun and Wife Joana Pak is Expecting Second Child
While the series may have been principally inspired by the comic book of the same name, it has rarely depicted the book events in its actions; so it really would be "shocking" if these comic scenes are followed into the forthcoming installments and fans. Yet there's no denying to the fact, some major losses of popular characters are bound to happen before the series finally ends its existing season. Seth has already shared in an interview with The Huff Post that if one is, to sum up, the second half of season nine in one word then "devastation" would be the best fit for it.
As of now, there are only three episodes left to be aired from the season 9 of the series, so these are the only segments where we can expect to see another cliffhanger perhaps similar to that of season six; the show's most infamous and bloodiest scene where Negan (Jeffrey Dean Morgan) unexpectedly batters Alexandrians to death in the most inhuman way possible (season six episode sixteen).
The forecast; this notorious episode likely to happen once again in the show has been hinted ever since it was rumored that Daryl Dixon (Norman Reedus) could be next to be killed by Alpha.
Daryl previously helped rescue young Henry (Mascen Lintz) from Alpha's captivation in the last episode but he and Connie (Lauren Ridloff) were also forced to take Lydia (Cassady McKinley) with them.
Though the latter part is rather an act of infiltration—where Lydia is initially set up by Alpha to kill Henry while being in Daryl's camp or turn her attention to Daryl.
-->