Charlie's Angels Director Elizabeth Banks Said She was told Women cannot Direct Men
Published Mon Nov 11 2019 By Alice
Charlie's Angels director-producer Elizabeth Banks proved the world that even women could rule the industry.
The actor-director Elizabeth Banks is one of the leading directors in the Hollywood industry. However, during an interview with The Observer, Banks shared how her ability was questioned when she was asked if she could direct men.
No doubt Banks proved them wrong, and here she is directing the most hit franchise Charlie's Angel. What's more, she even wrote as well as produced the forthcoming Charlie's Angel revival.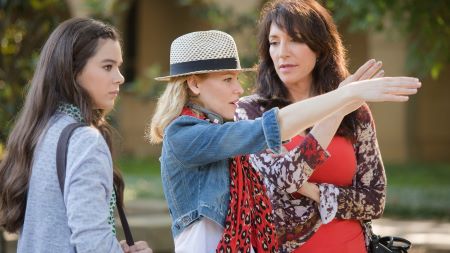 Elizabeth Banks was questioned if she could direct a man while making a movie.
Source: KCWR
As per the 45 years old, directing is all about leadership, and she did work with a lot of difficult men as an actor, and it's never been a problem. She further added,
I did not take to heart what that gentleman said to me, but I'm also positive he's never said that to a man.
Elizabeth is not only an amazing director but also an excellent actress recognized for her roles in 'The 40-Year-Old Virgin', '30 Rock', 'Modern Family', and 'The Hunger Games trilogy'.
Moreover, she is also known her work as a producer on 'Pitch Perfect' and a director on the sequel (earned $69 million in the opening week), which became the highest-grossing music comedy film of all time and helped her to get the international recognization.
Watch: Elizabeth Banks talks about the new 'Charlie's Angels' l GMA
Inspired by Julia Roberts, Banks believes in her own agenda, i.e., equal pay. What's more, she is quite supportive of her actor and does not pressure the things they are uncomfortable with.
Starring Kristen Stewart as 'Sabina', Naomi Scott as 'Elena', and Ella Balinska as 'Jane', Elizabeth has replaced the male gaze element from the originals and filled the film with what she called "sneaky feminist ideas."
Recommended: Joaquin Phoenix Teased the Possibility of 'Joker' Sequel
Meanwhile, Kristen's character angel, Sabina Wilson might make history in the forthcoming movie as the first Angel to be depicted as LGBTQ+. Besides, the film will be released in UK cinemas on 29 November 2019.
Stay tuned with GlamourFame for more Entertainment news and gossips.
-->