Chelsea vs Manchester City And Southampton Vs Leicester In FA Cup Semifinals
Published Mon Mar 22 2021 By Bran
The FA Cup semi-finals draw are out, and its heavyweights Manchester City going against Chelsea to face the winner of Southampton and Leicester City.
2021's FA Cup tie couldn't go more exciting as four Premier League sides are the final four teams remaining in the division, with all sights on the prestigious trophy. Well, it will go down to a tasty battle at Wembley as two big spearheads of Europe, Chelsea, and Manchester City, will go against each other to get the first spot in the finals.
For the other semi-final, it would be Southampton going against Leicester City, with both sides not winning the trophy for several decades now.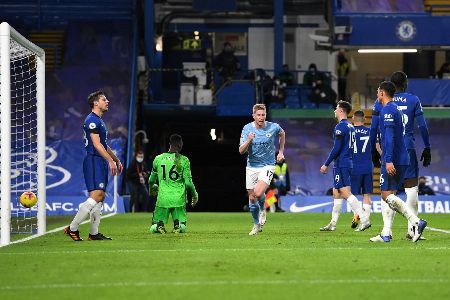 Chelsea and Manchester City will face one another in the FA Cup Semi-finals.
Photo Source: We Aints Got History
Ralph Hasenhuttle's Southampton beat Championship side Bournemouth 3-0 on Saturday. On the second quarterfinal on the night, it was league-leaders Manchester City who cruised past Everton 2-0 to book their place in the semi-finals, keeping their sights on a quadruple this season.
Recommended: Zayn Malik Picks Niall Horan As Favorite One Director Bandmate
Thomas Tuchel's Chelsea continued their unbeaten run by defeating relegation-threatened Sheffield United 2-0, with an own-goal from Norwood and Hakim Ziyech. The final fixture was a tough one, with Premier League's second-placed Manchester United visiting third-placed Leicester City. It was Brendon Rodgers' Foxes who came out on top by beating the Red Devils 3-1.
Southampton and Leicester City will face a Wembley semi-final in the 2021 FA Cup.
Photo Source: Saints Marching
The semi-final draws were out last night itself, which saw Chelsea and Manchester City going at each other. The last time they met, it was Guardiola's side who beat them 3-1. However, it was Frank Lampard, the ex-Chelsea boss managing them last time, but this time, it's Thomas Tuchel, who is taking the Blues on a roll ever since he got the management job.
Meanwhile, on the other fixture, Southampton does have a bitter memory against Leicester, with the iconic yet embarrassing score of 9-1 from last season coming to haunt them.
Also See: Kourtney Kardashian and Travis Barker Spotted In a Dinner Date.
For more news and updates about your favorite stars, please stay connected with us at Glamour Fame.
-->