Who are China Anne McClain's Sisters? Learn all About Them
China Anne McClain's Sisters: Get the Complete Details on the McClain Sisters!
Along with her recent hits, Black Lightning, Hubie Halloween, China Anne McClain's notable credits mostly include Disney movies A.N.T. Farm, Descendents, Austin & Ally, are a few of them. Also, an Award-winning singer, China's single What's My Name, was certified gold by Billboard in 2017. Born to Shontell, a songwriter, and Michael McClain, a music producer, China's talents and career in singing were predestined.
She grew up in Decatur, Georgia, along with her two older sisters, Sierra and Lauryn, and her little brother Gabriel. China and her sisters, who are often mistaken as triplets because of their uncanny resemblance, are the three singers of the early 2000s band Thrii. The trio would eventually set off on an individual journey, only starting together again in 2020. Continue reading to find more about the McClain sisters.
Thrii, The McClain sisters!
Apart from their collective venture in music, China and her sisters, Sierra and Lauryn, also embarked upon their acting careers hand in hand during the early phase. The first popular project, where the McClain sisters came in together in cahoot, was the 2005 film, The Gospel, followed by Tyler Perry's Daddy's Little Girl in 2007.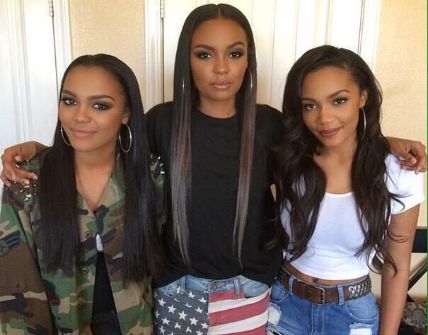 The McClain sisters are often mistaken as triplets because of their uncanny resemblance.
Photo Source: Pinterest
Sierra, 27, and the oldest of the three, got her solo breakthrough in the musician drama Empire. Her other credits include Honey: Rise Up and Dance and the 2020 tv series 9-1-1: Lone Star. The second McClain sister, Lauryn, 24, isn't behind on her individual accomplishments either; watch her in the 2019 slasher film Haunt starring Katie Stevens and Will Brittain.
Related: What is China Anne McClain's Net Worth? Find all the Details Here
Despite their distinct journey and conquest, fans have always loved the trio in a team. Their pop group Thrii was formed in 2005. Managed by their father, the sisters initially released singles for their film, Daddy's Little Girl, and the sitcom A.N.T. Farm. However, the group strikes bigger after they signed with the label Hollywood Records in 2011.
The McClain sisters' band went on a hiatus in 2016.
Photo Source: Amomama
Often termed Disney's favorite, and rightfully so, the McClain sisters' collaboration with Disney was colossal in every sense. Their first significant performance was at Disney Parks Christmas Day Parade. Their soundtrack for the Disney series A.N.T. Farm sold 14,000 copies in the first week. Thriii's last single was Feelin Like, in 2016, after which the group went on a hiatus.
The McClain Sisters' Comeback!
The girl group had first started as 3McClaingirls, and when they came back from their 4 years-long hiatus in June 2020, they subtly introduced themselves as Thriii. Their first single since the comeback, My Sanity was at Radio Disney's Ardy Summer playlist.
Their comeback single 'My Sanity' featured all the McClain family members.
Photo Source: Sweety High
The music video of My Sanity came just weeks after China paid an emotional tribute to her best friend, Cameron Boyce, who passed at 20 due to a seizure. The music video reflected the close bond the McClain family shared. The video featured both their parents and little brother, Gabriel.
Recommended: Who is Pink's Daughter? Learn all About Her Here
China posted an excerpt of the video on her Instagram and wrote, "My Sanity - a quarantine film :) I didn't think my family could get any closer, but we have during this time. This project is very close to our hearts."
For more information and news on your favorite stars, stay connected to Glamour Fame.
-->