Who Is Christian Bale's Wife Sibi Blažić? All Details Here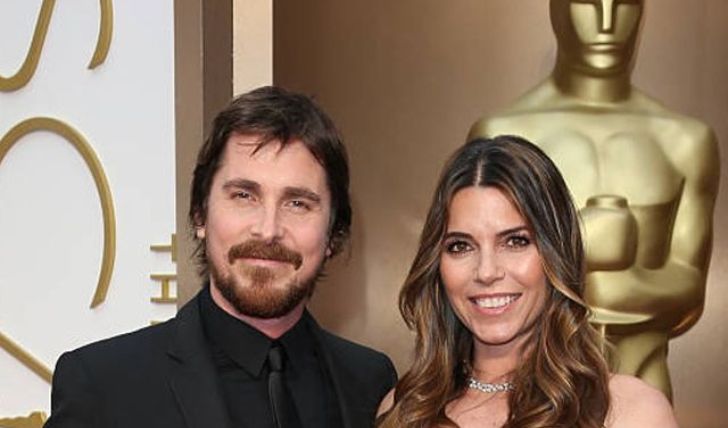 Inside Christian Bale and Sibi Blažić's longstanding marriage: Complete story here!
Known for his physically versatile roles in The Prestige, Terminator Salvation, Exodus: Gods and Kings, and the recently-released Thor: Love and Thunder, Christain Bale is an English actor. Since breaking into acting at 13 with the 1987 war film Empire of the Sun, Bale has consistently maintained his spot among the most popular A-listers, be it by becoming an Oscar-winning actor or ranking as one of the world's highest-paid actors.
Christian Charles Philip Bale was born 48 years ago to an entrepreneur and an activist in Haverfordwest, Pembrokeshire. Bale's journey into acting started as early as when he was eight. An unanticipated early breakthrough catapulted Christian to a successful career. But the Brit's accomplishments span beyond his stellar career; Bale's stable and longstanding marriage with Sibi Blažić has also made him a reputed star in showbiz.
Inside Christian Bale's marriage!
The Academy-winning actor proves your personal life doesn't have to be a reflection of your parents'. Despite coming from a broken family, Bale has ensured his marriage doesn't go downhill. The Prestige actor has been married to Sibi Blažić, a former model, for over 20 years. "Everyone was divorced in my family, so I didn't have very healthy ideas about marriage," the actor confessed during an interview.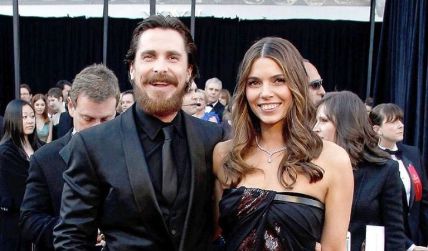 Bale is married to former model Sibi Blažić.
Photo Source: Instagram
Growing up in his estranged parents' homes, the marriage never appealed to the Thor actor until he met Sibi, who reformed Christian's belief in the sacred union. "I met Sibi and suddenly it seemed like a fantastic idea," says Bale, who was already a big star when he came across his now-wife in the late 90s. The lovestruck couple eloped in 2000 and went on to welcome two kids.
Don't Miss: Who Is Ana de Armas? Is She Dating Anyone?
Although best known as the low-profiled wife of the Academy winner, Blažić is anything but a trophy wife to Christian. Sibi's resume paints her as a multi-talented individual who has worked as a model, actress, stuntwoman, and assistant. Sibi worked as an assistant to Winona Ryder when she was working with Bale in their 1994 film Little Women. The credits don't stop here. Bales revealed he and his wife worked together in The Dark Knight Rises, in which he played the titular and fan-favorite character, Bruce Wayne, and his wife served as a stuntwoman.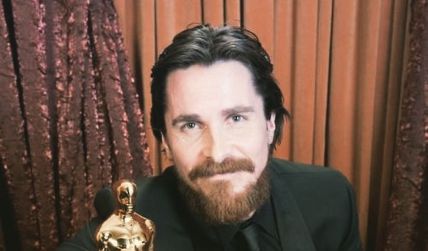 Bale won an Oscar for 'The Fighter' in 2011.
Photo Source: Instagram
"My wife was a stunt driver, she was chasing me through the city in Batman," recalls the actor. All proud of his wife's talents, Bale quips, "She was driving one of the cop cars. She can do 180s and stunts and all that. She terrifies me. My wife terrifies me." Sibi is a native of Chicago and is of Serbian descent. Bale has credited his wife, teary-eyed often, for being his No.1 supporter.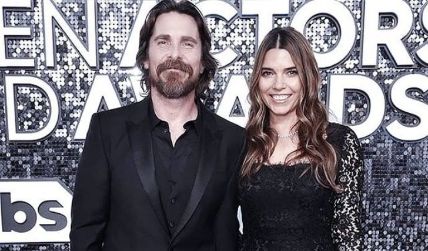 Bale credits his wife for helping him succeed.
Photo Source: Instagram
While accepting the Critic Choice Movies Award in 2011 for his role in The Fighter, the Batman actor gave a shoutout to his wife for standing beside him. "I get choked up about that stuff. It's everything because I truly believe you can't celebrate [success] without having your partner with you," said Bale. He explains how he owes everything to Sibi, who's been his rock throughout his difficult course in Hollywood.
How many kids does Christian Bale have?
The Thor: Love and Thunder actor has many reasons to be grateful for his life, and his kids definitely top the list of factors. Bale and Sibi share two kids, Emmeline Bale, born in 2005, and Joseph Bale, born in 2014. Christian and Sibi prefer a low-key relationship, but despite the discussed and concurred standing, Bale's kids sometimes make it to the actor's Instagram page. Bale might not have given fans much insight into his family life, but the actor has shared his experience being a father.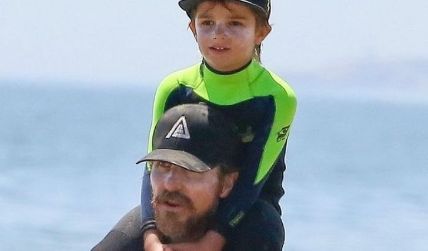 Bale calls fatherhood "the best thing ever."
Photo Source: Instagram
"Nothing can prepare you for fatherhood. It's the best thing ever. I don't want to leave my daughter's side for one second," Shares the Batman actor before revealing how his wife and kids' presence on the movie sets helps him perform even better. Bale, 48, who plays Gorr the God Butcher in Thor: Love and Thunder, shared how his kids convinced him to join Thor.
Bale, Hemsworth, and Portman's kids have cameo roles in Thor: Love and Thunder.'
Source: Marvel Entertainment
"There were some potential scheduling conflicts. I said to my family, 'I don't think it's going to work out,' Bale recalls, adding, "and they went, 'No, you make it work out. You're doing this, Dad. They gave me my marching orders, and I dutifully obeyed." The recently-released Thor sequel also has the leading cast member's kids' cameos, including Chris Hemsworth, Natalie Portman, and Bale's kids. "It felt like a one-off, fun family experience," Hemsworth shared.
Recommended: Who Is Steve Harvey's Wife, Marjorie? Inside the Television Host's Relationship History.
Stay connected to glamour fame for more.
-->