Who Is Steve Harvey's Wife, Marjorie? Inside the Television Host's Relationship History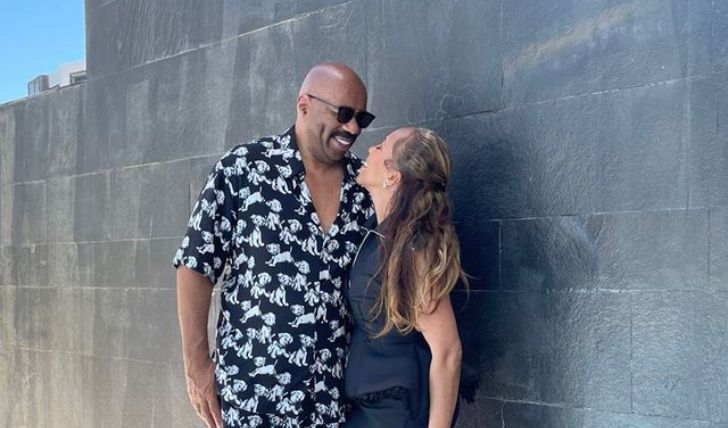 The complete truth about Steve Harvey and Marjorie's marriage: The television host has been married thrice.
A beloved comedian and television host, Steve Harvey is best known for his hilarious hosting chops at Family Feud, The Steve Harvey Morning Show, and Judge Steve Harvey. But besides being a seven-time Emmy-winning television host, Harvey is also a radio star, best-selling author, and above all, a husband, father, and grandfather.
Broderick Stephen Harvey, Sr., was born on January 17, 1957, in Welch, West Virginia. Harvey's rags-to-riches story unveils the comedian's early struggles when he was still trying to figure out life and was working odd jobs to meet ends. Harvey started his stand-up comedy career in the 1880s and wounded up homeless for years after the initial failure. Harvey's years of hard work paid off when the comedian landed the host position at Its Showtime at the Apollo in 1990. The award-winning television host has been married three times and has seven children, four biological and three step-kids from his three marriages.
Who is Steve Harvey's wife, Marjorie Bridges?
Marjorie Harvey (née Bridges) is known to the world as Steve's third wife, but to Harvey, Marjorie's role in his life spans beyond the title of just being an Emmy winner's wife. Harvey credits Marjorie for turning his life around and making him a better man, or shall we say accrediting her for fulfilling the one woman behind every successful man adage. Harvey and Marjorie have been married for over 15 years, and together, the couple has raised one big blended family.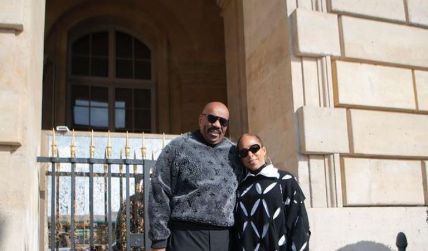 Steve's wife, Marjorie, is a designer and a fashion blogger.
Photo Source: Instagram
Marjorie is a designer, fashion blogger and Steve's partner in running The Steve and Marjorie Harvey Foundation, a non-profit organization established to tend to the youth. Harvey is also Marjorie's third husband as the designer has been married twice before and has three kids, all of whom were adopted by the comedian after the two tied the knots. Harvey met his now-wife in her native Memphis, Tennessee, in 1990.
Don't Miss: Is Elizabeth Hurley Still Married? Learn her Relationship History.
Recounting their first fateful encounter, Harvey says he was performing at Memphis when he spotted Marjorie amongst the crowd. The Family Feud host shares how he stopped mid-show to take a good look at Marjorie, and words just slipped out of his mouth. "I'm sorry, I don't know who this is, but I'm going to marry her,' Harvey recalls saying amid his performance. But little did the comedian know that he'd have to wait years and face two failed marriages before manifesting the epiphany.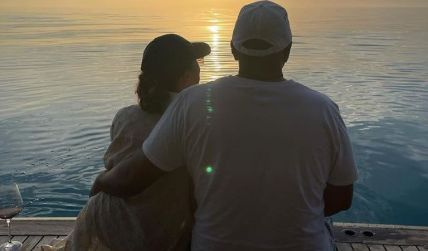 Steve and Marjorie tied the knots in 2007.
Photo Source: Instagram
Marjorie reveals how Steve disappeared after their brief romance. "I knew he was the one shortly after I started dating him, but he just left. Disappeared," said Mrs. Harvey. Steve later shared he went about his way because he wasn't in a great spot financially. "Before a man can be of use to a woman, he's got to know who he is, what he does and how much he's going to make," shares the comedian. Harvey and Marjorie reconnected in 2005, and the two tied the knots on June 25, 2007.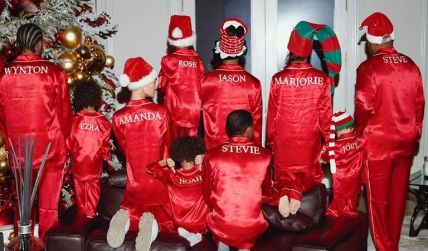 Marjorie reveals the couple's children weren't on board for a blended family initially.
Photo Source: Instagram
The Steve Harvey Morning Show host had two daughters, Brandi, and Karli, one son, Broderick, from his first marriage, and one son Wynton from his second marriage. Likewise, Marjorie had three kids, Lori, Jason, and Morgan, from her two marriages. But when the long-estranged lovers rekindled their romance years later, the couple admits their children had difficulty blending in. "We knew this was right. I told them, 'everyone is included and has access to their parents," Marjorie says while dishing on her blended family.
Inside Steve Harvey's past marriages!
Before finding his forever someone in Marjorie, the Emmy winner experienced many lows, especially in his marriage. An aspiring comedian and a juggling commoner then, Harvey was first married to Marcia, with whom he shares three kids, in 1981. The pair called it quit in 1991. But before his divorce from Marcia was even finalized, Steve started dating Mary Shackelford, his wife, from 1996 to 2005.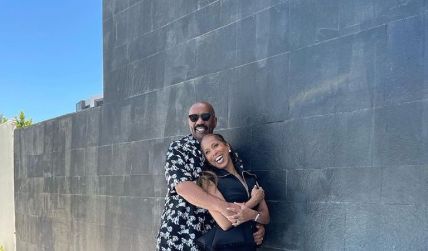 Steve's second ex-wife, Mary, sued the comedian for $60 million.
Photo Source: Instagram
Looking at the recent events, Harvey and his second ex-wife aren't on the best terms. Shackelford sued the comedian for $60 million, alleging child endangerment, torture, conspiracy against rights, intentional infliction of emotional distress, breach of contract, and other accusations. "The plaintiff had [lost] her son, had her businesses taken from her, nowhere to live, all Mother's Days had been painful and empty," the filed document read.
Mary accused the comedian of infidelity, child endangerment, torture, and soul murder.
Source: Essence
A judge admonished the lawsuit as it wasn't the first time Mary had made false accusations against her famous ex-husband. Mary made similar allegations against Steve in 2011, where she accused the comedian of leaving her destitute and infidelity during their marriage. Mary was issued a gag order and countered for spreading false information.
Recommended: Who Is Chris Hemsworth's Wife Elsa Pataky? Inside the Duo's Love Story.
Stay connected to glamour fame for more.
-->