Cole Sprouse Was One Of Selena Gomez's Two Crushes At 11 Years Old, And He Responded Teasingly At Her Confession
Published Sat Sep 14 2019 By Sea
When Selena Gomez was 11 years old, she had two crushes, someone named Juan and Cole Sprouse.
Who doesn't have a crush on Cole Sprouse! — One of the commentators replied to his comment on an Instagram post by Selena Gomez. Of course, any girl would be over the moon on getting to date the 'Riverdale' star, but as fans already know, he's taken.
The 'Heart Wants What It Wants' singer confessed via a photo on Instagram that her heart was conflicted between Juan and Cole Sprouse at the age of 11. And Cole was cheeky enough when providing a response in the comments section. The "Selena + Juan" within a heart symbol on the door was the brighter one, but the words painted over it, stole the spotlight. It read, "Selena belongs with Cole Sprouse 4ever!!!!"
"Apparently my heart was very conflicted between Juan and Cole Sprouse when I was 11.."
Source: Selena Gomez, Instagram
The 27-year-old also posted a clip ahead of the photo on the same post that showed the same writings on the door in close-up. As the post hit the social media, fans started poking some harmless fun at it, and Cole was one of them. He wrote "always Juan-upping me", and it got its own lengthy comment section.
Among other celebrity-comments include fellow singers Camila Cabello's "Hahahahahahahahhaha" and Austin Mahone's "A Spurs fan too 👀", along with her hairstylist, Marissa Marino's series of 'tears of laughter' emojis.
Source: Selena Gomez, Instagram
Of course, it is not just because of Cole being a celebrity that Selena crushed on him; they were friends later as they worked together when crossovers of their Disney shows were created. Selena was with her 'Wizards of Waverly Place' portraying 'Alex Russo', and Cole was with his 'The Suite Life of Zack and Cody' acting as 'Cody Martin', along with his twin brother Dylan Sprouse as 'Zack'. The crossover was done for the latter's spin-off 'The Suite Life on Deck'.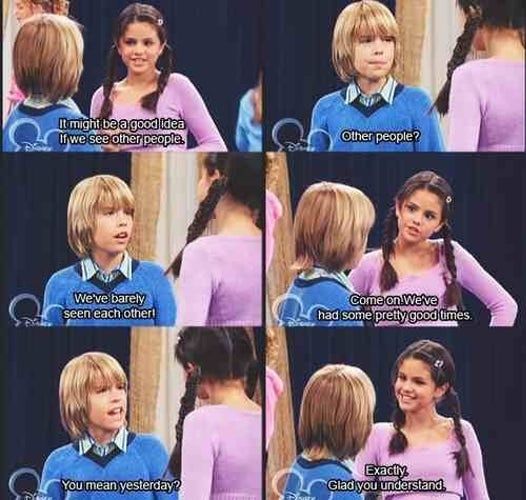 Selena rejected Cole despite having a crush on him? (It's only on the show.)
Source: Pinterest
The two were never branded as a Disney couple back then, but had the fans known about Selena's crush, they would have probably shipped them back then. And yes, he is younger than her; by only a couple of weeks!
As we know, Cole is currently in a blissful relationship with his on-screen co-star Lili Reinhart. Despite what the media was reporting, they never broke up. In order to silence them, he and Reinhart responded in the most epic of ways on Instagram. They've worked together for three years on set and dated for the last two while being extra down-low about it.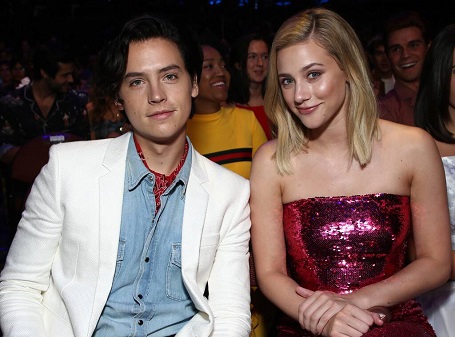 Cole Sprouse is happy with his current girlfriend, Lili Reinhart.
Source: John Salangsang/FOX
On the other hand, however, after many failed relationship, most notably with Justin Bieber, Selena opted to remain single in 2019 and just take a much-needed break from the dating scene.
-->