Lili Reinhart & Cole Sprouse Relationship Timeline - When Did They Begin Dating?
Published Fri Sep 13 2019 By Sea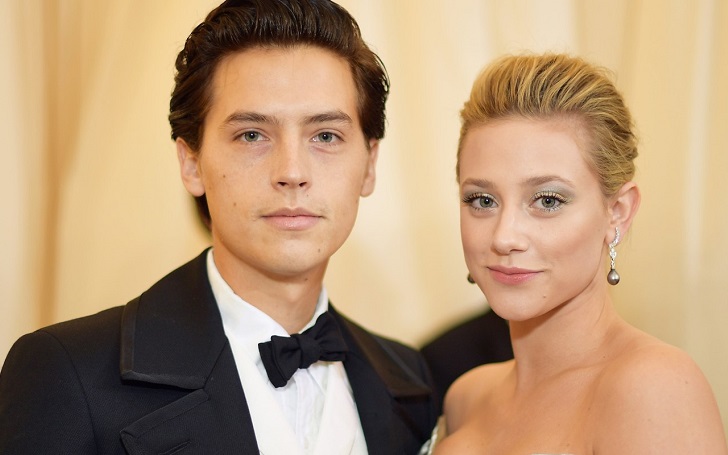 For a long while before two of the 'Riverdale' main cast officially showed to the world that they are together, the public kept asking their status almost every time they were interviewed. We all knew they had a spark on-screen, but people wanted the chemistry to bloom off-screen as well.
When these two came out as a couple on the red carpet, no one was surprised. They looked like great friends and perhaps more than that all along. Before whenever they got asked, they would just sway it away and not say anything that could confirm their relationship status. They were smart about it, but we all saw it coming. We knew they had something going on, but they kept confusing us every time.
When did we start dating again?
Source: Riverdale, The CW
Now that they are officially together, some people started the breakup rumor. Since they don't want to talk about their relationship to often and just show it, they did just that to shut it all down. So let's break down Lili Reinhart and Cole Sprouse's relationship up to this point in a neat timeline.
Cryptic Social Media Flirtations After They Met
The couple met as they were chosen as the lead cast members of 'Riverdale', but who knows when they first actually met. As soon as they did then, they looked like soulmates.
February 2017 - The First Flirt
After about a month of the premiere of 'Riverdale' on the CW, rumors started sparking about the lead actors. Perhaps the connection they shared on the set seemed so realistic. They were given the couple name Bughead, after their characters' names, Betty and Jughead. The first flirt was by Sprouse who responded with a cheeky comic strip on a suggestive picture Reinhart posted on Twitter.
March, April 2017 - Flowery Dedications
The 27-year-old continued firing signals at Reinhart via posts on Instagram, while the rumors began to faze out. In March, the first photo on Sprouse's feed was hers, with a flower crown on her head while she sat in a flower garden.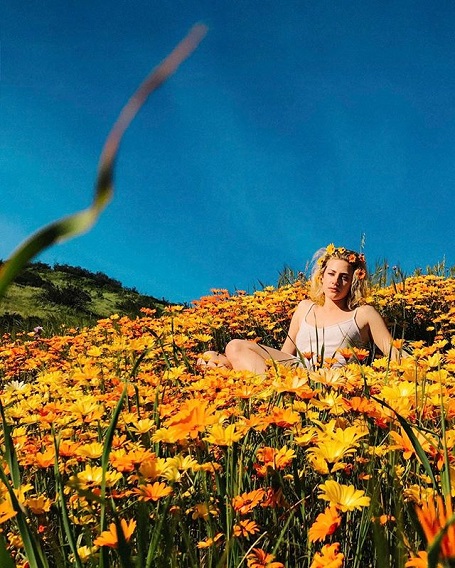 "🌷🌼🌷🌼👩🏼🌼🌷🌼🌷"
Source: Cole Sprouse, Instagram
A month later, another photo of her popped up on his Instagram account with a rather poetic caption, that included nothing about her.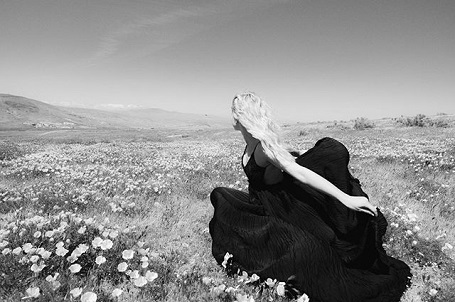 Source: Cole Sprouse, Instagram
"That crow is clicking at us, can you hear it? The wind is so strong, the bird is practically hovering. They say time moves faster for corvids. Years and decades are seconds and minutes to the black bird. That's why they click, to see if they can match our clocks. It's true! Shame it should be hovering, it must be so confused. Motionless and untethered by time. Don't worry for the crow, in mere moments it'll all pass. In mere moments this will just be one of many clicks had while hovering."
June 2017 - Lili's Time To Flirt
When Sprouse posted a black-and-white shot of him on Twitter, and Reinhart's eyes turned into that heart symbol, everyone likes to often use.
In The Media
Before the confirmation, they appeared in the media on several occasions to ask for privacy regarding their personal life.
July 2017 - Reports
At the 2017 Comic-Con, there were reports that Reinhart was spotted with Sprouse's maroon blazer-jacket at Entertainment Weekly's party. Later, they were spotted holding hands and even rumored kissing on Riverdale set according to a source.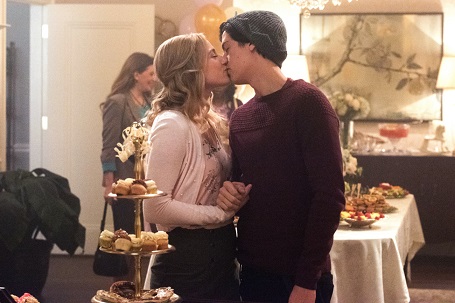 Source: Riverdale, CW
August 2017 - Birthday Occasion
It was Sprouse's 25th birthday, and Reinhart expressed her gratitude for showing her the world.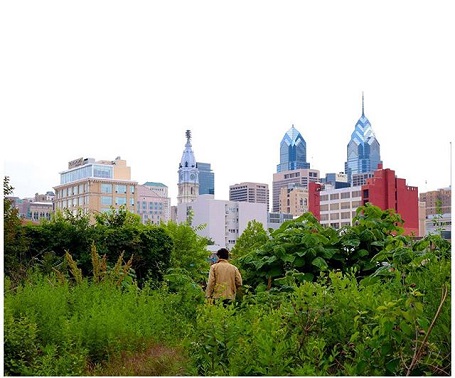 "To the man who has showed me more beautiful places in this past year than I have ever seen in my whole life. Happy birthday, Cole. Thank you for all of the adventures and here's to many more 🌙"
Source: Lili Reinhart, Instagram
Skeet Ulrich commented on their chemistry between the two, as he noticed them often enjoying each other's company, in real life.
October 2017 - The More Kiss Scenes The Better
In an interview with ET, Reinhart confessed she didn't mind kissing Spouse when the script requires them to and it's all fine. She also said it is all fine & easy and they are friends.
The Spouse came forward later that month on 'Live With Kelly and Ryan' and joked about being contractually obliged to give him as many kiss scenes as possible that season.
November 2017 - Sprouse Speaks
When being interviewed by People for his inclusion of its Sexiest Man Alive issue, Sprouse addressed the rumors and spoke out while also not giving a concrete answer to whether they are dating or not. He feels both ways about people wanting to know their status.
"I think that in many ways it's offensive and an invasion of privacy, but it's also a badge of honor because it means you're creating a chemistry onscreen that is so understandable that people want to see it in real life, which is flattering from a professional perspective."
Beginning with his "no comment" answer, he started further explaining his silence in the interview.
January 2018 - Reinhart Wants Privacy
They vacationed in Hawaii that month, but they were quite down-low about it. Still, pictures of Sprouse with some fans popped out.
Reinhart discussed the situation where fans wanted to know about the relationship with V Magazine. The lid was not closed yet.
"People are just dying to know information about if I'm in a relationship or not. I understand the interest, but it's called a private life for a reason. And it's not something that I owe the world. People are going to say anything and everything. They're going to say that I love KJ, they're gonna say that I love Cami, and they're gonna say that I love Cole: it's inevitable. But I'm not at a point in my life where I'm ready to openly confirm, deny, or talk about a relationship that I'm in, because I think it's brutal to have a relationship in the spotlight where I can be scrutinized by anyone and everyone. Being in a relationship with someone, it's a relationship between those two people, and I feel like when you let enough people in, it's not about those two people anymore. It's about everyone."
Listening to both them say the same things, it's almost like they agreed to it beforehand.
March 2018 - 'No Comment' Again!
A bold young fan got the chance & the audacity to ask the couple if they were dating, during a Q&A session at the PaleyFest panel with the 'Riverdale' cast. It followed with awkwardness for a moment, Reinhart covering her face and Sprouse giving the infamous "no comment" answer.
Watch: "Are You Dating?"
April 2018 - No Hiding It Now
As April began, the on-screen-type scene finally was captured off-screen. The couple was in Paris for Rivercon, and during the trip in the City of Lights, they couldn't hold their love private anymore. A paparazzi photographed the two kissing in different spots of the city. They were walking hand-in-hand, and when the press met to ask them about it, they just avoided the question.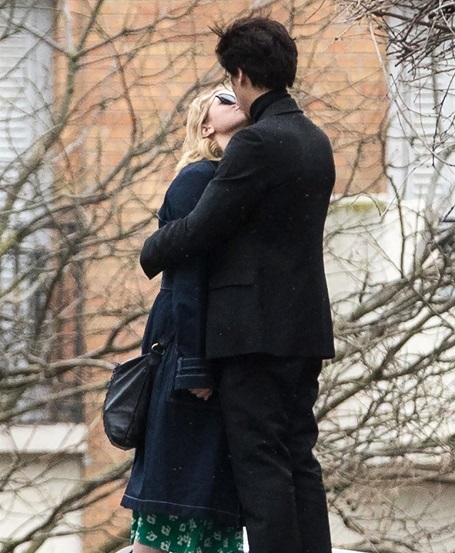 Source: Best Image, BACKGRID
In her location set of Cuixmala.
Source: Cole Sprouse, Instagram
The pair then traveled to Mexico later that month, and Sprouse showed us some more of his photography skills.
They Were Preparing To Make It Official, And It Finally Happened
They just need the right time. It seems like they found it, and then made it official without even talking about it.
May 2018 - Finally!
The speculations ended after the couple made a red carpet appearance together at the Met Gala event. Reinhart actually posted a mirror selfie of the two on social media before heading to the event - an announcement beforehand.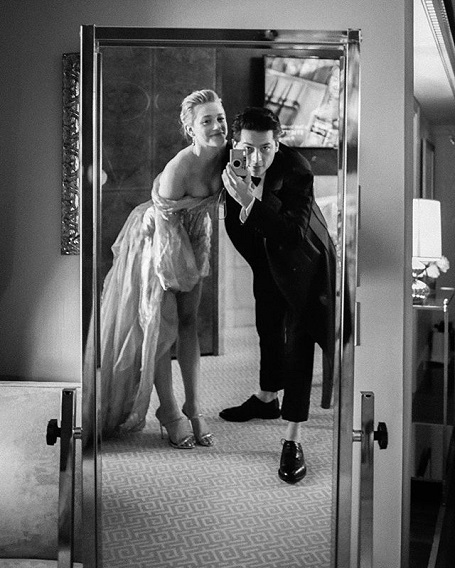 Their dresses didn't take the spotlight as them walking together did.
Source: Lili Reinhart, Instagram
July 2018 - I'll Still Keep My Mouth Shut!
Following the public appearance at the Met Gala, Reinhart still had no interest in talking about a relationship. She told Harper's Bazaar, "I'm not okay talking about my relationship. I'm not going to tell you my love story. That's just not appropriate right now."
August 2018 - Another Birthday Tribute
Reinhart gave Sprouse another birthday tribute for his 26th birthday.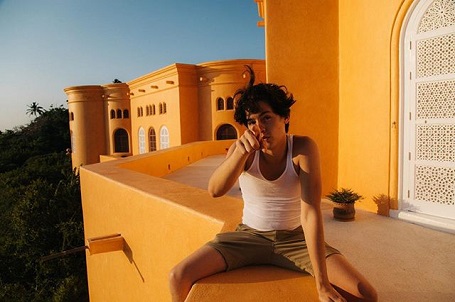 "It seems as if the world would still be a stranger to me, if not for you. I'm so thankful that our paths intertwined to form this beautiful adventure~
Happy birthday, my love."
Source: Lili Reinhart, Instagram
Photos kept popping up on each other's social media accounts, of the two together in various different places touring together.
"6am" in Paris.
Source: Lili Reinhart, Instagram
Even if they won't talk about it, their co-star, Madchen Amick came forward to say that their relationship is going "great".
September 2018 - And Yet Another Birthday Tribute
It was Reinhart's birthday that month and Sprouse's turn to share his tribute on Instagram. He captioned the indecent photo, "Both the birthday and the gift. My little muse, happy birthday my love."
Watch: Friendship Test By The Riverdale Cast
The couple did a Friendship Test video for 'Glamour' later. Sprouse revealed she was shy, and Reinhart thought his voice was annoying at first. They then spoke in admiration for one another.
October 2018 - Still Secret, But Here Is Something For You Fans
Reinhart still wanted to keep the details of her romance with Sprouse personal, but little by little opened up about it. She told 'Teen Vogue' how he takes her to places that would flat-out amaze her, and in a 'Who What Wear' story, she proclaimed her love for photography being just as incredible as Sprouse's.
In social media too, they started to get a little more playful. See for yourself.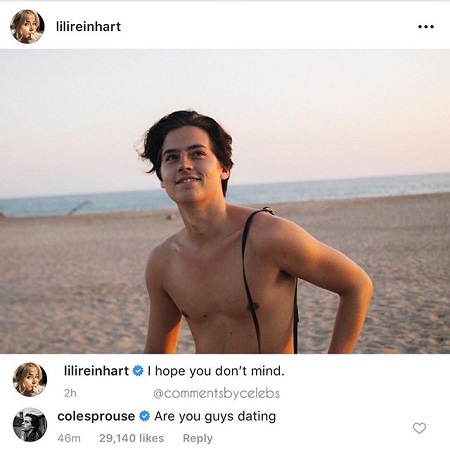 "Yes, they are!"
Source: Lili Reinhart/CommentsByCelebs, Instagram
November 2018 - Time To Meet The Family
Sprouse visited Charlotte, North Carolina for Thanksgiving and spent time with Reinhart's family. Reinhart shared a picture of him on Instagram.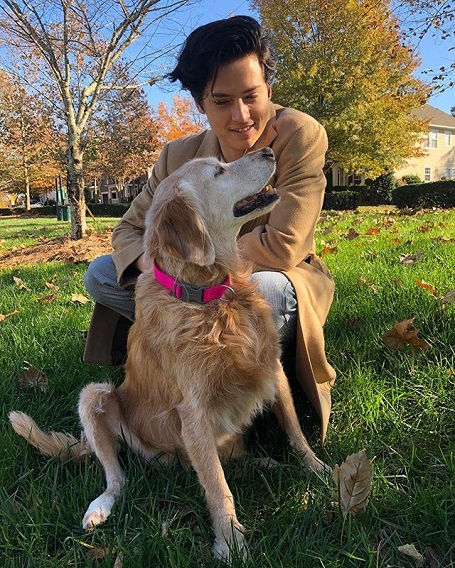 "This picture makes me so happy."
Source: Lili Reinhart, Instagram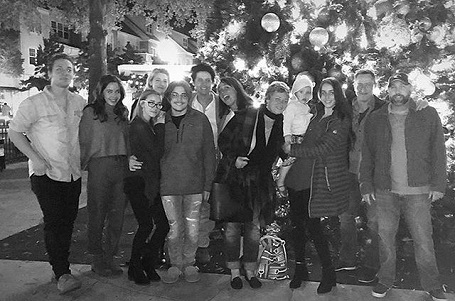 "Cole Sprouse spending the holidays with Lili Reinhart's family in Charlotte is what we're grateful for."
Source: The Morning Fest, Instagram
February 2019 - It's Not Like We Hid It
When being interviewed by GQ Style, Sprouse says the most conflicting thing about his relationship.
"It's not something that we hide, or it's not something that we show off. It's just something that exists."
Another photography post.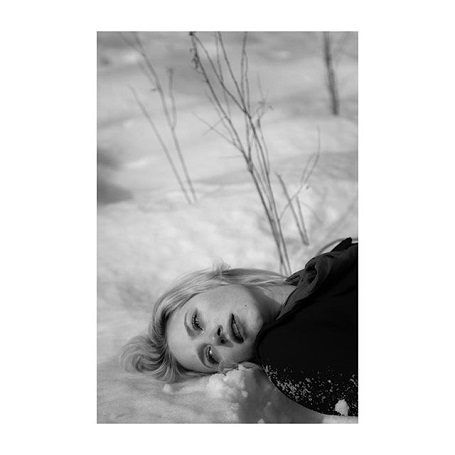 ""How do the people you shoot even tolerate you?" @lilireinhart on 'making her suffer for my art'"
Source: Cole Sprouse, Instagram
Valentine's Day was also an enthusiastic time for the two, as they both proclaim their love for each other.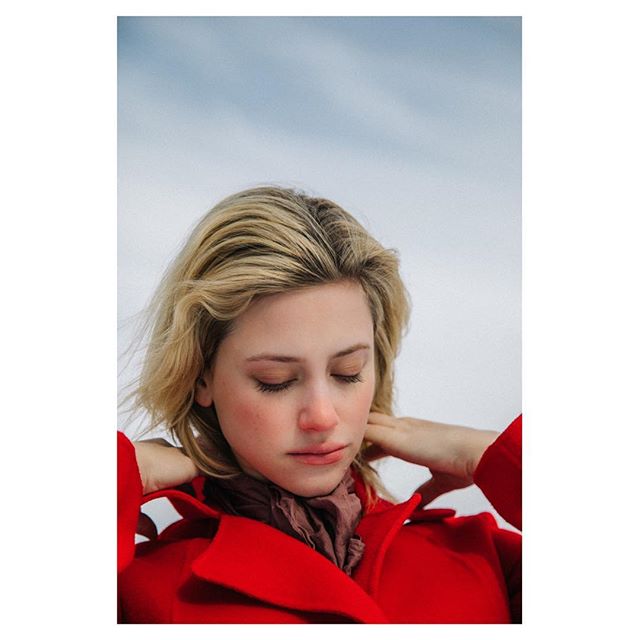 "Quite actually the only thing keeping me sane is @lilireinhart"
Source: Cole Sprouse, Instagram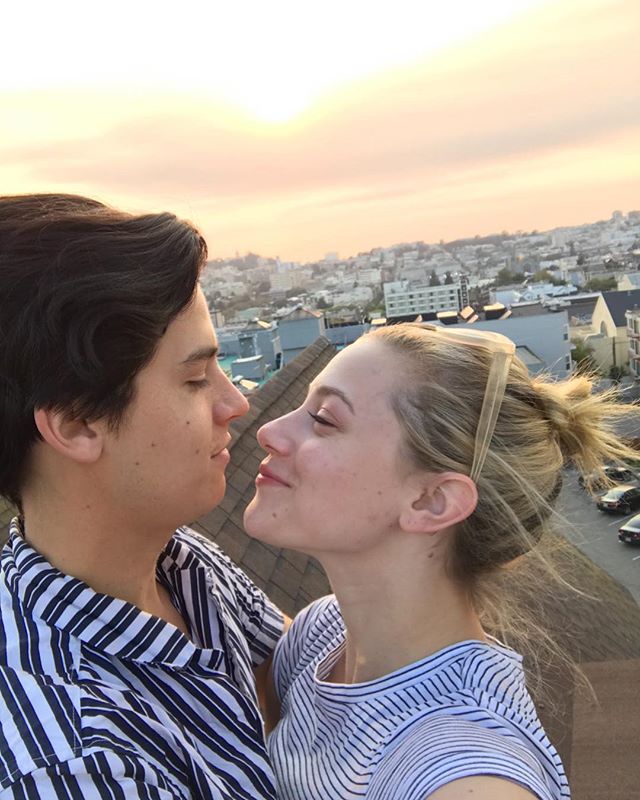 "You make me very happy. Happy Valentine's Day, my love."
Source: Lili Reinhart, Instagram
March 2019 - Stuck Like Magnets
Sprouse's romantic drama 'Five Feet Apart' hit the theaters and Reinhart attended the movie's premiere with him.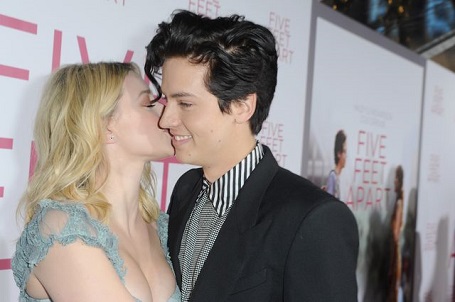 Reinhart was moved by Sprouse's effort for the movie.
Source: Joshua Blanchard, Getty Images
The two also went on a tour in Canada, and Sprouse talked to Glamour & Los Angeles Times about it. It yielded the greatest memories & romances; they "legitimately could not stay away from one another."
May 2019 - Officially One Year Anniversary
First a photo by Sprouse of Reinhart staring into a pool.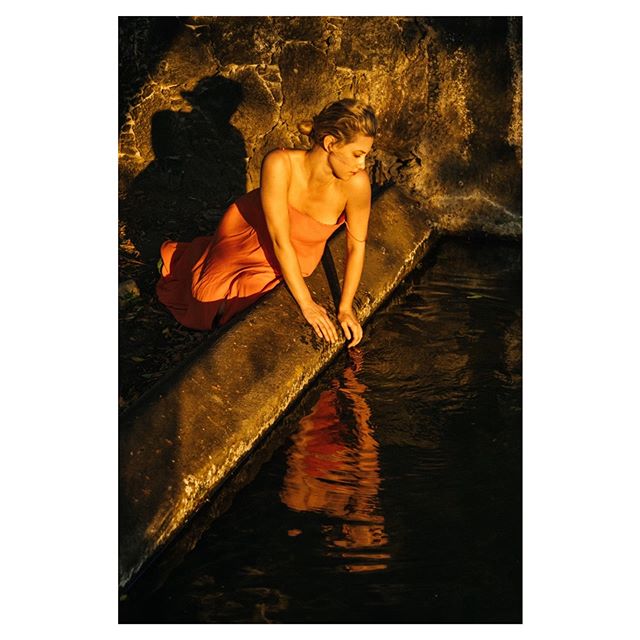 "Some mercurial pool"
Source: Cole Sprouse, Instagram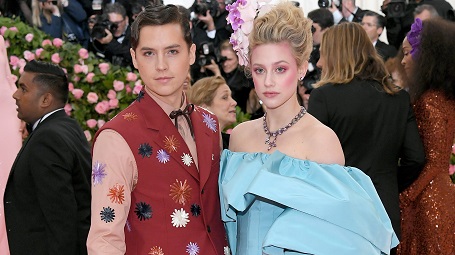 Notice his hair change? Did that in April.
Source: Neilson Barnard
The two also attended the Met Gala that month which would mark the first anniversary of their official announcement (without speaking that is).
Rumors Again, Of The Opposite Thing
After a month, another rumor started sparking. Not good news, but they had to take action themselves after it got out of hand.
July 2019 Pt. I- Breaking Up, They Say
The pair attended the San Diego Comic-Con that month, but only a few days later another report began appearing. Guess the reporters didn't get Reinhart's "Please don't put me between these two ever again" joke at the comic-con.
"Please don't put me between these two ever again."
Source: Lili Reinhart, Instagram
Major celebrity news sites started reporting that the two broke up, with various sources coming forward. Us Weekly reported, they kept their distance during various events, that weekend. A source told People they felt "super heavy in the relationship for a while, and it got to be too much."
Then, another source told E! News, they broke up earlier this summer and were not living together this season. These reports brought in waves soon after, and everyone thought it was completely over. They did think it would not last long either.
What became more of a smoke signal from the couple itself was Reinhart's comment on the beginning of the relationship. According to her words, Sprouse initially pushed the relationship's privacy which encouraged her too.
She told W Magazine, "At first, I didn't want things private. Now that I'm X amount of years in, I do appreciate the privacy we have, that he's encouraged me to take. No one knows how long we've been together, and no one will until we're ready to say it. No one knows how we fell in love, except for our close friends and us. It's really special. If and when we break up on the show, I don't know. It's weird being with an actor. You deal with shit no one has to deal with."
They appeared on the cover of the magazine, but even the reporter alleged the two did their interviews separately.
July 2019 Pt. II - None Of You Know Anything
People couldn't let this one relationship slide without making stuff up about their split. Fans were waiting, and the pair themselves had to put it to rest. No one predicted their responses. It was contrary to the breakup gossips, and it was godly epic.
Both of them released the same photo (the magazine cover), and their captions were freaking hilarious. They just completely reflected all the negativity of the sources of their rumor back at them.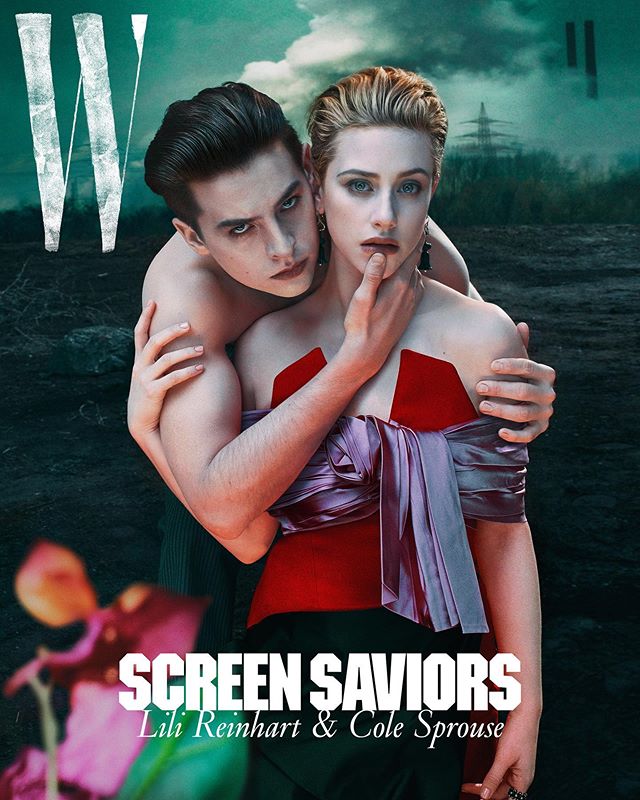 Source: Lili Reinhart/Cole Sprouse, Instagram
Lili Steinhart's caption read, "Breaking: A reliable source has confirmed that none of you know s**t."
Meanwhile, Sprouse wrote, "UNPRECEDENTED: Cole Sprouse and Lili Reinhart consume the flesh of 'reliable sources' to fuel their bacchanalian s** cult."
Every reliable source got major burns following the couple's announcement.
Reinhart further went on to warn people, fans included, to not believe everything they hear in the media, with a post on Twitter.
Don't believe everything you read on the internet, kids. And news sources should try a little harder to be less vile.🙏🏻
August 2019 - Going Poetic
Yes, it's another birthday month and another dedication from Reinhart. Sprouse was 27 on August 4, and she wrote a poem for him, which could be titled, "I couldn't find a poem." And though not the target, it was enough to silence the doubters.
"I tried to find a poem
that I could send to you.
Because my words were failing me.
But I searched and found nothing that did you justice.
All of these love poems can't get it right.
No one else's words could ever fit.
They haven't known the fortune it is to love you. -sappy nighttime birthday poem for @colesprouse," she wrote on Instagram.
A couple of days later, in a red carpet event, Variety's Power of Young Hollywood at The H Club Los Angeles, he was asked if he felt annoyed about the reports of his breakup by Entertainment Weekly's Katie Krause. He went comical about it.
Incredibly... No, I don't care. That's the nature of our industry.
He continued, "I think you have to poke fun of it a little bit. It's kind of something you sign up for, but as long as can keep it light and fun, it's all good." He's now preparing something to rival Reinhart's birthday dedication.
Watch: "I'll Have To Think Of Something."
At one moment, Reinhart posted a comment on Variety's Instagram photo and then deleted it. She wrote, "Sources say He's single now - is he available?" Deleting it was probably smart.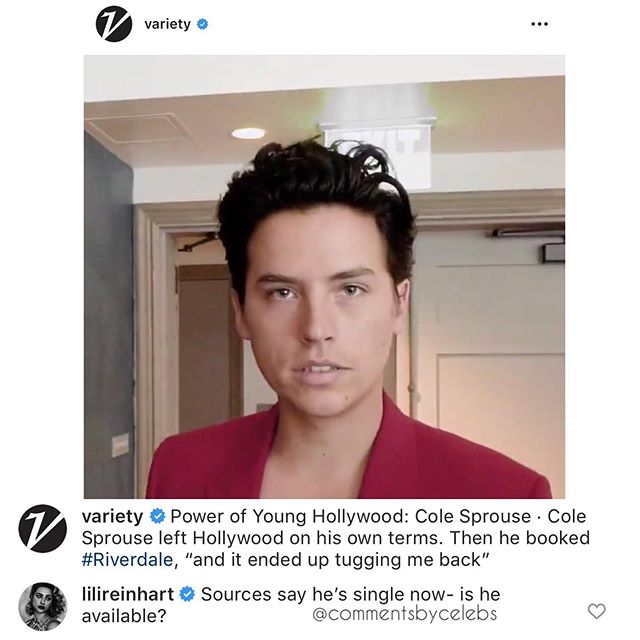 She's taken Lili.
Source: Comments By Celebs, Instagram
September 2019 - No More Questions
After the waves of rumors and finally shooting them down, the media went silent. Though both actors proclaimed they are still together, some still remained skeptic. But, it was all dying out and wouldn't reappear until one of them indicated something again.
After a month of silence from either of the two, one word from Reinhart was kind enough to let us know they are still boyfriend & girlfriend, and rest the skeptics. In a recent interview with The Coveteur, she slyly calls Sprouse her 'boyfriend'.
She was not even asked about him, and just gave the fans the cake they were waiting for. On discussing her plans for the Halloween costume this year, she stated, "It takes a lot of time to do those things. I think I'm leaning in towards a character for Halloween. I think I'm going to do it with my boyfriend, Cole. I don't want to spoil it if it's not going to happen, but it's a TV duo."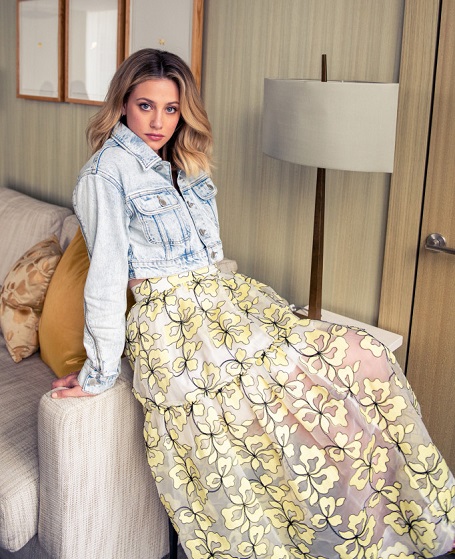 "I'm going to do it with my boyfriend, Cole."
Source: Jake Rosenberg, The Coveteur
Well, there we go, without a doubt they are still together now. Unless, you're ready to feature your story as trending with your own rumor. We know they'll just come right out and shut them down if they have enough of it. No spoilers until then, we've learned enough.
-->