Complete Details of Adam Levine Tattoos
Published Wed Oct 30 2019 By Chester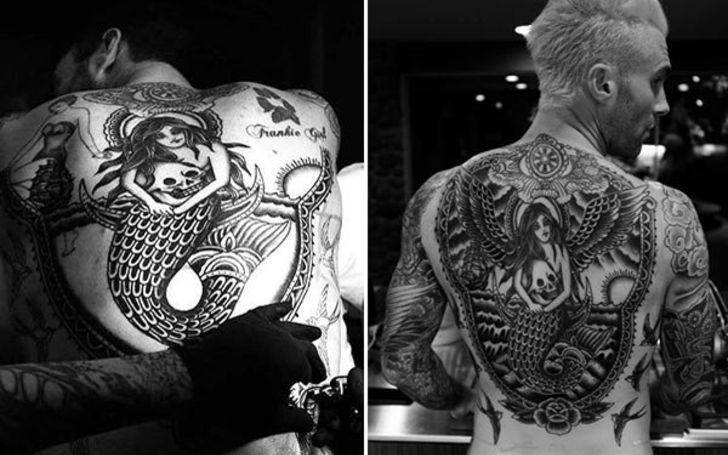 We all are a fan of Adam Levine, aren't we? Yes, with the frontman of 'Maroon 5' and with his unique high pitched vocals; But besides his excellence in singing, Adam is also known for his unique and styling preferences.
The 40-year-old handsome hunk has more than 26 tattoos. So, in today's article, we are here to talk about some of the singer's best inks.
So let's dig in and find some of the 'Girls Like' You hitmaker Adam Levine tempting tattoos.
Adam Levine Front Tattoo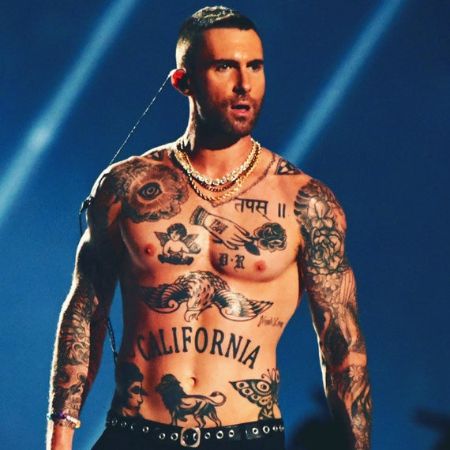 Adam Tats are no doubt have the hots for any ladies.
SOURCE: Elle
Unlike other full-body tattoos, Adam's inks are fascinating and well placed. He has pictured some of the best and unique tattoos among various celebrities.
Adam has 'CALIFORNIA' above his belly button and bald Eagle on the top of it. FYI, it is the US national emblem.
On her left oblique part, he has inked a female centaur, lion in middle and a butterfly on his tummy.
Adam's Envying Chest Mandala, Angel Baby, and Tapas (तपस्)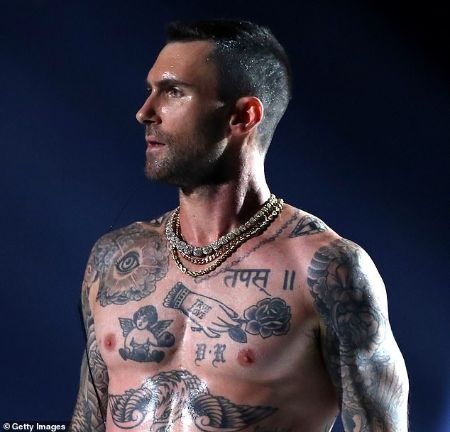 'Misery' hitmaker has inked 'Mandala' - a geometric figure representing the universe in Hindu and Buddhist symbolism, on the right side of his shoulder. The unique art has an eye in between.
At the center, a lady hand with 'True Love' written on it holding a rose, probably referencing his supermodel wife, Behati Prinsloo
Think Before You Ink: Obsessed With Tattoo? Check Out These 10 Weirdest Tattoos That Will Make You Think Again >>>
One the left side Adam, 40, has tattooed a sanskrit word Tapas (तपस्) meaning deep meditation, effort to achieve self-realization, sometimes involving solitude, hermetism or asceticism; it is derived from the word root tap (तप् or ताप) which depending on context means "heat" from fire or weather, or blaze, burn, shine, penance, pain, suffering, mortification.
Ribs tattoo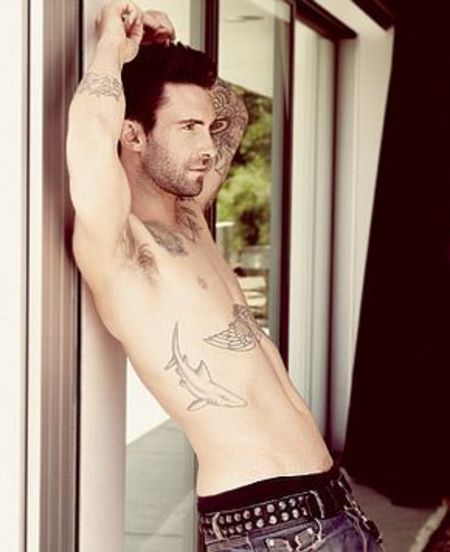 Adam shared that his biggest fear growing up was dolphins, so he had a dolphin tattoo inked below his ribs. He probably has nightmares everyday.
Adam Levine Back Tattoo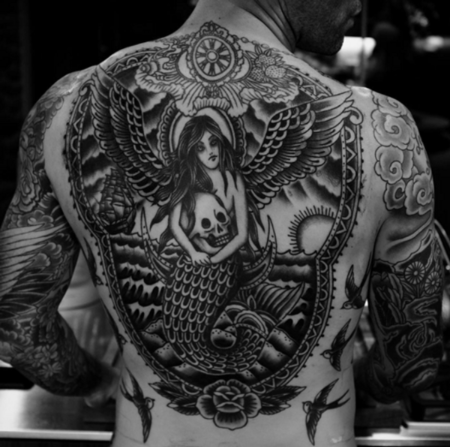 'Girls Like You' hitmaker inked a well crafted mermaid-angel tattoo with some deep and dark meanings behind it. One of our favorite tattoos of Adam.
Adam Levine Sleeve's Tiger Tattoo
Levine tatted his right arm with a tiger tattoo through which he means to show us how fierce he is.
Adam's Los Angeles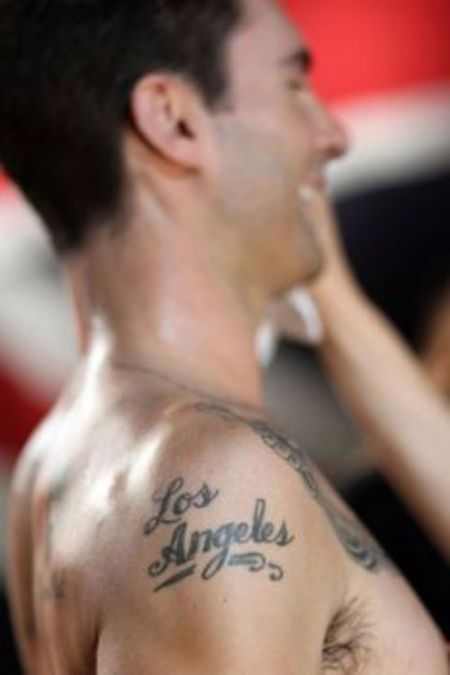 SOURCE: Celeb Body Tat
Los Angeles
Adam simply has Los Angeles inked on top of his right arm which mainly indicates his born, raised and beloved city.
Levine's Lucky '222'
The number 222 on the inside of the left hand, is considered as the singer's lucky number. Coincidentally, it was the name of Adams's first studio too where his band 'Maroon 5' first album was recorded.
Find Out: How Many Tattoos Does Nipsey Hussle Have? Learn Their Meanings Here!!!
Hope you enjoyed the article and learned some facts about Levine inks too. Stay tuned and connected to find updates on the Entertainment articles only on Glamour Fame.
-->