Cookie Monsters Rejoice - Ben & Jerry's Cookie Dough Pieces Officially Hitting Shelves This Month
Published Fri Apr 05 2019 By Eden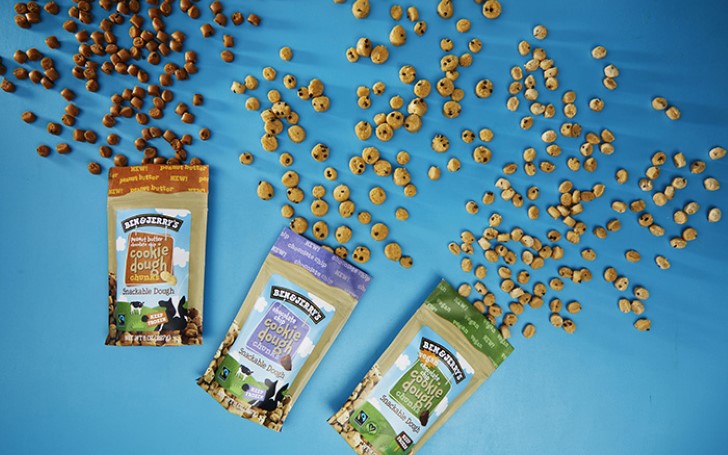 It's time for cookie monster fans to rejoice as Ben & Jerry's cookie dough pieces are finally hitting shelves this month.
Great news for Cookie Dough lovers - Ben & Jerry's little nuggets of glory are finally making their way onto shelves and into freezers as well as our hearts. So-called Chunk Spelunkers can now tuck in without all the mess.
These snackable bags are available in stores and ready to melt hearts around the US. Even if you got warned by your mother not to eat raw cookie dough, well you're in luck because the latest offering is fine to eat thanks to its credentials of only containing pasteurized eggs and heat-treated flour.
Recommended: Scientists Working on an Alcohol From The Future That Gets You Drunk Without a Hangover
Besides the flavors of Chocolate Chip Cookie Dough and Peanut Butter, there's also a vegan version of the Chocolate Chip Cookie Dough.
Jody Eley, the innovation manager of Ben & Jerry said,
"Fans snatched up the dough in record time. Bags flew off the shelves in mere days, and stores could not keep the delicious dough bites in stock! Now, Ben & Jerry's is rollin' out the dough to fans across the US."
Previously, Ben & Jerry's Cookie Dough Chunks was a big hit in Vermont after they trialed it last summer.
You Might Like: Burger King Officially Launches a Vegan Whooper
It was announced on JunkBanter's official Instagram account where they wrote, "There's no denying that deep down, we're all disgusting monsters. We love @benandjerrys because of how much crap they cram into our ice cream, and we also love eating raw cookie dough by the spoonful."
It goes without saying the entire thing worked since the snack bags are back with a vengeance and retailing at a suggested price of $4.99. Although there's a possibility price might fluctuate depending on where you live, we can almost guarantee the Cookie Dough Chunks will be well worth it.
Additionally, it's great to see the fan-favorite ice cream company including vegans in its latest roll-out. Ben & Jerry's is well renowned for its vegan-friendly offerings, so this only further helps their cause.
Also See: McDonald's Set To Add A Creepy New Feature To Its Drive Thrus
The Cookie Dough Chunks come in 1/2lb bags — with eight servings of the same good stuff you'll find in the tub. All we need now is for the ice cream giant to release little snackable pieces of that strawberry cheesecake base.
-->