Corey Knight: All You Need to Know About 'We Are Who We Are' Actor
Some facts to know about 'We Are Who We Are' actor Corey Knight.
Corey Knight is an American actor, but before he embarked into an acting career, he played teenage football, moreover, he is also a professionally trained dancer. But all things aside, Corey is going places recently as an actor.
Corey would have been a successful football player if he had not gone through a injury. According to the reports, Corey stopped playing football at the age of 14 following a severe injury. The same accident led him to quit football and began competing in hip-hop.
Knight often took first place on his dance competition; the actor revealed it was his dance skills which opened the door for his acting career.
Corey revealed when he joined 'Moving Mountains,' a community-based theater in Brooklyn, the founder of the company, Jamie Hector, introduced him to acting and made him realize that he was built for this!
Also Read: Jordan Kristine Seamon: Some Facts to Know About 'We Are Who We Are' Actress
Corey Knight is widely known for his stint on his first-ever acting project, and his breakthrough role on HBO's limited series, 'We Are Who We Are.'
Corey Knight on HBO's 'We Are Who We Are'
'We Are Who We Are' is an upcoming mini-series on HBO and Sky Atlantic. The show is created and directed by Luca Guadangnino which tells a story of two 14 years old American kids in Italy set in an Army base.
The story follows Fraser Wilson, played by Jack Dylan Grazer, and Caitlin Harper, played by Jordan Kristine Seamon. And while talking about Corey Knight, he plays a young paratrooper stationed at an Italian military base.
Photo Source: Agency/GF
Corey revealed it was his dream come true to work with Luca Guadangnino. The actor stressed he did not think that he would end up on Luca's radar at all.
Also Read: Who is Vanessa Valladares? All About Zac Efron's Girlfriend in Australia, Vanessa Valladares
Corey Knight added,
"I certainly did not think that he would find this kid from Flatbush and say, 'Hey man, be part of my gorgeous show.'"
Some Other Facts About Corey Knight
Corey Knight is 23 years old as of 2020, who originally hails from East Flatbush, Brooklyn. The actor now lives in Brooklyn at his one-bedroom apartment in the Prospect Lefferts Gardens section.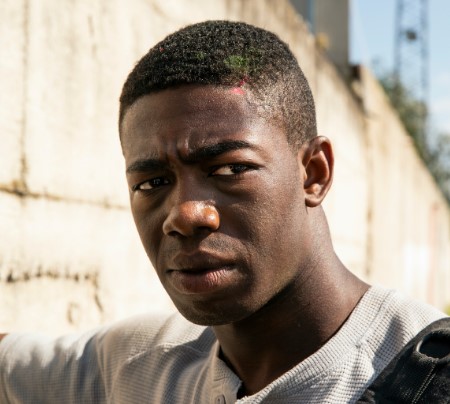 Photo Source: Agency/GF
Well, as of now, he seems to be pretty low profile, Corey Knight is yet to get his Wikipedia page, but that doesn't mean he lacks any talents. Well, it's pretty sure all the details about his net worth, parents, and other information will be available soon.
You May Also Like: Where Do You Know Netflix's "Away" Character Dr. Putney From? Some Facts to Know About Michael Patrick Thornton
For more information on your favorite celebrities' lifestyle and other news, stay tuned to Glamour Fame, and don't forget to sign up for the newsletter.
-->