Where Do You Know Netflix's "Away" Character Dr. Putney From? Some Facts to Know About Michael Patrick Thornton
Some facts to know about Away Netflix's character Dr. Putney, played by Michael Patrick Thornton.
Michael Patrick Thornton is an American actor and theater director. He is the director & and co-founder of 'The Gift Theatre,' and most recently he was seen on stage as King Richard III.
Michael Patrick Thornton is now getting popular for his fairly new character, and fans love him for it. And we just stop loving for his Dr./professior characters on the shows, are kind of addicted for his portrayals of such roles.
Also Read: Netflix Set To Adapt Broadway Hit 'American Son' With Kerry Washington Reprising Role
Netflix's "Away" is a series where we will see Mikhael doing his wonders as Dr./Professor again.
What is Michael Patrick Thornton's Character In Netflix's "Away?"
Netflix's "Away" is available to stream on the platform, and already gaining a lot of traction ever since it was premiered on September 4, 2020. People are loving the show.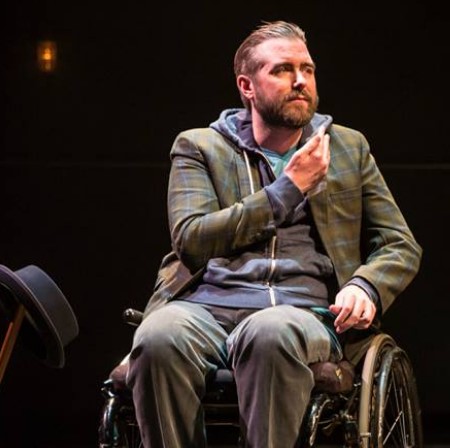 Photo Source: Tribunal
Season 1 of Away focuses on "Emma Green," played by Hilary Swank, who is an Astronaut. The first episode establishes Emma's backstory and her relationship with her husband and daughter.
Also Read: Netflix Reveals Astonishing Viewership Numbers of The Post-apocalyptic Thriller 'Bird Box'
Well, there's one very special character that we all loved, and that's Dr. Putney. Michael Patrick Thornton's character plays a character of a psychologist. Michael previously played the character of "Dr. Gabriel Fife" on Amazon Prime's "Private Practice."
Some Other Facts About Michael Patrick Thornton
Michael Patrick Thornton was born on March 18, 1979, which makes him 41 years old as of 2020. It's really to gather information about Mike, even his wiki page seems to be lacking a lot of information.
However, all we know about the actor is, Michael Thornton has an estimated net worth of $320,000 as of 2020. Michael is happily married to his wife, Lindsey Barlag Thornton. The couple tied the knots in 2011.
Photo Source: Agency/GF
The six feet two inches tall actor suffered a stroke back in 2003 which left him partially paralyzed. But his illness didn't hold him back, the actor got his one of the most breakthrough role the same year.
Michael is loved for his role of 'Dr, Gabriel Fife,' on Amazon Prime's "Private Practice."
You May Also Like: Kiernan Shipka Opened Up About Putting Social Media to a Good Use
For more information on your favorite celebrities' lifestyle and other news, stay tuned to Glamour Fame, and don't forget to sign up for the newsletter.
-->