Kiernan Shipka Opened Up About Putting Social Media to a Good Use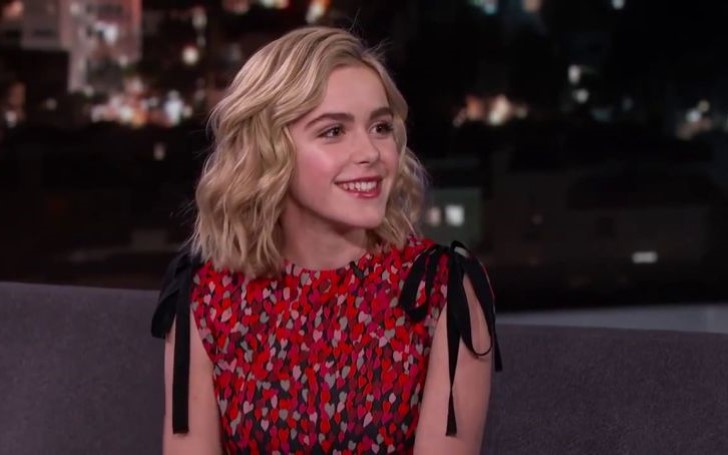 Kiernan Shipka opens about the usage of social media for a good purpose.
Chilling Adventures of Sabrina's actress Kiernan Shipka was recently the star of the Seventeen Magazine. The magazine had the 19 years old star as their cover.
Following the interview Kiernan did with the Seventeen magazine, the teen sensation reveals about using her platforms to bring awareness on many ongoing important things that matter.
Also Read: Miley Cyrus and Liam Hemsworth Secretly Got Married Just Before Christmas
The actress in a statement to Seventeen Magazine said:
"An upside to having phones and social media has been so much more awareness of all the injustices and things going on in the world, and having a voice and platform that just didn't exist before. It's just really incredible to me—I feel like I can continually learn new things every single day"
Kiernan also instantly revealed her perspective on character Sabrina Spellman with the power which she is ultimately playing the role. She stated:
"I gravitate toward feminist content because that's just who I am. But there was something so cool about this show being so feminist while still having this very separate fantastical element."
She continued:
"It's sort of set in this 'timeless' period where there aren't many references to pop culture, or what's happening now or what happened in the past. But at the same [time], it's related to what's happening in many different ways and resonates on so many levels."
It's unbelievably cute of Kiernan for having such monumental views on Sabrina for having that girl power.
As a matter of fact, the new uprising new sensation also revealed how playing the character of Sabrina has pushed her to become a better version of herself.
You May Also Like: Tyreek Hill and Crystal Espinal Are Finally Engaged
The way Sabrina involves herself in risky situations by putting her life in dangers has pretty much inspired Kiernan.
And when asked about the best advice the actress has received, she says:
"Stand up for yourself, and be your best advocate. That's something that's so important and can be applied to any career. I've definitely learned to speak up when it's called for and to ask questions and to not be afraid to own it and just go for it. And being supportive of other women is always essential—essential! It's important to have conversations with other women. We are all in this together."
Do Not Miss: Ariana Grande Receives Text From Miley Cyrus After Split From Pete Davidson
You can watch her show Chilling Adventure of Sabrina exclusively on Netflix.
-->