Ariana Grande Receives Text From Miley Cyrus After Split From Pete Davidson
Published Wed Dec 26 2018 By Danile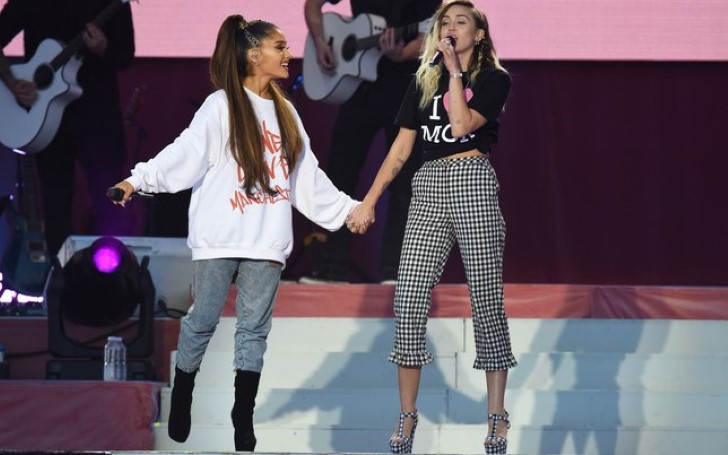 Miley Cyrus sent a text to Ariana Grande after her split from her fiance Pete Davidson.
Singer and actress Miley Cyrus, often known for her notorious and mischievous works has shown her support for her close friend Ariana Grande after her break up.
Ariana Grande whose new upcoming album entitled Thank You, whose singles have been topping the charts but sadly, her private life is not going as well as her hits songs.
You may also like: Ariana Grande and Kanye West are Currently Battling, Ariana Grande Apologizes To Kanye West
Ariana Grande parted ways with actor and comedian Pete Davidson in October. They were engaged a couple of months earlier this year.
Miley went on The Howard Sten Show earlier this month and talked about her relationship with Ariana, saying:
"I would say she's a good friend. It's not about how many hours spent or how many inside jokes you have, but it's about the real sh**t." And it looks like their friendship extends to supporting one another during tough times"
Miley also shared that she reached out to Ariana after her breakup with Pete Davidson and expressed her feelings through their conversation.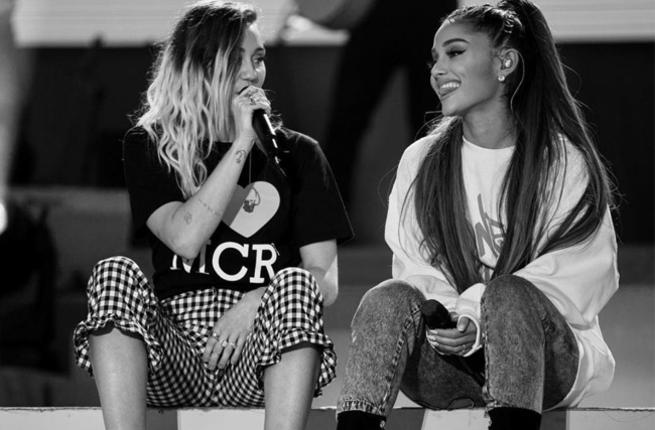 Miley Cyrus and Ariana Grande at a concert
SOURCE: Al Bawaba
She further said:
"I'm an emoji person, so I just sent a bunch of hearts and the little cat with the heart eyes," Miley said. "I thought it was slightly, maybe even kind of making her feel good, like maybe I was hitting on her a little bit. Pussy hearts!"And what those emojis meant to Miley was, "It felt like to me maybe like a little, 'Oh hey, someone loves you. I'm here. If it's not working, here I am.'" Ariana also replied to Miley with a cloud emoji, which Miley took to mean "'I'm okay, and I'm here...Thank you for thinking of me.' That's what I think it meant."
Read Also: Saturday Night Live' Star Pete Davidson is Reportedly Dating Again After his Split From Ariana Grande
Cyrus and Grande go back a couple of years. In 2015, the singers collaborated for a music video Don't Dream It's Over as they dressed in animal onesies to raise awareness for Miley's foundation The Happy Hippie.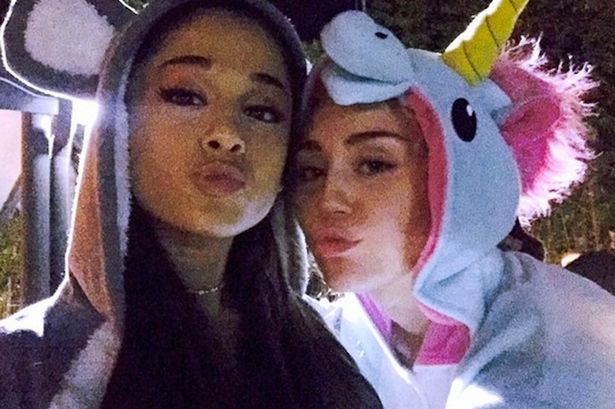 Ariana Grande and Miley Cyrus in an animal costume
SOURCE: The Mirror
After the deadly attack at Grande's concert in Manchester in 2017, Cyrus wrote on Instagram that she wanted to "give my friend @arianagrande a great big hug right now". Miley later performed at Grande's benefit concert.
Read Also: It Seems Nobody Wants To Host The 2019 Oscars After Kevin Hart Stepped Down
There is no doubt that both Miley and Ariana are amazingly close friends and they support each other at the time of difficulty. And that is what friends are for isn't it?
And even though Ariana is going through a bit of a rough moment in her life. The sweet words from Miley may have soothed her wounds even if it is little.
-->