Miley Cyrus and Liam Hemsworth Secretly Got Married Just Before Christmas
Published Thu Dec 27 2018 By Jessica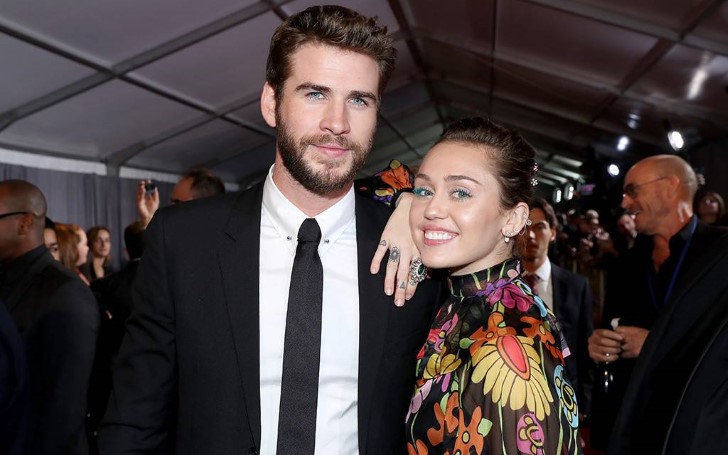 Pop singer Miley Cyrus secretly got married to longtime love interest Liam Hemsworth and our MIAM heart is crying with joy.
Miley Cyrus and Liam Hemsworth had a secret wedding last weekend in their $5.8 million mansion in her hometown, Tennessee. The couple kept their wedding lowkey inviting their family and close friends only.
In recent pictures shared by Conrad Jackcarr on his Instagram story, fans witnessed both Miley and Liam cutting what seems to look like a wedding cake. In the same picture, Miley's mother Tish Cyrus's presence can be visible too. What proves the marriage of the young couple is that they both can be seen wearing wedding attire.
Miley Cyrus and Liam Hemsworth at an Award show
SOURCE: Cosmopolitan
The pop singer wore an off-shoulder gown, whereas, her now-husband Liam wore a typical black suit and pant for the occasion.
Also read: Danielle Jonas Reveals The Best Gift From Husband Kevin Jonas
The picture views remarkably perfect as Liam is hugging Miley from behind while simultaneously holding her hands.
A wedding picture of Miley and Liam shared by Conrad Jackarr
And in another picture of the secret ceremony, Liam's elder brother Chris Hemsworth was spotted too, in a black blazer and pant.
You may also like: Cardi B and Offset are Reunited Together in Puerto Rico After Two Weeks of Split
Furthermore, after the secret wedding news surfaced, their fans immediately commented on the marriage. One fan tweeted with emotion saying:
"Imagine meeting the love of your life as a teenager, dating, going your separate ways, then finding your way back to each other and marrying near the anniversary of the first time you met... a real life fairytale"
Chris Hemsworth at the wedding
Besides that, the wedding also earned appreciation from the fans. One commented that they loved how the pair didn't make a big deal of the wedding nor spent millions of dollars on a single day event further calling the wedding beautiful.
Miley is the first ex-Disney act of this generation to have gotten married.
Read as well: Khloe Kardashian and Boyfriend Tristan Thompson Relationship Timeline
Miley, 26 and Liam, 28 both met on the set of The Last Song in 2009 where they both worked together as the lead co-actors. However, the two dated on-off throughout the last nine years. As a matter of fact, they ended their engagement in September 2013 and rekindled their romance at the end of 2015.
Congratulation to the new husband and wife!
-->