Daniel Craig Wants Adele To Record The Bond Theme Again
Daniel Craig will be playing the 'Bond' for the last time and the actor has pleaded Adele to sing the Bond theme song.
The shoot will start next year and Daniel Craig has approached Adele for the title song.
Adele back in 2012, wrote the theme song for '007: Skyfall' for which she won an Oscar, Brit Award, Golden Globe and Grammy for the hit title song.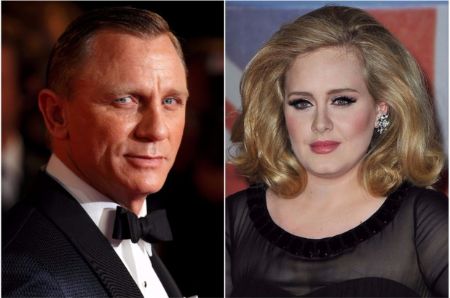 Despite the actor immense pressure, the singer has not confirmed if she wants to sing a song for a new Bond movie or not.
Read Also: Daniel Craig and Idris Elba Share Awkward Selfie At The Golden Globes
Adele is not the only who was targeted. Earlier this week, reports came out that the 007 teams approached many other artists.
Reports claimed Dua Lipa and Sam Smith were approached too but Dua swiftly declined the job. The singer said she was afraid to take the risk this time.
Ed Sheeran, however, is not approached yet. Ed said that he will happily take the job if approached. Though this will not be the first time for Ed either. The singer revealed he wrote a theme song for the bond three years ago.
See Also: Daniel Craig Set To Undergo Surgery After Sustaining Injury In Jamaica While Shooting New James Bond Film
The 007 teams said there are other names on the list but Adele remains on the top of all.
Watch: Skyfall theme song
Source: theBTFabian/YouTube
However, Adele said she is not clear, the 31-year-old singer doesn't want to take the risk with this. Moreover, the singer doesn't want to jinx the perfectly fine records that she has made.
Recommended: Chloe Madeley Stripped Off to Show Off her Incredibly Sculpted Abs in a Series of Breathtaking Selfies on Tuesday
Let's see what Adele does with the job. Only time can tell if she will take the job or not.
-->