Daniil Medvedev's Earnings And Net Worth From Tennis! The Complete Breakdown
Published Sun Feb 21 2021 By Bran
How Much is Australian Open runner-up, Daniil Medvedev's net worth in 2021?
Being a runner-up after working so hard in a Grand-Slam-like Australian Open is surely heart-breaking, but Daniil Medvedev has a lot to cherish after the Russian's impressive run. Courtesy of his series of top performances, the 25-year-old athlete recently reached his career-high ranking of No.3 in February 2021.
Following a resounding performance throughout the first Grandslam of the year, Daniil Medvedev just fell short to the current world number one, Novak Djokovic, who also happens to be a nine-time Australian open winner. The Russian tennis player lost to the Serbian in straight sets, 7-5, 6-2, and 6-2.
The run in the Australian Open wasn't a rare heroic one for the 25-year-old as he is a nine-time ATP Tour Singles Winner. In the 2020 ATP Finals, he did get better of his latest opponent, Novak Djokovic, and the likes of Rafael Nadal and Dominic Thiem. All credit going to his hard work and dedication, the right-handed athlete garners a colossal net worth. Stay right here to know all about that and the earnings of Daniil Medvedev.
Daniil Medvedev Is A Multi-Millionaire By Net Worth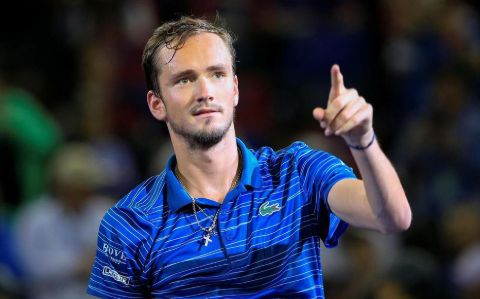 Daniil Medvedev owns a massive net worth of $3 million.
Photo Source: Essentially Sports
Getting into the top five of the ATP Tour rankings doesn't mean nothing, as it gives Daniil Medvedev a tremendous amount of accolades, fame, and fortune. Getting into the numbers, the Australian-Open runner-up earned a status of a millionaire athlete, after all these years of playing tennis at the very top.
Don't Miss: Late Rush Limbaugh's Net Worth Was Staggering: All The Truth Here.
Daniil Medvedev currently amasses a staggering net worth of $3 million as of February 2021. Such a whopping figure makes no surprise as his assets expanded mostly in recent years, where he accomplished many titles in the ATP Tours. The 25-year-old turned pro just in 2014, which makes his six-year-long career and a millionaire worth net worth even more attractive.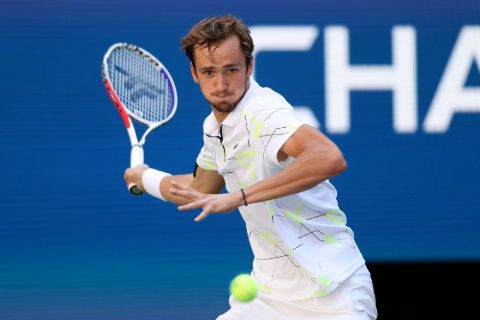 Daniil Medvedev earned a total of $14.7 million till now in form of prize money.
Photo Source: NY Post
Daniil Medvedev's career earnings are far greater than his net worth. Interestingly, the numbers might impress you further as the Monaco-born tennis player earned around $14.7 million to this date, in form of prize money itself. Furthermore, the figure is subject to increase as he became the runner-up in the 2021 Australian Open. Surprisingly, being second to Novak Djokovic would mean that Medvedev would take a paycheck of $1.5 million to add to his net worth. On the contrary, the 18-time Grandslam winner earned around $2.75 million.
Daniil Medvedev's Tennis Career At The Top
Daniil Medvedev continues to climb the ladder, as the Russian made it to World no.3 after the Australian Open final. Ever since turning pro in 2014, he participated in four French Opens, reaching up to the first round. While he lost to Novak Djokovic in the final last night, it wasn't his first final experience as he previously reached the US Open Final in 2019. Just like this time, he was beaten by The Big Three back then as well, losing to the Spanish sensation, Rafael Nadal.
Daniil Medvedev lost to nine-time winner Novak Djokovic in the 2021 Australian Open Final.
Photo Source: Sky Sports
Daniil Medvedev's career record is impressive enough at a win percentage of 65.5 percent as of the current date. He made a reputation for playing as a defensive baseliner, who tries to mirror his competitor's play with a strong return. Earlier in 2020, he bagged his first major title winning the ATP Finals. Interestingly, following that match, he became the first player to beat all the world's top three players at any ATP Finals competition.
Related: Jeff Bezos Becomes World's Richest Man Yet Again.
For more news and updates, stay right here at Glamour Fame.
-->