David Pastrnak's Child: Learn About His Family Life
Published Wed Jul 28 2021 By Manvi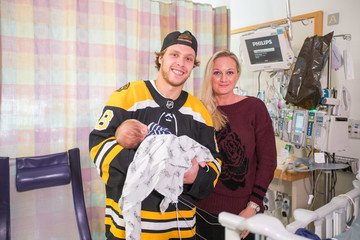 Who is David Pastrňák's child? All details here!
David Pastrňák, also known by the Nickname "Pasta" named by his Bruins fans, is a professional ice hockey player for the CzechBruins of the National Hockey League (NHL). The athlete' managed to bag the title of the youngest player in history to win the Golden Stick Award at the age of 21.
Pastrnak, born on 25th May 1996, started his Bruins career after being drafted as the 25th pick overall by the Boston Bruins in the 2014 NHL Entry Draft. At the age of 18 years, the extraordinary player signed a three-year, entry-level contract on 15 July 2014, aiding him with ($3-$4 million) initially.
The 25-year-old is blessed in a relationship with girlfriend Rebbecca Rohlson and recently completed their 3rd love anniversary. The beautiful duo was expecting a child soon. Until the pair underwent a tragic experience with their child, continue reading to know more about David Pastrňák's kid.
Who is David Pastrnak's Child?
David Pastrnak and his girlfriend announced back in January 2021 that they were expecting a child soon. We could feel the couple's excitement through the videos themselves.
Followed by the gender reveal videos, stating they were welcoming a baby boy. David had often mentioned his new lifestyle after the news of pregnancy.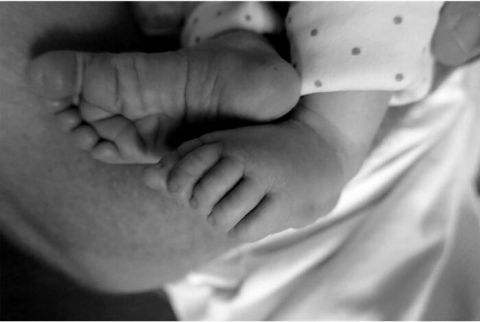 Photo Source: Techno Trenz.
David Pastrňák's suffered a terrible loss in 2021.
But their happiness lasted short as the Czech professional player recently announced the heart-wrenching news on his Instagram about the demise of his newly born son. Viggo Pastrnak was the pair's first child, born on June 17, but sadly passed away 6 days later on June 23.
Recommended: Ladd Drummond's Kids: All the Details of His Family Life.
The Czech Athlete of the Year quoted, "We have an Angel watching over us, and we call him SON. You will be loved FOREVER'. In addition to "Please respect our privacy as we are going through these heartbreaking times."
Reaction to Such Sad News!
The Bruins released their statement on Twitter expressing their grievances, stating, "We are heartbroken by the passing of David and Rebecca's son, Viggo." "David and Rebecca are a part of our family and we share in their loss. Please keep them in your thoughts and respect their privacy during this very difficult time."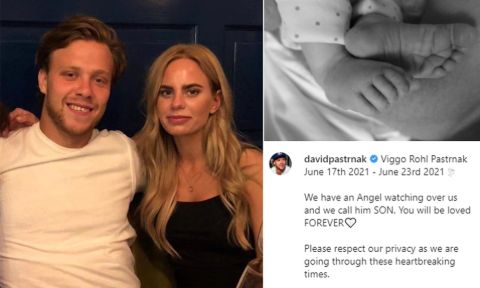 Photo Source: DailyMail.
David Pastrňák posted on his Instagram on the demise of his child.
The Pastrňák family received prayers and messages of support from fans and viewers all around the world. At the same time, fellow teammates of the Boston Bruins expressed their sadness after hearing the news on Twitter, requesting the fans and public to respect their privacy at such a shallow moment.
Recommended: Jacob deGrom's Kids: Learn About Them Here.
Having lost his father, who he looked upon back on May 21, 2013, David is well acquainted with losses, but we hope the couple stays strong and survives this turmoil together. All prayers and blessings are with them.
For more content, visit Glamourfame!
-->