What is Deontay Wilder's Net Worth? Complete Breakdown of Professional Boxer's Earnings and Salary
Published Tue Feb 25 2020 By Matthew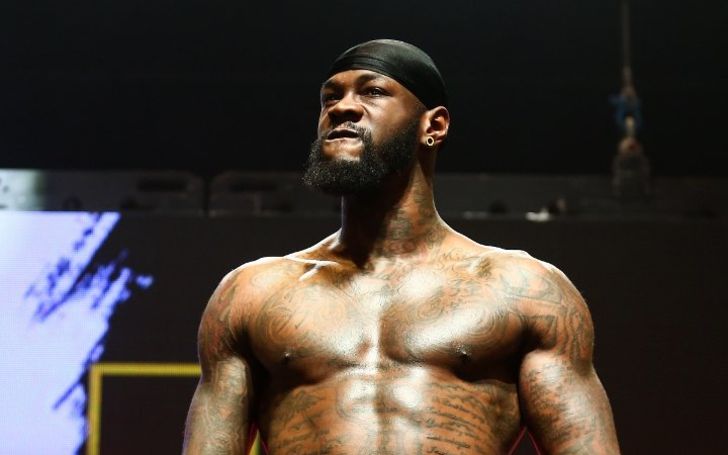 Here's all that you need to know about Deontay Wilder's net worth, the complete breakdown of his earnings and salary!
Deontay Wilder ruled the WBC Championship universe undisputedly for a very long time with zero losses until he met Tyson Fury. After the first face-off ended in a controversial draw through the judges' scorecard, the rematch happened almost a year later.
Almost everybody put their money on Wilder, assured that he would come out on top, considering the fact that he knocked down Fury twice in the December 2018 match.
Watch: Deontay Wilder vs Tyson Fury 2 | Fight Highlights
Alas, in much shock and awe, for the first time ever in his career of professional boxing, Deontay tasted defeat from the hand of Tyson Fury as he lost the WBC Heavyweight Championship title that he retained to his name for a very long time.
For the first time, Wilder's stats record displayed one on the losses panel. Even after his recent defeat, it's needless to say that Deontay Wilder made more than enough financially.
Deontay Wilder lost the WBC Heavyweight Championship title against Tyson Fury.
Source: Bad Left Hook
Born Deontay Leshun Wilder on October 22, 1985, Wilder managed to win a total of 42 matches, 41 of which were wins by knockout. A late bloomer than others, Wilder took up the sport at 20 years of age. And there's been no looking back ever since. So how much fortune did 'The Bronze Bomber' amass from his extensive fighting career? Let's discuss!
Deontay Wilder's Net Worth
As of 2020, Deontay Wilder's net worth is estimated to be in the ballpark figure of $30.5 million. Wilder made $30 million in winnings and $500,000 in endorsements during his successful career so far.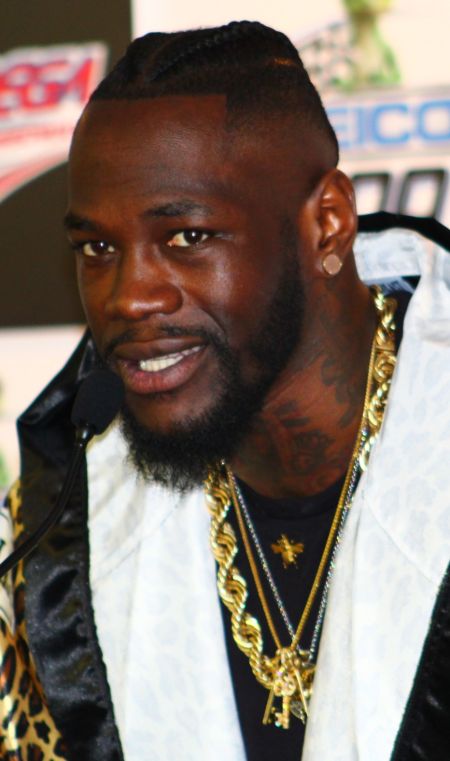 Deontay Wilder's estimated net worth is $30.5 million.
Source: Zach Catanzareti Photo, Flickr
Just as his professional rivalry with Tyson Fury, the two athletes are in contention in terms of net worth too, as Fury also holds a similar number in terms of his wealth.
Recommended: Telli Swift Net Worth - How Much Does the Deontay Wilder's Wife Earn?
The astonishing $30 million net worth isn't a surprising number because Wilder's been at it for almost 14 years of his life. The 34-year-old held the WBC heavyweight title since 2015 until it was recently taken over by Tyson.
Deontay Wilder's Earnings and Salary
In terms of his earnings and salaries, Wilder was paid $4 million for showing up before pay-per-view bonuses, which is higher than the $3 million the 'Gypsy King' took home for the same event. In May 2019, when he knocked out Dominic Breazeale in the first round, Wilder reportedly took home over $10 million.
Watch: Deontay Wilder vs. Dominic Breazeale
For the championship rematch between Wilder and Fury, promoter Bob Arum revealed that the purse would be split in a 60/40 ratio between both. As reported by Business Insider before the fight, the winner of the battle could potentially earn up to $138 million in 12 months on prize money alone.
Deontay Wilder's Stylish Car Collection
With over $30 million net worth and being known for living a flamboyant life, Wilder never became one to shy away from showing his love for luxury vehicles. Filled with exclusive Lamborghini, Rolls Royce, and few more, his garage looks like a fantasy of many car enthusiasts.
You Might Also Like: Who is Telli Swift? Some Facts to Know About Deontay Wilder's Wife
The Alabama fighter added a Lamborghini Aventador to his collection back in 2015, paying a hefty amount of $554,000. He customized the paint job of the 700-plus horsepower V12 engine car with a faux alligator-skin wrap. He also sports a Rolls Royce Phantom in his garage, which is considered to be the most expensive Royce in the market. The car can easily cost about $600,000 with a custom design.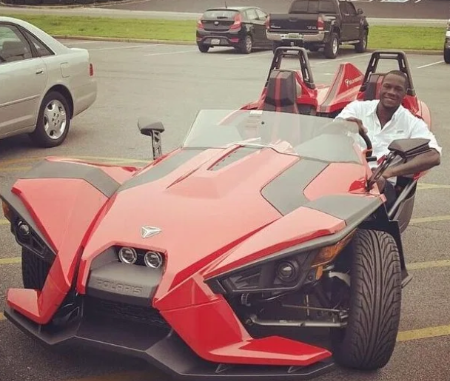 Three-wheeled Polaris Slingshot is Deontay Wilder's favorite car.
Source: EssentiallySports
Another of the same brand, Wilder also annexed a Rolls Royce Cullinan back in 2019 with a snakeskin finish and leather interior. This beauty set Deontay back by almost $348,000. The SUV model boasts shimmering hub caps that sport Wilder's distinctive logo. One of his favorites, Polaris Slingshot, cost him around $20,000. He frequently shares images of the three-wheeled vehicle, zooming around the town.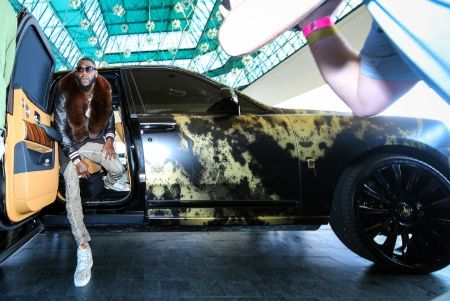 Wilder's Rolls Royce Cullinan cost him $348,000.
Source: Boxing Scene
The rarest find in Deontay collection is the Metallic Hummer H2, which he named the Bomb Squad Mobile. Valued at around $90,000, the car has 34-inch custom bronze and chrome star wheel rims chiseled with the words 'Bomb Squad'.
Customized with unique designs, the Dodge Challenger is the most powerful car in Wilder's collection. With a base price of $38,700, it's safe to assume that the former champion paid more than just the original price for alterations.
Deontay Wilder's House in Alabama
Wilder's love for an extravagant life is quite evident from his car collection, and his Alabama mansion only proves it more. The knockout artist resides in a beautiful Alabama mansion that backs right onto Lake Tuscaloosa. Priced at $1 million, the estate is more than just fit for 'The Bronze Bomber.'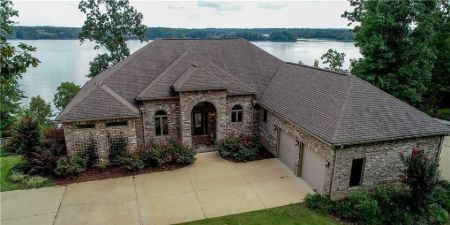 Deontay Wilder's house in Alabama cost him $1 million.
Source: Global Film Locations
Built-in 2012, Deontay's home comes with two-car garages for his six extraordinary car collection, four bedrooms, four bathrooms, a hot tub, an outdoor kitchen with a cozy open floor plan, and more. Located at 16783 Pine Island Rd, Northport, AL 35475, USA, the manor lies secluded among vast greenery.
Also See: Greta Gerwig and Noah Baumbach's Net Worth; The Complete Breakdown of the Pair's Wealth
After Deontay Wilder's first defeat in the hands of Tyson Fury, Wilder lost a massive opportunity to surplus his net worth but with a 14-year long dedication into professional boxing it's safe to say that he's going to make up for that in the coming days.
For more details on celebrity net worth, head on over to Glamour Fame, and don't forget to sign up for the newsletter.
-->