Dita Von Teese Boyfriend - Find Out Who the Playboy Model is Dating After a Series of Failed Relationship
Published Thu Apr 02 2020 By Bran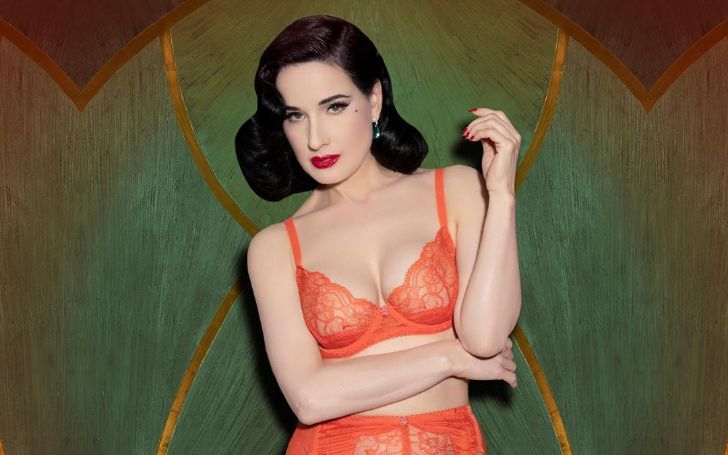 The elegant model Dita Von Teese had a few boyfriends in the past, but is she dating anyone right now? Let's find out.
Michigan born Dita Von Teese is a complete package with a diversified career as an American vedette, burlesque dancer, model, costume designer, actress, and singer. With a tag earned, as Queen of Burlesque, Teese appeared on the numerous magazine covers, including the popular ones like Playboy and Bizarre. Alongside, she appeared in a fair share of television works like Cupcake Wars and Oddities and music videos like Green Day's Redundant.
The classy woman experienced resounding success in her professional life, but her personal life is nothing short of drama. Dita got into the dating zone since she was 15-years-old and ever since had been through numerous men, which definitely taught her lessons big-time. So, without wasting much time, let us know about her dating history.
Dita Von Teese is Currently Dating Her Boyfriend Adam Rajcevich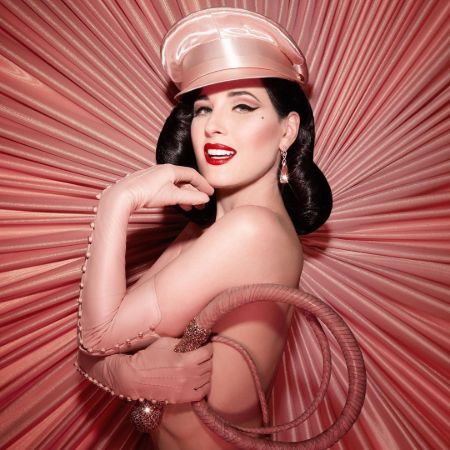 Dita Von Teese in known as the 'Queen of Burlesque.'
Photo Source: Dita Von Teese Instagram
After a series of failed relationships, the Playboy model Dita Von Teese is currently dating lowkey boyfriend Adam Rajcevich. The talented dancer started going out with the graphic designer in 2014 and seems quite happy with his low-key attitude.
Also See: Who is Nikita Dragun Ex-boyfriend? Find Out What Happened Between the Former Couple
Teese even expressed how the relationship is 'great, stable, and much better than her past ties.' She adored Rajcevich of his humble attitude and how the two won't jump around to flaunt the relationship by jumping around to take pictures and show it to the public. Interestingly, she took a dig at her ex-boyfriends, how they would want to publicize relationship with her only to get famous.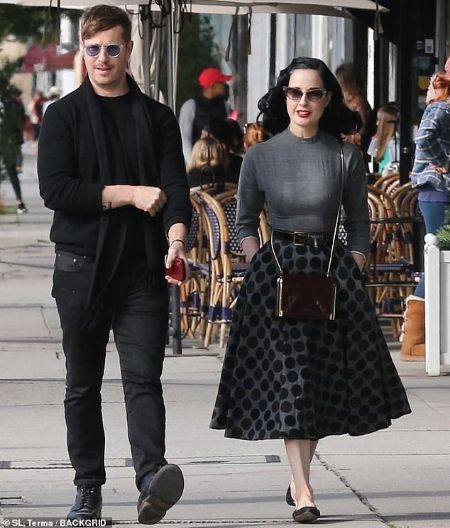 Dita Von Teese and Adam Rajcevich started dating in 2014.
Photo Source: Dailymail
While many people claim Dita Von Teese as single since she doesn't post many pictures with Rajcevich, but that is due to their mutual preference to keep things public. In fact, the paparazzi's spotted the two shopping around at Los Angeles in March 2019. The duo looked quite perfect for each-other and even did a twinning of their ensembles in black. Only time will tell, if the love birds are serious enough to exchange the vows in the near future.
Dita's First Ever Lover Was A Lifeguard
First love is always special, isn't it? Dita Von Teese thinks the same and clearly remembers her first boyfriend, named Mark. In an interview, the dancer revealed some explicit details about how she even lost her virginity with the star water polo player and lifeguard.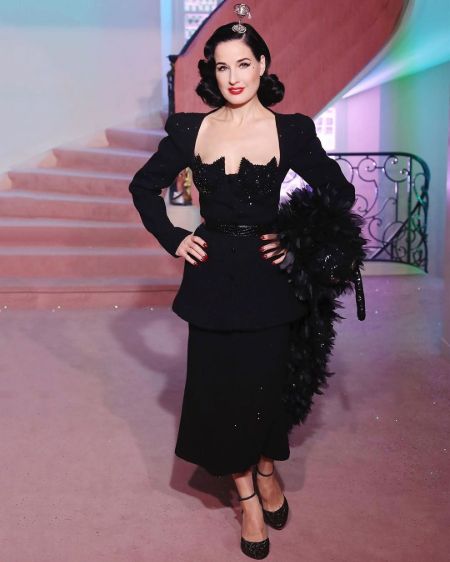 Dita Von Teese lost her virginity with a lifeguard boyfriend at the age of 15.
Photo Source: Dita Von Teese Instagram
The two were together since high-school, and the bond they shared lasted for around five years. What's unique about Teese's maiden lover is how they never told about disliking each other. It was just those things where life happened and drifted them apart.
Dita Louis-Marie's Romantic Linkage With Mike Ness
The reputed burlesque dancer, Dita Von Teese, dated the Social Distortion's guitarist cum vocalist, Mike Ness in 1992. Teese, who also happens to be an accomplished singer, did seem to have affectionate feelings with people in that field, as her dating history suggests. However, like most of her relationships, this one didn't sustain as the couple broke up in 1995.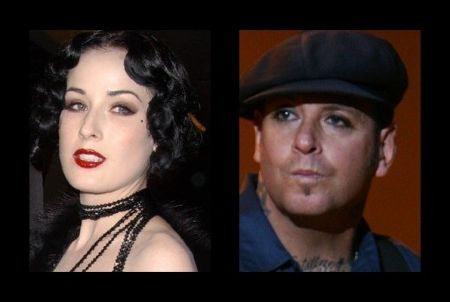 Model Dita Von Teese used to date musician Mike Ness in early 1990s.
Photo Source: Zimbio
As the saying, sometimes things have to fall apart to make way for better things, Ness found his soulmate and wife in Christine Marie after the break-up in the late 1990s.
Dita Louis-Marie Broke a Marriage with Marilyn Manson
The Queen of Burlesque, Dita Von Teese, shared her heart with many guys before but was married only once. Interestingly, she went out with her longtime fan, Marilyn Manson in 2001 and eventually got married after a few years of dating. The American singer cum songwriter met the gorgeous beauty for the first time when he asked her to dance in one of his music videos. Interestingly, Dita was unable to fulfill his demand on that occasion but became friends ever since.
You May Also Like: Hyun Bin Girlfriend- Is the South Korean actor dating someone?
Manson decided to take things into the next level as he proposed his girlfriend Dita Von Teese in one of the best ways possible, giving her a 1930s, 7-carat diamond ring in March 2004. A year later, they tied the knot in a private ceremony at their home itself and conducted a larger ceremony after some time at Kilsheeland. The fan-following of both the artists were thrilled of a dream wedding, but little did they know about what came next.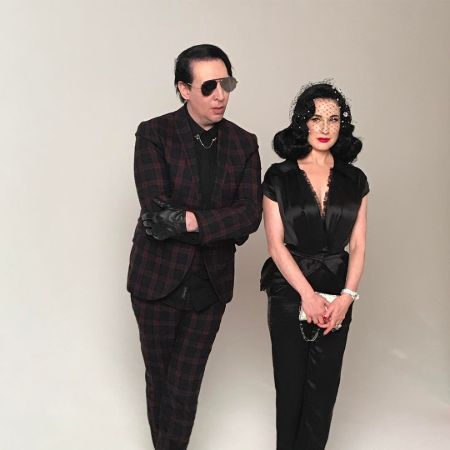 Marilyn Manson and Dita Von Teese separated in the fall of 2006 through a divorce.
Photo Source: Twitter
It was December 29, 2006, when Von Teese filed for divorce from her husband Manson. In an interview, she revealed how the singer's extra-marital affairs and partying behaviour made her take the decision.
I wasn't supportive of his partying or his relationship with another girl. As much as I loved him, I wasn't going to be part of that.'
Since Dita was self-fulfilled with millions of net worth, she showed no interest in her spousal support or his assets. Surprisingly, Manson's birthday on January 5, 2007, was worth remembering, as he received the shocking divorce papers that day. Although things were rough when they broke up, Teese and Mansion seem to be on good terms, after all these years.
Dita Dated Fellow Model Louis-Marie De Castelbajac in 2011
The 47-year-old supermodel found one of her boyfriends, Louis-Mare De Castelbajac, in a similar field of interest. The affair was a surprise to many considering 11-years of age gap between them. Since the two shared a lot of things in common, especially in terms of fashion, the age difference was never a thing they cared.
Recommended: Steelo Brim Girlfriend- Find out if the TV Personality is Dating Someone
The love-birds back then surely made numerous public appearances together, including the Coachella Music Festival. The media even spotted them at the Paris airport as they were walking arm-in-arm. During the stint, Dita spent a lot of time in France living some of the best days of her life. Dita, alongside her then-boyfriend, used to drive golf carts, visited the Eiffel tower, and some of the best restaurants.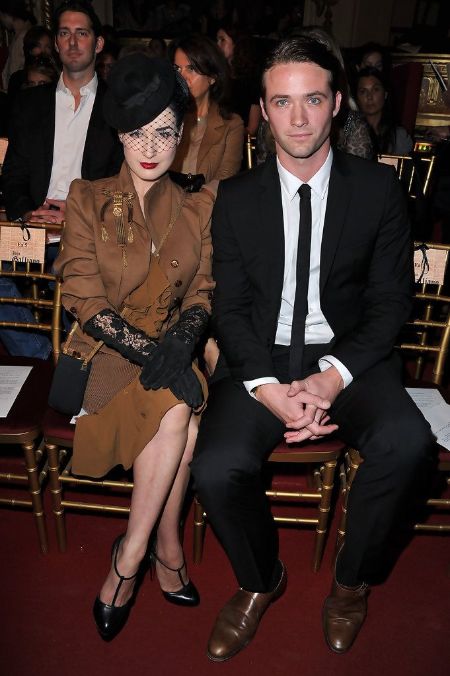 Dita Von Teese and Louis-Mare De Castelbajac dated from 2009 to 2011.
Photo Source: Pinterest
Unfortunately, like every possible product, the relationship between Teese and the French model Castelbajac also had an expiry date. After the diva traveled to London alone in 2011, there were speculations about their break-up, which surprisingly was true. Although the exact reason behind them parting ways isn't revealed yet, it was a shame that the fan-favorite duo couldn't work out.
A Short Stint with British Singer, Theo Hutchcraft
After parting ways with the French aristocrat, the dancing burlesque queen, Dita Von Teese, started dating British singer Theo Hutchcraft. Similar to her last affair, the singer was 14-years younger than him.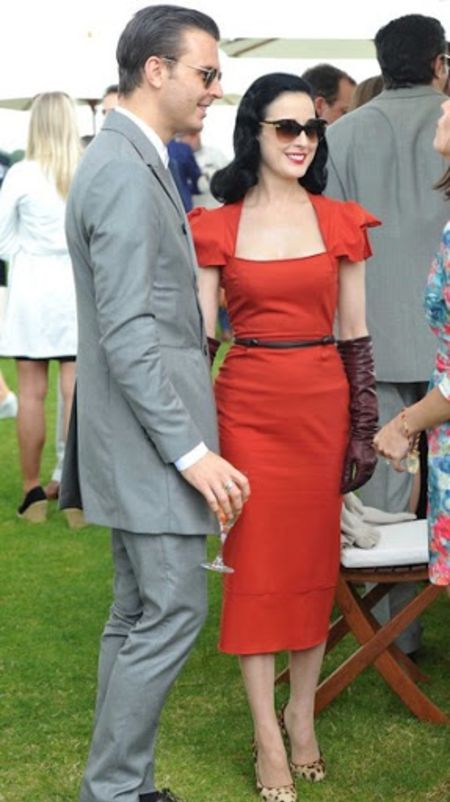 Theo Hutchcraft and burlesque dancer Dita Von Teese went out a few times in 2012.
Photo Source: Fanpop
Richmond-based Hutchcraft was spotted having dinner at The Arts Club in May 2012. Speaking about the singer, he belongs to a pop band named Hurts, which never got big as they would have liked. Teese, who was 39 at that time, never seemed much into the singer, and as expected, they broke after a short stint of dating.
For more news and updates about your favorite stars, please stay connected with us at Glamour Fame.
-->