Dracula star Mark Gatiss married to his husband Ian Hallard; Facts about the English actor
The witty and outspoken Actor Mark Gattis's relation with husband Ian Hallard makes people go gaga over them.
The English actor, comedian, screenwriter, director, producer, and novelist famous for his works in 'Sherlock,' 'Doctor Who' is multi-talented in every way possible. Here are some facts about the man himself.
Mark Gatiss' Family Background
Writer of popular TV series Sherlock, Mark
Source:Hindustantimes
Mark Gatiss was born to parents, Winifred Rose and Maurice Gatiss in Sedgefield, County Durham, England. Both his parent's background is working class.
Dad, Maurice used to work as a mining engineer opposite to the Edwardian psychiatric hospital in Sedgefield. He shares sibling Jill Gatiss and Phillip Gatiss.
Something About Mark Gatiss' Outstanding Education
Mark Gatiss outside Orava Castle in Slovakia – the original location for the film Nosferatu
Source:blogtorwho
The maestro artist joined the Heighington Church of England Primary School and Woodham Comprehensive School in Newton Aycliffe. Ever since his childhood, little Gatiss showed a keen interest in arts, theatre, and acting. He would have been in the Stowers follow-up A Sense of Insecurity.
Also See: Meet NFL Star Aaron Hernandez's Former Fiance, Shayanna Jenkins; Facts to Know About Her
However, his dad rejected the idea as his exams were a more pressing matter at that time. Regardless, the future artist went on to study Theater Arts at Bretton Hall College affiliated to Leeds University. In 2003, he was awarded an honorary doctorate of letters by the University of Huddersfield.
Mark Gatiss is the Member of the Sketch Comedy Team 'The League of Gentlemen'
The League of Gentlemen Reunion.
Source:ABC
League of Gentlemen is a British comedy television series that premiered on BBC Two. Gatiss is a co-writer along with fellow writers Reece Shearsmith, Steve Pemberton, and Jeremy Dyson.
The talented writers have successfully bagged a British Academy Television Award, a Royal Television Society, and the Golden Rose of Montreux for themselves through this show.
Mark Gatiss Worked as Both A Writer and Actor for 'Sherlock' and 'Doctor Who'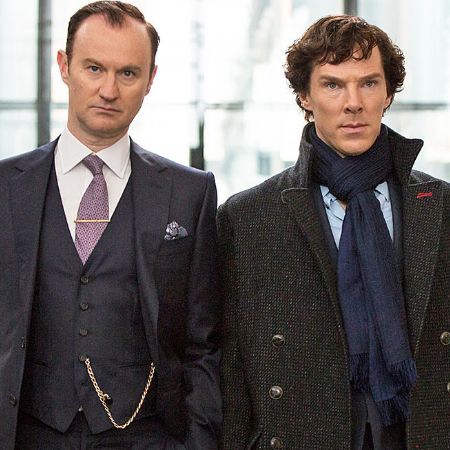 Mark with Sherlock star Benedict cumberbatch
Source: screencrush
As a childhood fan of 'Doctor who' it was a dream come true moment for the versatile actor to write the scenes and act for the series.
Also Read: Know more about Michael Moshe Friedman; Husband of Talinda Bennington, Chester Bennington Widow
Fan, Mark successfully wrote nine episodes for the 2005 revival of the show. His early work was Doctor who expanded media where he wrote and performed the comedy spoof sketches 'The Web of Caves,' 'The Kidnappers,' and 'The Pitch of Fear.' He acted in the third series as Spitfire pilot,'Danny Boy,' making him the first person to work and write in the series.
Mark Gatiss Played Tycho Nestoris in the Famous 'Game of Thrones Series'
Game of thrones,Tycho Nestoris in his element.
Source:BBC
The screenwriter played the role of Tycho Nestoris, an envoy from the Iron Bank of Braavos, in the fourth, fifth, and seventh season of the smash hit Game of Thrones series.
The iron bank is the wealthiest and most powerful bank in Westeros that funds kings in the series.
Mark Gatiss Met the Love of His Life, Ian Hallard in an Online Dating Site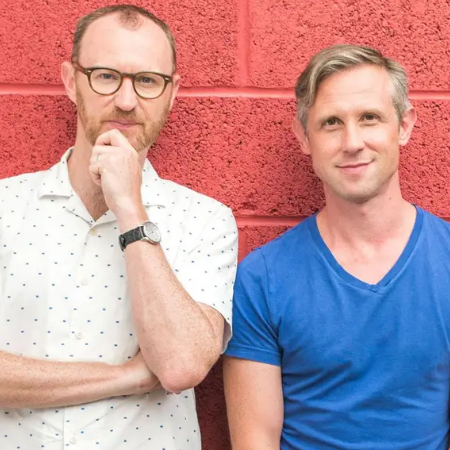 The adorable couple, Mark,53, and Ian 45.
Source:standard
The lover confesses meeting his beau Ian on an online dating site Gay.com in 2000. Says,' Ian spelled everything so well - I said to myself: This is the man for me.
The couple dated for 17 years before finally tying the knot in 2018.
Mark Gatiss Dreaded Coming Out to His Dad
Gatiss on his interview for The League of Gentlemen
Source:thetimes
My dad was a forbidding figure in the house, says the English actor. In an interview, he mentioned that he dreaded coming out to his dad.
Recommended: Prince Harry and Meghan Markle Step Back as Senior Members of the Royal Family - Get all the Details of Ongoing Royal Drama
Mum Gatiss took it out of his hand and presumably told his dad herself. Later on, he dad found out, that his parents dealt with it by not dealing with it at all. So he had to confront them in detail about his sexuality.
For more information on your favorite celebrities' lifestyle, Entertainment stay tuned to Glamour Fame, and don't forget to sign up for the newsletter.
-->