Duggars of 'Counting On' were Raided by Federal Authorities
People were confused when they said the Duggars were raided.
It seems like the Duggars are not having a very good time of the year. The homeland security confirmed the Federal Authorities raided the Duggars' properties.
Previously, taking to their official blog, the Duggar family denied they were raided, stating everything was nothing more than a rumor. They denied federal law enforcement raided their home over the weekend.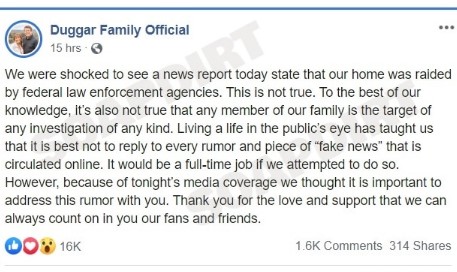 Duggars previously denied the raid.
Source: Duggars' Facebook
Adding to their denial, the family wrote, "it's not true that any Duggar family member is the target of any investigation of any kind."
Also See: Martin Lawrence's Daughter Iyanna Faith Lawrence - How Well Do You Know Her?
But the family has recently broken their silence about the raid, after days of rampant speculations, the Duggars issued a response. However, their statement does not really align with the local reports.
According to the reports, Josh Duggar was the main focus of the raid. One of the local news channels, KNWA news, posted an audio clip of a spokesperson for HSI confirming Duggars' raid.
But it seems, the agency was in Arkansas for a Federal Criminal Investigation. The raid was, in fact, linked to the oldest son of Jim Bob Duggar, Josh Duggar.
The Homeland Security representative confirmed the location of the raid, and it turned out the business that was raided was Josh Duggar's Wholesale Motorcars.
Watch: Anna Duggar Opens Up About Her Husband's Betrayal
Apparently, Josh has many legal issues, his ALB Investment, LLC, and is accused of illegal purchases of the property. Let's see what happens next, when we get the updates from the family.
Also Read: How is Stacey Weitzman Health? Get All the Details Here!
For more information on your favorite celebrities' lifestyle, stay tuned to Glamour Fame, and don't forget to sign up for the newsletter.
-->