'EastEnders' Star Hetti Bywater Slipped into a Tiny Bikini for a Sultry Instagram Snap
Published Fri Feb 15 2019 By Jessica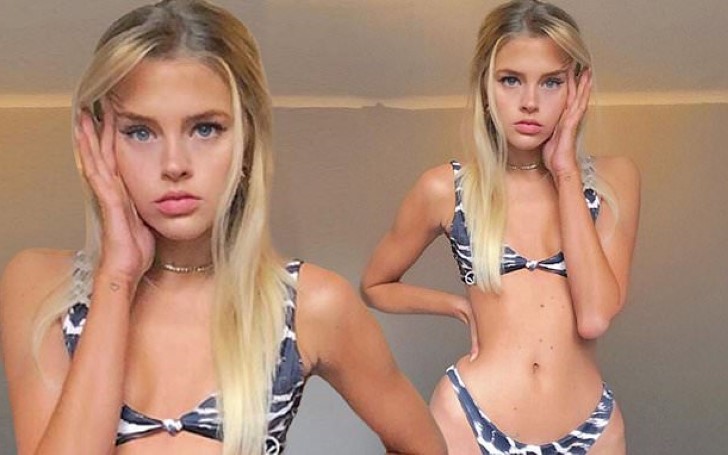 EastEnders star Hetti Bywater displays her cleavage and toned body in a sexy bikini as she fires back at body-shamers.
Best known for portraying Lucy Beale in BBC One's soap opera; EastEnders, Hetti Bywater recently flaunted her toned body in a dark blue and printed bikini.
Just a day earlier, Bywater took to her Instagram to share a glimpse of her beautiful toned body and cleavage to her ninety-five thousands of followers.
In the shared picture by the actress, Hetti made sure to grab all the attention on her as she posed in the two-piece dark blue printed bikini with her hands touching her against the cheeks.
English actress Hetti Bywater poses topless
SOURCE: Hetti Bywater Instagram
As the blonde gorgeous poses displaying her tiny heart tattoo on her wrist, it can be noticed the actress accessorized her bikini look by wearing a shiny choker style golden necklace.
You may also like: Priyanka Chopra Rumoured To Be Pregnant; Any Truth To It?
The sexy two-piece reveals much of her body parts from displaying her perky cleavage to hip to her tanned legs.
In case, you wonder where she bought her stylish bikini from, she is wearing the swimsuit designed by Wanderlust Swim. In addition, the bikini and other similar bikini's price range from £20 to £104.20.
And through reading her caption for the sexy picture, it appears that the 24 years old actress is tired of cold February weather.
She wrote in the caption:
"Is it summer yet?"
By the look of the picture, the image can be assumed to be taken inside her room or a hotel room. Not much is seen in the picture apart from her white bed sheets and black stuff what appears to be a bag.
EastEnders' star Hetti Bywater poses in a bikini for Instagram

SOURCE: Hetti Bywater Instagram
Adding more glamour to her naturally beautiful features, Hetti opted to keep her blonde locks straight, applied a slick of bright pink lipstick, and a flick of black eyeliner and mascara that highlighted her blue eyes.
People also searched: 'Isn't It Romantic' Producer Rebel Wilson Insisted on Casting Openly Gay Actor to Play a Gay Character
Unsurprisingly, the stunning picture shared by Hetti Bywater surpassed over five thousand likes. Many of her fans also commented on the comment section describing how cute and flawless the actress looked.
However, not everyone in the comment praised her. Some of the people wrote negative things telling that the actress photoshopped her picture and some even body shamed her.
And in response to these comments, the actress replied:
"Does everyone have to be so… negative on Instagram? Let people be. It's not your life, so calm… down. Also, to the people saying my hips are photoshopped, hahaa, I've always always had wide hips. It runs in my family"
Bywater also warned that the actress would be now blocking people if they ever make similar rude comments in the future.
Don't miss: Sam Faiers Went All Out for a Lavish Dinner Party to Celebrate Valentine's Day
She added:
"I will from now on be deleting any comments that are rude or negative. Purely because, a girl doesn't have time for that. Thanks, bye."
The actress then concluded the message for her fans thanking them for being kind and promoting positivity. She also addressed that she is very grateful to have them.
-->