'Isn't It Romantic' Producer Rebel Wilson Insisted on Casting Openly Gay Actor to Play a Gay Character
Published Fri Feb 15 2019 By Jessica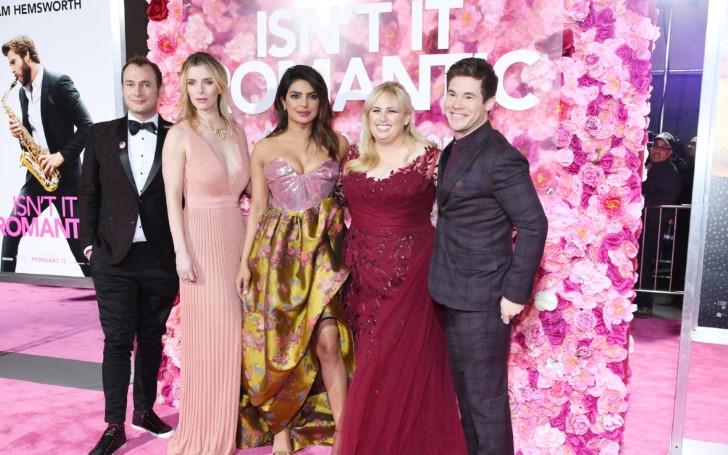 Hollywood actress Rebel Wilson insisted to cast an openly gay actor to play the gay role in her new rom-com film, Isn't It Romantic?
Rebel Wilson, who stars in the latest Holywood rom-com flick, 'Isn't It Romantic?' insisted on casting an openly homosexual actor for a gay character in the film.
The Australian actress thought it was important to cast a gay actor in the film so, it didn't seem like the movie is mocking a gay guy.
The 'Pitch Perfect' star who also produced the rom-com narrates the storyline of Natalie, played by Winston herself, experiencing a romantic comedy like reality in a new alternative life after suffering a head injury.
Rebel Wilson and Brandon Scott Jones on the set of Isn't It Romantic?
SOURCE: NewNowNext
And in the new world, Donny is Natalie's new neighbor who is a 'gay sidekick, who's setting gay rights back, like, a hundred years' as Rebel describes in one of the scenes featured in the movie trailer.
You may also like: Imogen Thomas Looks Stunning During Night Out In Chelsea
On Monday, speaking to the LA Times, the 38 years old actress said:
"Being the producer of the film, it was really important to me that obviously, we cast an openly gay actor for the role of Donny so that the character could not in any way be construed as mocking a gay guy."
The 'How to Be Single' then explained how she feels the latest flick makes a 'really clever comment' about how the LGBTQ characters have not been represented more in the film industry, also crediting the award-winning director and producer Ryan Murphy for creating LGBT characters in his works.
She continued:
"I think we make a really clever comment about how gay characters have been marginalized in the past few decades."
Actor Brandon Scott Jones portrays the role of Donny who previously appeared in films including 'Can You Ever Forgive Me?' from NBC and 'Don't Think Twice'.
See more: Jasmine Yarbrough Steps Out All Smiles in a Revealing White Top in a Rare Public Sighting
Full mode on praising her co-star Jones, Rebel also further told LA Times:
"I'm so proud of him. He just smashes it out of the park."
Appreciating the representation of queer actors in the new rom-com, Jones told the LA Times:
"I think we're moving in a direction where we're realizing, 'Oh wait, stories that aren't about what we've always seen Hollywood do are universal at the end of the day."

"It's very cool that we're getting a chance to see stories about queer people"
However, the 34 years old actor also added:
"Sometimes they're played by queer people and sometimes they're not."
'Isn't It Romantic?' features Liam Hemsworth among one of the lead actors alongside Priyanka Chopra. Liam apparently couldn't appear on the premiere of the film held in LA due to being hospitalized from a kidney stone.
Don't miss: Ben Affleck and His Ex-girlfriend Lindsay Shookus are Reportedly "Back in Contact" After 5 Months Split
However, Liam's wife Miley Cyrus attended the premiere on behalf of her husband to support him.
Wilson earlier confessed the actress didn't expect Hemsworth to be 'funny' because he's hot', she said:
"Normally, people that are so hot like that aren't that funny. Turns out, he's just such a legend and the funniest guy, so it was a good move for me casting him."
Rebel Wilson's rom-com released this week on 13th February will stream worldwide on Netflix from 28th February.
-->