Who is EddieVR Girlfriend in 2020? Is He Dating Someone?
Here's what you should know about EddieVR's girlfriend and relationship.
EddieVR, whose real name is Eduardo, is a Mexican gaming YouTuber. The gamer frequently collaborates with JoshDub, Mully, Your Narrator, JuicyFrutSnacks, and ReeKid. According to some sources, EddieVR was born on March 7, 1992. As of right now, EddieVR is in his early 30s.
While talking about his content, his videos consist of him often collaborating with his teammates ("The Boys") and playing virtual reality games, including skits done in the games. EddieVR is pretty popular among his fans, so we suppose we don't need to stress more about his games and YouTube career, but how well do you know about his personal life? Let's find out.
EddieVR Girlfriend, Who is he Dating?
There's a lot of confusion when it comes to EddieVR's girlfriend. Many fans already know about Eduardo's girl. But there's some confusion as well.
So, the thing is, EddieVR has introduced two people as his girlfriend, but which one is the recent one is still the question. Some fans think Eddie is dating Veronica, while some think he is dating Gabriela, aka Gabby.
You May Also Like: Who is Cosmo Jarvis of "Raised By Wolves" Dating in 2020? Here's What We Know!
But some close sources to EddieVR assured us that he is dating Gabriela Anderson. The couple is now dating for more than seven years, and it seems their relationship is going pretty strong. Recently, the gamer shared a picture with his sweetheart on the occasion of valentine's day, which he revealed was their seventh together.
Who is Gabriela Anderson?
Well, it's no wonder what Gabriela Anderson does; just like her boyfriend, Gabriela is also a gaming YouTuber. Gabby started her YouTube channel on 26 Jan 2020, and within a few months, she had more than four million views.
Watch EddieVR and his girlfriend, Gabriela Anderson, aka Gabby, cute moments.
During the time, Eddie said, "It's Gabby's first time playing Fortnite and we played Prop Hunt together. It was hilarious!"
While talking about Gabriela's channel having more than 367K subscribers, way less than her boyfriend, EddieVR's channel; just like we said, Gabby started her channel just this year in January, so we can expect a spike on her channel too.
Gabriela Anderson Deactivated Her Instagram Account
While EddieVR's fans are convinced the gamer is dating Gabriela Anderson, Gabby deactivating her Instagram account has thrown Eddie's fans into a pool of doubts.
Following Gabby's Instagram account being deactivated, many of EddieVR's fans assume the couple broke up, but we have no confirmation of their split yet. However, Gabby might have needed some break from social media at the time. Currently, she reactivated her IG account, which holds over a hundred thousand followers.
EddieVR and GabbyGotGames are looking forward to their wedding!
After years of what-ifs, EddieVR and GabbyGotGames officially announced their relationship. Many fans speculated Eduardo was dating Gabrielle after she appeared in one of his videos. Fast-forward to 2023, the YouTubers announced their engagement to the world through social media.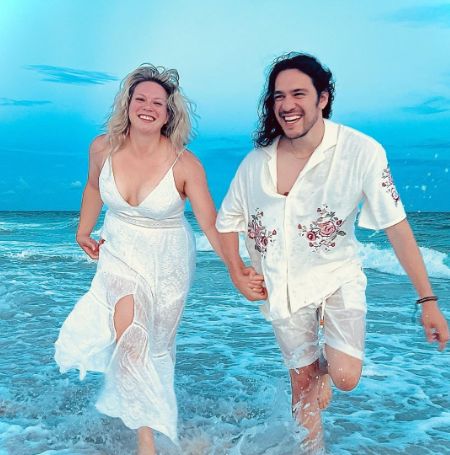 EddieVR and Gabby make a cute couple and love sharing their moments on Instagram. One such post showed them at a beach, expressing their excitement about getting married. Although the exact of their wedding remains hidden, the duo announced it in 2022.
You May Also Like: Who is Elizabeth Lyn Vargas's Ex-Husband? Some Facts You Should Know
Months after Eddie and his long-time squeeze announced the news, Gabby and her boyfriend have yet to exchange their vows. Similarly, it could be any day the YouTube celebs walk down the aisle. But for now, the couple remains tight-lipped about their big day!
For more information on your favorite celebrities' lifestyles and other news, stay tuned to Glamour Fame, and don't forget to sign up for the newsletter.
-->