Edge to Return to WWE This Sunday at Royal Rumble
Published Sat Jan 30 2021 By Bran
The WWE fans couldn't be more excited as WWE star Edge made his return to Royal Rumble official on the latest edition of Monday Night Raw!
One year after making his highly anticipated return to WWE in last year's Royal Rumble, Edge returns to the ring again after a long gap. And, unlike last time, things don't look like that the fan-favorite wrestler is just going to show up for a few cheers.
The year 2021 might finally be when he bags his second Royal Rumble win to get a ticket to the main event of Wrestlemania 37.
Adam Joseph Copeland, aka Edge, holds a strong reputation as one of the greatest professional wrestlers who entered the WWE ring.
The four-time WWE Champion winner's past twelve months were full of mixed emotions, considering how he made a return to the ring after almost a decade after a career-ending injury but later went out of action following an ugly feud with fellow superstar Randy Orton.
Edge Announced His Royal Rumble 2021 Entry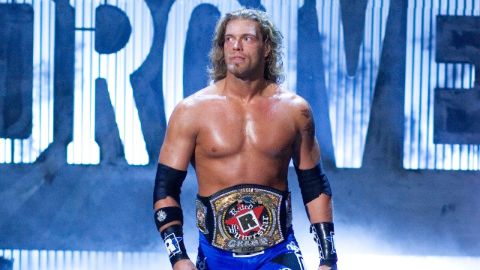 Edge made his entry to the 2021 Royal Rumble official January 25, 2021's Raw.
Photo Source: YouTube
Many WWE fans would consider the best moment of 2020 when the R-rated superstar Edge made a much-anticipated yet surprise entry in the Royal Rumble after nine years of an injury. On January 26, 2020, he entered the 30-man rumble and eliminated three fellow wrestlers, including the likes of Randy Orton himself. The fairytale lasts for a few minutes until WWE's longtime face, who turned Roman Reigns, eliminated him.
Related: WWE Studios Set To Partner Up With Netflix
While Edge wouldn't care much about his elimination last year, his participation this time around would be with an aim to last the longest. The 47-year-old superstar returned in an episode of Raw on January 25, 2021, when he officially announced his entry in Royal Rumble 2021. Many did rule him out since he was out of action for the past seven months, but with such a fiery promo, his millions of fans couldn't be more hyped up.
Edge Knows How To Win Royal Rumble
Edge was the winner of the Royal Rumble back in 2010.
Photo Source: Forbes
There might be many young wrestlers who have enough momentum to win the Royal Rumble 2021, such as Mustafa Ali, Antonio Cesaro, or Keith Lee. Still, only a fool would ignore the experience that the R-rated superstar has come into this match. Edge has an experience of winning the 30-man Rumble as he won it way back in 2010.
You May Like Watch: Roman Reigns Discusses His Leukemia Fight on 'Good Morning America'
When Edge won the rumble in 2010, he did go against some of the top wrestlers in WWE. As the 29th entrant, he speared the current AEW athlete Chris Jericho at an instant before eliminating John Cena to win the fan's favorite pay-per-view of the year, second to Wrestlemania. Interestingly, he faced his former pal Jericho in Wrestlemania, where he unfortunately lost. However, he did have the last laugh after beating him at Extreme Rules.
Edge was the last man standing in his battle against Randy Orton in the last Wrestlemania.
Photo Source: WWE
As Edge made his in-ring return in 2020, he went on an extremely personal brawl with Randy Orton. The two-faced each other in a last-match standing firm in the COVID-19 struck Wrestlemania XXVII, where he won the match. Well, the fans have to test their patience a lot more until Sunday at St. Petersburg, Florida.
Recommended: 'I Can See Your Voice' Renewed For Season 2: Here's the Detail.
For more news and updates about your favorite stars, please stay connected with us at Glamour Fame.
-->