The Untold Love Story of Edward Norton and His Wife Shauna Robertson's Secret Marriage
Published Mon Feb 03 2020 By Sea
Edward "Ed" Norton is extremely notoriously private about his personal life. Sure, anyone would be. But his is much more secretive than most. Still, his desire to respect his family's privacy is no at the least unprofessional.
Making a name for himself in Hollywood is no easy task, but with movies like 'Fight Club' and 'The Incredible Hulk', there's no stopping. Meanwhile, his married life isn't that shabby either.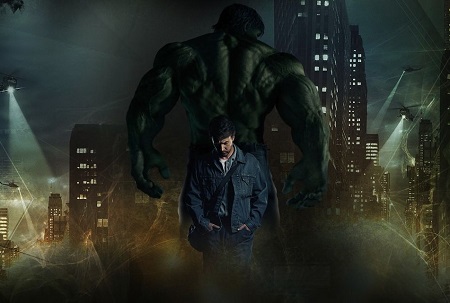 Really, Edward Norton was "not" a misstep in the Marvel universe.
Source: The Incredible Hulk, Marvel
The 50-year-old may like to keep the details of his secret wedding ceremony to himself. But considering the length of the two being together, anyone can gather there's no one else he'd rather spend his life with. This is despite many girls probably head-over-heels for the guy.
Edward Norton Dated Wife Shauna Robertson for Six Years and Married for Seven More with a Kid
Yes, 13 years of relationship hasn't gone anywhere but upwards for the 'Birdman' star and his wife, Shauna Robertson. How they met and fell in love is a mystery only the two can tell because up until 2008, no one knew they were even dating.
Norton is a happy man since meeting his wife, Shauna Robertson.
Source: Gareth Cattermole, Getty Images Europe
Edward Norton and Shauna Robertson started dating since around 2005 and got engaged in early 2011. The engagement was also extremely private but was known immediately sometime later. But their wedding, completely secretive.
It was only in April 2013, after the birth of their son, Atlas Norton, in March 2013, that people knew they were husband-wife since a year already. Everyone was referring Robertson as Norton's fiancee.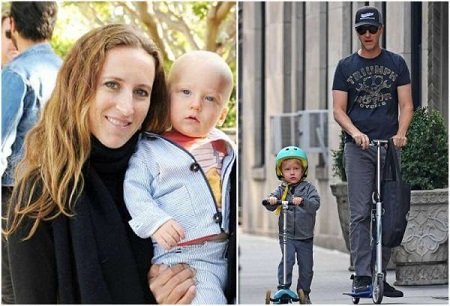 You won't see much of Atlas either.
Source: Elder Ordonez, Splash News/Billy Farrell, BF Anyc.
The 44-year-old's pregnancy was not known until a while before Atlas was born. And the news of their son being born only ran the tabloids a month later, when everything regarding their marriage and child was out in public.
Recommended: Heidi Klum and Ric Pipino - How Did the Relationship Go Down?
Nevertheless, Norton was an extremely proud father and husband, as his friends stated, "Ed is really excited for fatherhood. He helped pick out a stroller for the baby!"
Shauna Robertson is a Producer and a Pretty Good One at That Too
The two have shared plenty of red carpet moments together, most notably the recent Los Angeles premiere of Norton's 20-years-in-the-making movie, 'Motherless Brooklyn' on October 28, 2019.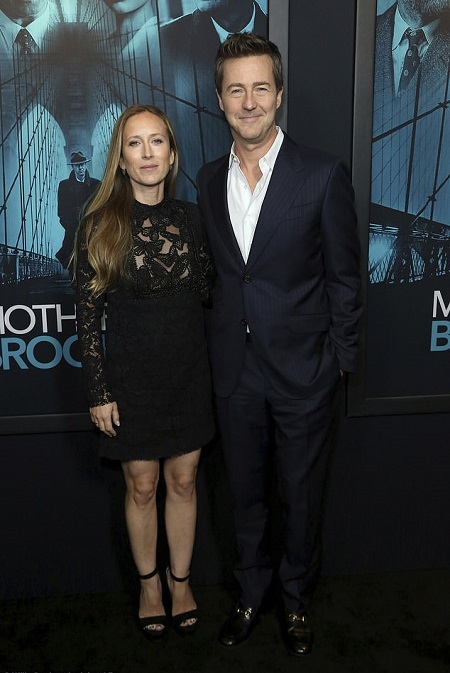 Edward Norton with his wife Shauna Robertson at the premiere of his film, 'Motherless Brooklyn'.
Source: Willy Sanjuan, Invision/AP
It's not like Shauna just came out of the dark when she started dating husband Norton. She was an accomplished producer, having worked in all sorts of movies with the likes of Judd Apatow in 'The 40-Year-Old Virgin' & 'Knocked Up', and Will Ferrell in 'Elf', before dating him.
Apatow mentions Robertson's strong tenacity for bringing her kind of spice when making movies. "She is the rare woman who always wants to take the joke farther than any man wants to go. All nudity in my films is a result of Shauna pushing me and calling me a wimp. If it wasn't for her, I would be making 'Bratz 2'," she said.
Shauna Robertson's an extremely dedicated personality.
Source: Ken Hively, Los Angeles Times
The producer worked with Kristen Bell and Jason Segel in 'Forgetting Sarah Marshall' and Seth Rogen in 'Pineapple Express' in 2008 but seemed to have put her career on hold, indefinitely. Well, family does come first.
However, that was not the reason she stopped making movies. There was an entirely different motive behind it, and a pretty noble one at that.
The Husband-Wife Started a Crowdfunding Charity Site
It was the wife's (then-fiancee) initiative to found an innovative charity site called 'Crowdrise'. We're sure you've heard of it every now and then. With the help of her husband, she successfully launched it in early 2011, after they got engaged.
What made her tick to do this came after she realized something following her last movie, 'Pineapple Express'. "About 2 years ago I realized I that the more successful I became the more I pushed things I really cared about to the back burner," Shaun Robertson said in a post when announcing the launch of 'Crowdrise'.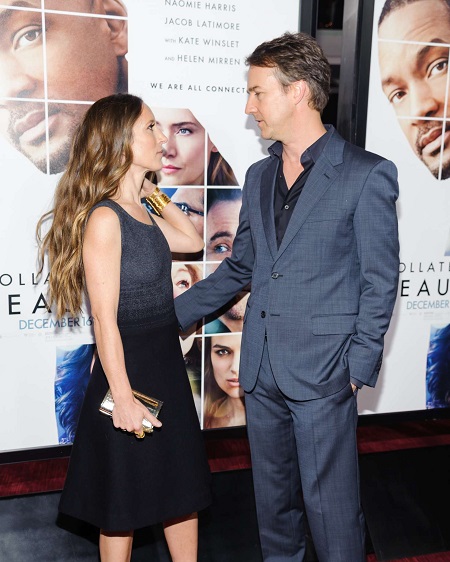 Just look at them looking at each other. That's was "made for each other" looks like.
Source: Gotty
"I was not one of those people who could "find the balance" so I bailed on show biz and here I am," she continued. "I just got back from 2 months in Kenya working with the Maasai on a land conservation project called The Maasai Wilderness Conservation Trust and before that I was in India for 3 weeks at an orphanage called Ramana's Garden."
In the end, all that matters for her was, "I love volunteering and I love all the people who love volunteering. I love Catchafire. It's genius."
Here's Another: Details of Melissa Sue's Anderson Children and Blissful Married Life
The founders also include the founders of 'Moosejaw' — Robert Wolfe and Jeffrey Wolfe. As of now, the site has been acquired by 'GoFundMe' since 2017. 'Crowdrise' was officially integrated into 'GoFundMe' since then (yeah, you won't find the site).
The Couple Bought a House for $11 Million
Woah, knowing all these makes it seem like there isn't much they've left a secret, but there's not much information. Although, people did somehow found out about their lavish lifestyle. At least a portion of it.
In July 2017, Forbes reported that the Academy Award-winning actor bought "a legendary beachfront property designed by architect John Lautner for a cool $11.8 million".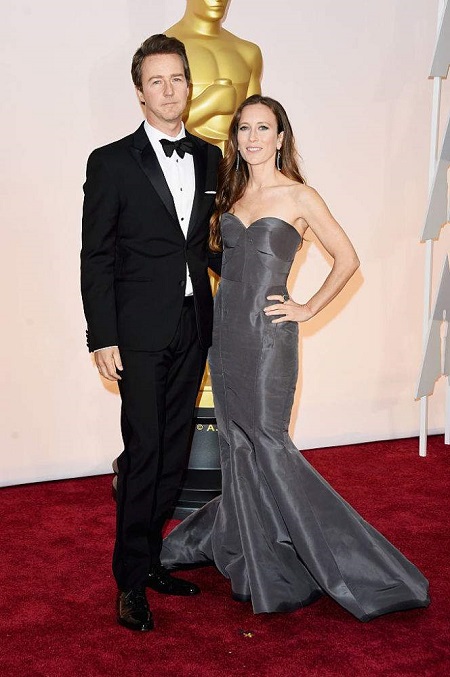 The two are not afraid to show their rich side too.
Source: Getty Images
The house was initially bought and extensively renovated by movie producer Michael LaFetra for $13.8 million in 2007, who later listed it for an astounding $22 million in 2013.
The actor also had a $2.72 million "oceanfront duplex" on Malibu's Las Flores Beach that he bought in 2008. And there are more properties than these that Norton and his wife control. So you know they live pretty while showing they have as big a heart as their wealth. And health too: Robertson hasn't aged at all since dating Norton.
Must See: Is Zac Efron Dating Halston Sage?
There's more that one needs to know about Edward Norton's wife, Shaun Robertson. LA Times has a story you must read, who mentions, in HER head, she's "a 23-year-old guy, always ready with a fart joke, an ever-ready plea for more nudity, and a belly laugh for any raunchy gag," back in 2008.
Stay tuned and connected to GlamourFame for more Entertainment content.
-->