Elizabeth Hurley Looked Radiant As Ever As She Stepped Out For an Evening At The Theatre in London
Published Sun Feb 10 2019 By Jessica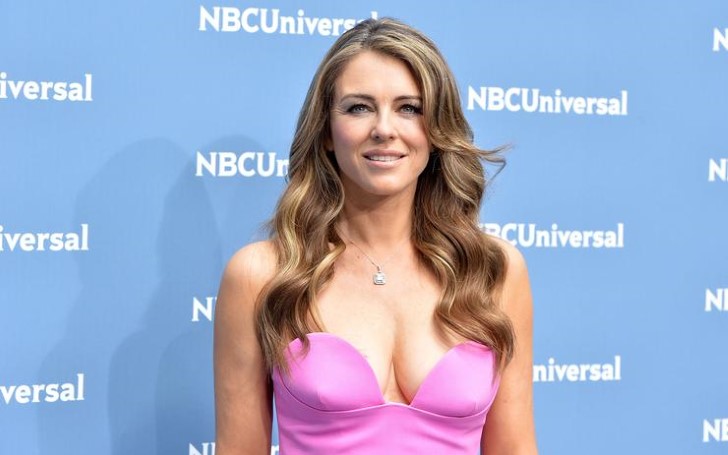 The gorgeous actress Elizabeth Hurley looks fabulous in a bra flashing top for her evening at the Theatre.
It's no secret the 53 years old age-defying actress Elizabeth Hurley always carries fashion and style perfectly on her.
And once again, the actress who often posts jaw-dropping steamy pictures on her social media stole our attention.
Thanks to her fondness of sharing gorgeous pictures to amuse her fans on social media, we frequently get reminded of what a hot icon she truly is.
British actress Elizabeth Hurley poses in a purple bikini displaying her cleavage
SOURCE: Space Woman
On Thursday, to spend her evening at The theatre in London, the British actress was photographed looking radiant as ever in a flashy top that showcased her bra.
You may also like: The Bachelor Star Cassie Randolph's Ex-Boyfriend Defends Her
For the theatre night, the mother of one opted to wear a black transparent top with solid stripes that made her bra and body visible through the sheer top.
And to cover up from the cold London weather, The Royal actress put on a very stylish leopard print coat upon the racy blacktop, simple black pointed heel boot, and black skinny jeans.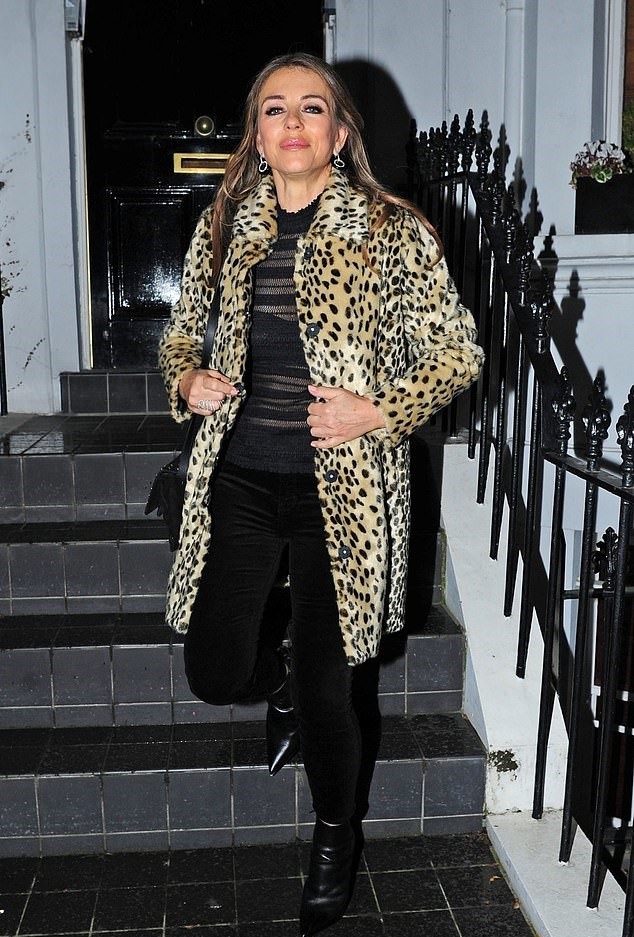 Elizabeth Hurley wearing a sheer black top underneath a leopard print coat in London
SOURCE: The Daily Mail
Apparently, James Lakeland designed the stylish high neck collar print coat Hurley wore at The Theatre which cost her an amount of £375.
And adding more glamour to her outfits, the actress accessorized by wearing silver earrings that end with a small hoop and a long finger ring.
Don't miss: Robert De Niro Had a Meltdown Outside of a Manhattan Courthouse Following Divorce Proceedings
To complete her sensational look, the Bedazzled star carried a black matching handbag embellished with metal studs.
Following her signature styled makeup, the gorgeous actress applied her eyeliner slightly in a smokey style that made her blue eyes stand out and attractive.
In addition, the Estee Lauder spokesperson chose to wear a soft pink lip gloss on her lip that helped her give a luminous smile.
And keeping her brown hair free with her middle partition signature hairstyle, the actress then got ready for her theatre night with the radiant look.
Elizabeth who recently posted a sexy throwback picture that displayed her cleavage and happened to be taken from her Maldives trip then happily flashed a glowy smile at the paparazzi that surrounded her.
Read more: Ariana Grande Reacts To The Rumored Romance Between Pete Davidson And Kate Beckinsale
The actress is a mother to her 16 years old son, Damian Hurley who is often the one behind taking her glamourous Instagram pictures.
-->