Elton John's Legacy Is Celebrated By 'Rocketman' Team At New York Premiere
Published Thu May 30 2019 By Andrew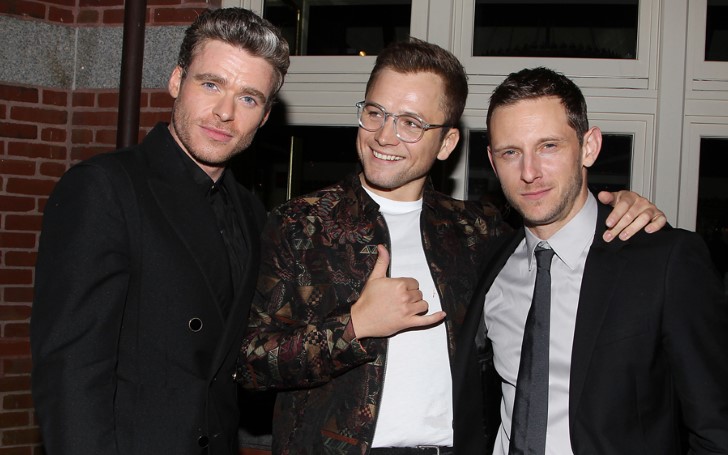 Rocketman which celebrated Elton John's legacy premiered in New York.
Sir Elton John made the most out of his existence while enjoying every step of his whimsical, sometimes tragic, wholly musical phenomenon known as life.
Fans took to Alice Tully Hall in Manhattan's Lincoln Center on Wednesday and lined up to witness the celebration of Elton John's musical biopic 'Rocketman' U.S. premiere while giving off fancy vibes in their "rock and roll" star-shaped sunglasses and colorful wigs.
Taron Egerton depicted Elton John in the biopic.
SOURCE: Variety
Before the film just took hold of the audience members, actors and filmmakers gathered on the red carpet to comprehend how much effect the flick had on audiences.
In an interview with Variety Taron Egerton, who depicts the musical icon in the movie maintained that John just loves it and added,
"He's very passionate about it, and that's obviously very validating for us. Although Elton [John] gave us all his blessing and knew exactly the story we were told, he kind of left us to it. It's also very risky because you don't know how he's going to respond. The overall feeling, I hope, is that it's joyous and it's a celebration of his legacy."
John and his husband, David Furnish, contributed their share as producers of the movie "Rocketman" and the star as well as his songwriting partner, Bernie Taupin, were in active participation in the progression of the film. The biopic follows John's life from early childhood to his American start at the Troubadour venue in West Hollywood, Ca. to his drug addiction and eventual sobriety.
Adam Levine Has Added A New Gig To His Schedule After Quitting The Voice >>>>
Taupin maintained
"I had input all the way through the production. It's produced by Elton [John] and his husband. It's not like it was done independently, We vetted the whole process all the way through."
Defying the rules of a classical biopic, the currently focused on the fantasy filmmaking fashion which just provided utter justice to the musician's colorful life. Ultimately, Furnish held the vision of hope and forgiveness despite hardship while presenting the life of the prolific singer to his fans.
Watch: Rocketman's trailer
Furnish expressed his hope that people will be able to grasp a message of hope and redemption. He also elaborated on the fact that Elton was quite honest about his struggles and his humanity also acknowledging the idea that sometimes in life you can make mistakes and you have a series of challenging times, but if you have the support of other people you can pull through them and go on to do great things in your life.
The audience took it upon themselves to cheer for the cast, filmmakers, and songwriter Bernie Taupin as they arrived onstage to honor "Rocketman" and Elton John before the movie screened. The audience members hung on to their seat for a little longer to watch the credits featuring original photographs of John throughout his career.
Also read: Elizabeth Hurley Looks Stunning In Sexy Suit With Plunging Blazer At 'Rocketman' Premiere
Tavern also managed an after party that hosted disco balls at the entrance. Guests posed for photos by the grand piano while feasting beef and chicken sliders while sipping on by wine and champagne.
-->