Meet Emily Nixon Wife of Taysom Hill; Facts about the pair
Published Tue Dec 17 2019 By Travis
Taysom Hill flew under everyone's radar, and he was someone most teams would've thought to only play as a backup quarterback, but ever since Saints head coach Sean Payton got his hands on the player, he's been one of the most versatile athletes in the NFL. But it was a tough road for the player and two things were always with him, his belief in God and his girlfriend, turned fiancé, turned wife, Emily Nixon.
To the point where he is dubbed "the human Swiss Army knife" of the Saints, it took a lot of courage and help from the people surrounding him to get him to where the player is now, and Emily Nixon played a major role in the way his career's gone. Emily Nixon was born on 20 July 1992 as one of ten kids of her parents Laura Newman Nixon and Clair Nixon.
Emily grew up in College Station, Texas, where she lived with her other siblings and her parents. The wife of Taysom Hill went to Brigham Young University, and this is the place where the lovely couple met for the first time. So, here are a few facts you need to know about the married couple Emily Nixon Hill and her husband, Taysom Hill.
Emily Nixon and Taysom Hill Met in 2013 in BYU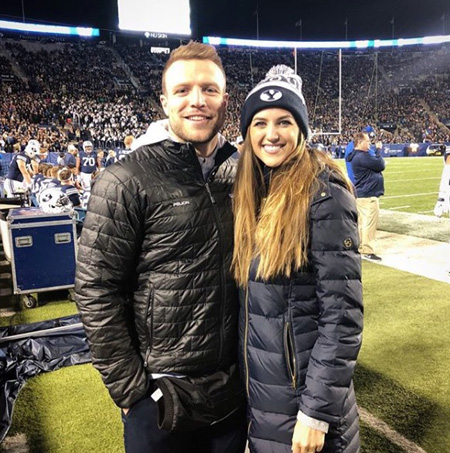 Emily Nixon and Taysom Hill met in 203 while they were both enrolled in BYU.
Source: Instagram
Taysom Hill was heavily recruited by Jim Harbaugh, and seeing his potential as a great athletic quarterback, other colleges were also interested in the player, and after he was not allowed to join the team at Stanford, the player decided he wanted to go to BYU. He started his freshman year in BYU, and the player was soon player number two on the QB depth chart.
Also Read: Anthony Padilla Girlfriend Miel Bredouw - Top 5 Facts
There was brilliance there to see from the player, and after a season-ending injury and a decent first season, the player was asked about his romantic life. "I'm still waiting for the girlfriend part to come to pass," the player said, and by the end of the year, he and Emily Nixon were getting serious about one another.
Taysom Hill Proposed Emily Nixon in Her Home in Texas
After saying at the start of the year he was looking for a girlfriend, the player found the woman who stole his heart. Emily Nixon was the beautiful girl who was able to win his heart, and he also knew he found a keeper in Emily. The couple grew serious pretty soon, and after a disappointing game where he lost the bowl game, he was not going to let the "one" go and so he decided to go to her home and got on one knee and asked her to be his wife on 29 December 2013, she said yes.
Emily Nixon and Taysom Hill got Married in 2014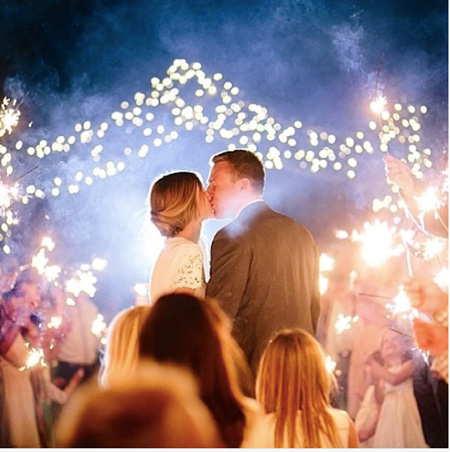 Taysom Hill and Emily Nixon got married in 2014 in Salt Lake, Utah.
Source: Instagram
The end of the season came fast for the player, and there was a lot of time on his hand after the 2013 CFB season was over. The player and his fiancé decided they did not want to wait long for their marriage, and on 12 April 2014, the couple tied the knot in Salt Lake Temple, Utah. They've been living together ever since.
Does Emily Nixon Hill Have Any Children?
Taysom Hill and Emily Nixon are married but without any kids of their own.
Source: Instagram
Though the Instagram page of Taysom Hill is filled with images of small babies, the couple is holding together. Those are not the beautiful Hill couple's children, but it seems they are ready to start their own family soon if all the happy baby pictures are anything to go by.
Also Read: Jess Lockwood Wife Hailey Kinsel - Wedding Facts of This Wonderful Duo!
Before you leave, make sure to visit Glamour Fame to be in the know of all the happenings in the world of show business.
-->