Evelina Maria Corcos - Some Facts to Know About Debi Mazar's Daughter
Published Sun Mar 29 2020 By Bran
Find some intriguing details about Debi Mazar's daughter, Evelina Maria Corcos.
Well, one of the perks of being a daughter of a celebrity is that you become one. Evelina Maria Corcos certainly falls in that category. She is the eldest daughter of American actress Debi Mazar, popular from her role in 'Younger.'
The celebrity daughter Evelina Corcos was born on July 12, 2002, in the golden city of California. Being the elder child of such a reputed talent in the entertainment industry definitely adds significant pressure, and only time will tell if Corcos would want to pursue a career in Hollywood like her mom or not. So, without wasting much time, let's find some intriguing facts about her.
Evelina is the Daughter of a Professional Cook
While Evelina's mother is quite famous, kudos to a long list of TV shows and filmography credits like Friends and Entourage, her father's stature is no less. She is the daughter of a reputed Italian cook, Gabriele Corcos.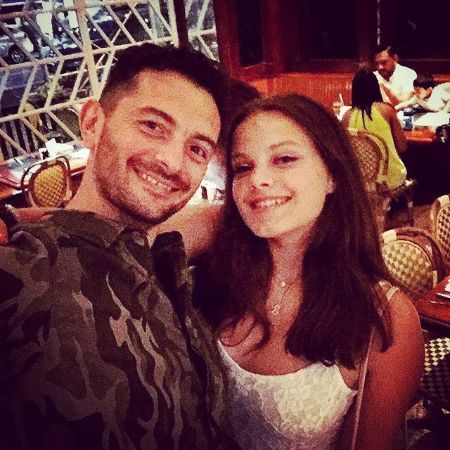 Evelina lives with her family a house in Los Angeles.
Photo Source: Gabriele Corcos Instagram
Unlike Mazar, the popularity of her dad is relatively low, considering the profession he is involved in. Despite that, he does have a vital television experience as a producer cum host of a highly-rated cooking show, titled 'Extra Virgin.' Moreover, he owns a cafe in Brooklyn called the Tuscan Gun.
Also See: Some Facts You Didn't Know About Brian Malarkey
Evelina's parents met way back in 2001 at the historic city of Florence, Italy, before Gabriele moved to Los Angeles. After dating for quite some time, the love birds decided to take things into the next level by getting married on March 16, 2002. Furthermore, Evelina is the elder sister of Giulia Isabel in the celebrity family.
Appeared on the Screen with Mom
Debi Mazar and daughter Evelina Corcos shared the screen in an episode of Extra Virgin.
Photo Source: E! News
Just 17 years of age, Debi Mazar's elder daughter, Evelina Maria Corcos, is yet to decide on her future ambitions and career. However, as a daughter of a television sensation, she did feature on the screen beside her mom on 'Extra Virgin.'
You May Also Like: Facts about Nathan Schwandt; Jeffree Star's Boyfriend
Since Evelina's mom was a series regular in the cooking based show, which ran for four years, from 2011 to 2015, she also got the opportunity to make her first television appearance. Not just her mom, her professional chef father, Gabriele Corcos, also led the show with multiple roles as creator, host, and producer.
Evelina Is No Longer on Instagram
Unlike her parents, Evelina Corcos remains quite dormant when it comes to social media. Although that wasn't the case back in 2015-16, where she used to post pictures about her daily happenings on the feed, she might have deactivated her account to keep her personal information to herself.
Evelina used to be active on Instagram back in 2016.
Photo Source: Debi Mazar Instagram
The 17-year-old prefers keeping things to herself as she no longer uses any popular social media platforms. On the contrary, her parents post their day to day happenings on their profiles, including the time to wish their Evelina on her 14th birthday.
Soon Completing her High-School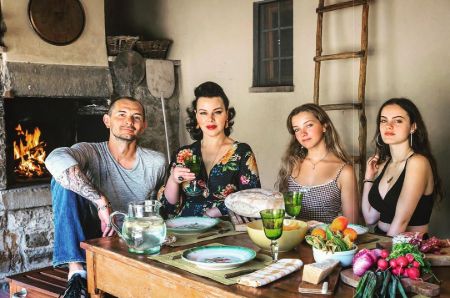 Evelina Corcos is currently studying at the high-school level.
Photo Source: Debi Mazar Instagram
Deba Mazar's eldest daughter, Evelina Corcos, is currently pursuing her academics at the high school level. Earlier in 2015, she and her father were spotted going for high-school tours to find the best fit for her goals and future ambitions. So, the 17-year-old is currently in her senior year and soon will be graduated.
Recommended: Debi Mazar of 'Entourage' Tested Positive for Coronavirus
Evelina's mom, Debi, is quite clear on her family plans, which notably prioritizes on educating her two daughters well. In an interview in 2019, she told, how she is trying to push her kids into college and high school more than anything. Well, the 'Younger' star isn't sure whether Evelina would want to be an actress like her or not. But, what she knows is that the whole family will relocate back to Italy once after everything is set in their lives.
For more updates and news about your favorite stars, stay connected with us at Glamour Fame.
-->