Everything You Need To Know About 'Alo Yoga' - The Best Yoga Wear & Accessories For Yoga And Working Out!
Published Mon Aug 26 2019 By Sea
"We want to inspire people into yoga by designing what we believe to be the most exceptional product to practice and it ends up changing their life for the best, as it did yours and as it did mine." — Danny Harris, Co-founder, Alo Yoga.
Athleisure is a billion-dollar market, and Alo Yoga has exploited every aspect of the business to become one of the best yoga clothing brands in the world. "Spreading mindful movement, inspiring wellness and creating community," is the goal that inspires the people at the company to make the most technologically advanced yoga clothing in the world.
The 'studio-to-street' athleisure brand, meaning the clothing is not just for the mat, boasts of outfitting the likes of Taylor Swift, Gigi Hadid, Kendall Jenner and Hailey Baldwin. They were seen sporting the yoga accessories in the streets. Aside from them, Georgina Rodriguez constantly dons the outfits as she is also a part of the team in Europe, and Alexis Ren just began performing yoga and sporting the clothes from the brand.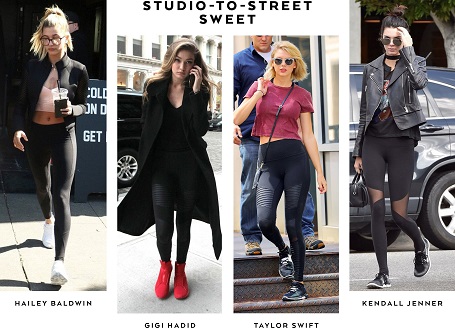 Alo Yoga is one of the few athleisure brands to stand to among many that aim for the success that they achieved. It's the marketing team that excelled at branding the distinctive leisurewear, and it has taken the yoga world by storm. Thus it inspired all that wish to be a modern yogi and any that need to improve like the founders went through. They introduce a yoga session video every week, available on their YouTube channel.
How It All Began
"Everything done at Alo Yoga is inspired by life in the fashion and healthy-lifestyle mecca Los Angeles, California, where they're based." — Alo Yoga
The co-founders of the company are Danny Harris and Marco deGeorge, who were best friends since they were 13 years old. The back surgery that Marco had when he was 11 pushed him towards yoga, which was incredible for his flexibility. That got Danny into yoga as well. Yoga was just an extra-curricular activity to the teenage buddies as they began with their first company together when they were 18 and 19.
Source: Alo Yoga
It was a basic T-shirt business which grew to a considerable size, but it was about 11 years back that they really began with the brand Alo. In 2007, they decided to mix up their talent of making clothes and products with their passion for yoga. Thus, Alo Yoga was founded, and they "have been working hard to make clothing that elevates every yogi's practice" ever since.
Watch: Introduction to Alo Yoga
The company has introduced yoga to millions of kids and changes lives. They believe if it changes lives, it is enough to change the world. There is at least a couple of yoga classes every day at the company headquarter in LA so that anyone can make at least one of it.
What Alo Yoga is Doing Right to Reach Its Level of Success
In such a competitive area of business, Alo Yoga has risen among the top dogs, alongside Lululemon, Beyond Yoga and Prana. The marketing team does a unique job of propelling the company to great heights.
The first thing is that Alo Yoga has a distinctive brand, which is everything in today's digital world. The 'studio-to-street' clothes embrace the multi-purpose role of today's athletic clothing. Their products are extra-stylish as they can be worn in any place one desires and not just for workout sessions.
Secondly, they use branded hashtags when their products on social media. This provides a link to the company anytime the keywords are used to search for them and helps the brand to build brand awareness and recognition. They include certain key phrases as part of their digital branding, like the word 'goddess'. One of their branded hashtags is "#beagoddess", which is consistent with the product name 'high waist goddess leggings'. This type of consistency is needed to maintain its branding across multiple channels and helps the customers be clear about what they are about to buy.
Source: Nathalie Moves, Instagram
The third thing is their relationship with other businesses and social influencers as well as yogis around the world. Alo Yoga's Shoppable Instagram Feed is displayed on its site, featuring plenty of content collected or regrammed from social media influencers and micro-influencers alike. It builds relationships with other business as well. It ran a 'Staycation Goddess Getaway' that included prizes from other businesses that complement Alo Yoga products and vice versa.
Source: Georgina Rodriguez, Instagram
Lastly, Alo Yoga uses real customer photos on their site for every product that they display in it. It also features a clear call-to-action in order to ask other customers to share their photos of Alo products. Every individual sporting their products introduce them in their social media posts.
The Alo Yoga Collections - Some of the Best
The brand sells a wide variety of shorts, leggings and accessories one can choose from through their website. The following are the best of its collections.
Goddess
It is one of the most favorite leggings among the patented yogis. It can be worn over the heel or scrunched at the ankle.
Moto
Source: Alo Yoga
Another popular choice among casual streetwalkers is the Moto collection. Great for wearing while going outdoors and even for work, the type is sported by Taylor Swift and Gigi Hadid among others.
Alosoft
Tops and bottom pieces are sold from this collection individually or in pair. It includes shorts and bras alongside traditional leggings and is an excellent fitness wear for indoors or as a stay at home clothing.
Ripped
The underdog of the collections from Alo Yoga is lightweight, luxe and smooth, and always studio ready. The most popular one is the Ripped Warrior Legging that helps one stretch their boundaries.
For Men
The leisurewear is not restricted for women in yoga. The company has yoga teachers from around the world, and many of them are men. The brand provides comfortable shorts, jackets and sweatshirts for men, including the common Capri pants.
That's not the last of the products from Alo Yoga though. Check out their website for their best contents.
The Convoluted 'Battle for the Heart and Soul of Yoga' With a Lawsuit
The billion-dollar company is not without any controversy, though. On January 9, 2018, it sued a body-positive yoga teacher and Instagram Influencer, Dana Falsetti, after she publicly criticized the brand. Falsetti was a part of a digital yoga company named Cody Inc. that Alo Yoga acquired in December 2017. The acquisition meant that all of Cody's content and contributors would become the property of the brand — which is not uncommon in the business world.
According to an article titled "When one Big Company picks on one Yoga Teacher" by Kino MacGregor, a yoga teacher and Instagram Influencer who renewed her interest in the lawsuit in March 2018, the acquisition is a David-Goliath situation, a "loving battle for the heart and soul of yoga." In the article, MacGregor writes that Falsetti resisted the acquisition as she wanted the freedom to pursue her own objectives rather than the company's, "in line with her core values of accessibility, inclusion, and purposeful business partnerships." Her first act was an Instagram story for which Cody sued her in the US District Court of Washington for breach of written contract, alleging that Falsetti "broadly announced through her social media accounts that Cody had been acquired by another entity" on December 6, 2017. The allegations include Falsetti claiming Alo to "perpetuate body shame, the brand is elitist," and that the brand lies. For defamation/trade libel for the same post, ALO LLC sued her a month later.
The case is highly convoluted, but the company has been backed by several of its ambassadors as they acknowledged the controversies that caused ripples throughout the yoga community.
Of course, Falsetti counter-sued Cody as well, but her claims were thrown out after judges reviewed her contract. MacGregor was also personally involved with Cody and Alo Yoga, which makes the case even more convoluted. She argues that "the balance of power between Alo Yoga, Cody, and the yoga teachers (like herself and Falsetti) is significantly skewed in favor of the corporation, as the financial difference is as the sky and earth.
The entire case is well-explained at Jezebel that MacGregor personally talked to on the phone while also requesting Alo to "do the right thing" and drop the charges against Falsetti.
My sincere only desire is that Alo drops the lawsuit against Dana. Ideally they'd let both me and Dana go so that we're not forced into an affiliation with their company. That's really it. Other than that, live and let live.
The lawsuits from Cody were settled out of court in April 2018 with no particular entity being the winner, and the Elephant Journal claims while "no one won, Yoga lost." While the debate still continues, Alo keeps expanding horizons.
-->