Everything You Need To Know About Maisie Williams' Boyfriend Reuben Selby!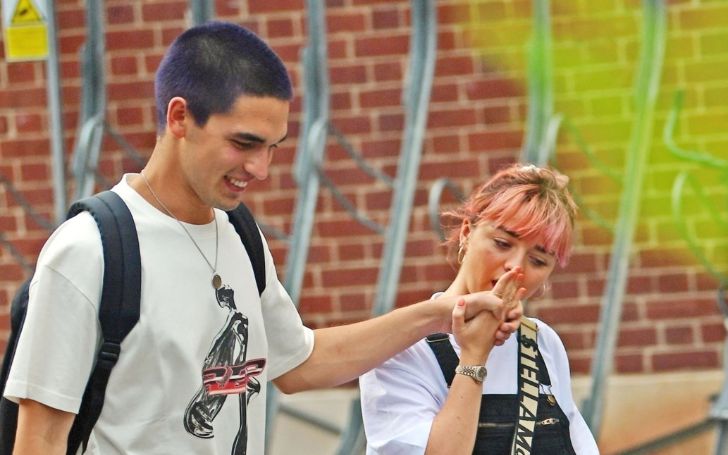 Reuben Selby is a 22-year-old English model, developer, and photographer.
We got to know about the Game of Thrones Star, Maisie Williams' SO Reuben Selby when the actress took a break from her filming schedule.
The couple was seen enjoying the sun in Seychelles ahead of the wedding of Maisie's close friend and her GoT co-star, Sophie Turner.
The couple seemed thoroughly enjoying the wedding and their break together in the archipelago of 115 islands in the Indian Ocean. The couple looks like a perfect match, but how well do you know about Maisie's SO?
Also See: Check Out Maisie Williams And Boyfriend Reuben Selby Debuting Matching Pink Hair
Here's everything you should know about the 22-year-old, Reuben Selby.
Reuben Selby is a 22-year-old English model, developer, and photographer.
Reuben seems like a well-established lad, apart from communications director for Maisie's app, Daisie, the 22-year-old is founder at Contact Agency and co-founder at Cortex Agency.
Selby's life is pretty much occupied in the Entertainment business as his Contact Agency is a modeling agency while Cortex Agency is platform and online magazines for creatives.
The 22-year-old entrepreneur boasts an impressive LinkedIn profile where Reuben states he's available on a freelance basis for creative direction, brand consultancy, and casting.
Rueben's whole family is successful and doing pretty good in their respective fields, as his older brothers Nathanial Selby, Luke Selby and Theo Selby are celebrity chefs.
Also Read: Game Of Thrones Fans Reckon Sophie Turner Live Streamed Her Weed Vape
Meanwhile, the couple can't seem to get enough of their love, and both continuously share pictures of them on Instagram.
Maisie and Reuben were first seen together back in February when they were clicked holding hands in NYC after making plenty of social media appearances together before that.
Previously, Williams was romantically linked to the co-founder of 100 Tons of Plastic, Ollie Jackson.
Recommended: Sophie Turner Hilariously Mocks Her BFF Maisie Williams' First Ever Sex Scene In a Wine Filled Video
Maisie and Ollie did not announce their split; however, fans assumed Williams had moved on when she was spotted with Reuben earlier this year.
-->