Game Of Thrones Fans Reckon Sophie Turner Live Streamed Her Weed Vape
Published Thu May 23 2019 By Jessica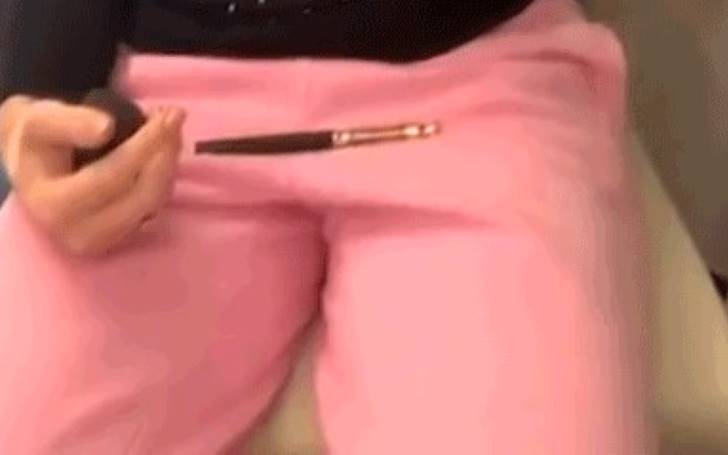 OMG! Game of Thrones star Sophie Turner accidentally live streamed a weed vape.
Fans of Game of Thrones actress Sophie Turner are convinced that the actress unknowingly filmed her dab pen (a weed vape pen) on Instagram.
The 23 years old actress recently took to social media for a question and answer session with her thirteen million followers on the platform.
Turner is seated in front of a hairdresser mirror as she starts filming with her iPhone whilst her stylist does her hair and makeover.
Related: Sophie Turner Hilariously Mocks Her BFF Maisie Williams' First Ever Sex Scene In a Wine Filled Video
A few seconds into filming, the British actress has a moment of realization as she panics and immediately throws away what appeared to look like a vape pen on her lap.
Game Of Thrones star Sophie Turner live Streams her weed vape.

SOURCE: Sophie Turner Instagram
The blonde star known for playing Sansa Stark in the HBO hit series then burst into laughter with a little awkwardness along with her stylist.
See the video below:
Meanwhile, after witnessing such act from Turner, the fans seemed convinced that it was definitely a weed vape. As a matter of fact, some of the fans even believed that Sophie was also high in the meantime when she filmed herself.
One of the fans commented: "sophie turner throwing her dab pen on the ground while wearing louis vuitton is what nicolas ghesquiere intended for the brand image to be"
Whilst another added: "Sophie Turner tossing her dab pen while getting her glam done, wearing Louis Vuitton by Nicolas Ghesquière"
Likewise, a third one said: "I would lick the scum off the bottom of Sophie Turner's shoe after she walked through a swamp for one hit of her dab pen"
"i can't stop watching that video of sophie turner realizing her dab pen was onscreen during an ig live and i just love her so much lmao" said another fan.
The actress who married long term fiance Joe Jonas earlier this month in Las Vegas previously opened up with honestly in an interview last year that she indeed smokes weed.
According to the interview, Sophie smoked weed a lot with her Game of Thrones co-star Maisie Williams who is set to become a judge this year on Rupaul's Drag Race UK, whenever they stayed together after they were done with filming the series.
In her words, she said: "We're kind of like loners on Game of Thrones, just because the past few seasons Maisie and I have sleepovers every night when we're shooting. Or every night whenever both of us are in town. 'We just used to sit there and eat and watch stupid videos and smoke weed,"
Adding: "We'd get high and then we'd sit in the bath together and we'd rub makeup brushes on our faces. It's fun. I don't know if my publicist will kill me for saying this.' Sophie was also caught in the vaping act on set of GoT during the final season eight."
Just recently, after HBO aired the last episode of the GOT's final season, Turner shared a picture on Instagram from the set where the actress is seen puffing a vape pen as she sits alongside Williams and Isaac Hempstead Wright.
-->