Facts on Stargate star Mili Avital; Charles Randolph Wife since 2004
Published Fri Dec 13 2019 By Travis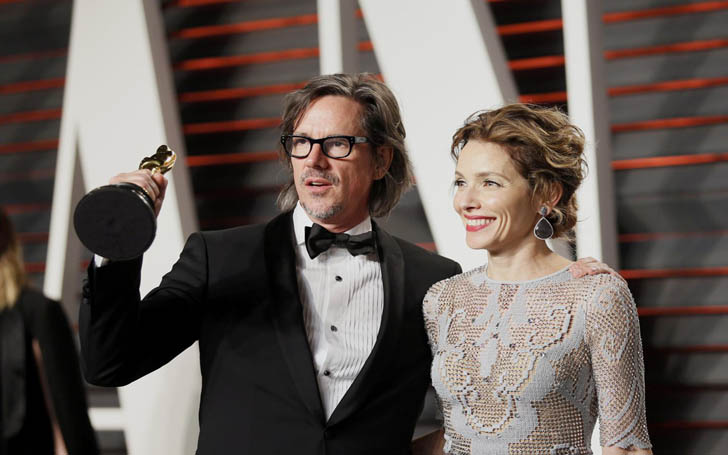 Born on 30 March 1972 in Jerusalem, Israel, Mili Avital grew up in Israel and for the better part of her small and teenage years. The actress made her career in Israeli movies first and was also awarded for her role in the film 'Over the Ocean.'
After initially finding success in Israel, Mili moved to New York, and she was soon seen for her acting prowess and got a role in the movie 'Stargate' by director Roland Emmerich. The film was the start of her career in Hollywood, and soon she was starring in various films and TV shows with her career now spanning more than three decades.
Mili Avital is a former actress who is married to writer Charles Randolph.
Source: Instagram
The transition to Hollywood was not as seamless as it may seem as the actress found it hard to shed her image from her Hollywood debut of 'Stargate.' The actress was able to find her groove, and she was also able to find romance in her life, which resulted in a marriage to her husband.
Mili Avital Romance and Marriage to Writer Charles Randolph
Mili Avital and Charles Randolph are married for over 15 years and are parents of their two kids.
Source: Instagram
Charles Randolph is a writer who started his career in Hollywood with the movie 'The Life of David Gale.' Though the writer was not able to get a lot of films made, he was able to make his career as one of the most sought after writers currently working in Hollywood.
Charles also won an Oscar for his contribution to the movie 'The Big Short,' and he is also the writer for the upcoming Fox News sexual harassment movie 'Bombshell.' But before his career took off, the writer met his future wife in Hollywood, Mili Avital.
Also Read: Who is Lucy Kay McBath husband? Mother of Two Kid
The couple met after the turn of the century, and they became close to one another, and soon, they decided to get married in 2004. The lovebirds walked down the aisle and exchanged their vows in 2004, and ever since then, they've been husband and wife, living together in New York.
How Many Children do Mili Avital and Charles Randolph Share?
The two kids of Mili Avital and husband Charles Randolph.
Source: Instagram
Mili and Charles got married in 2004, and the couple started living together as husband and wife in New York while also working on their respective careers. But soon, the newly-wed couple decided to start their family and their first child, a son, Benjamin Randolph, and they also welcomed their daughter Fanny Randolph a few years after the birth of their son.
The couple is currently living in New York with the two children and also their adorable dog. Mili is hesitant about showing her children's faces, but she does post from time to time about the two kids' shenanigans.
Mili Avital was Raped When She was Teenager
In 2018 Mili Avital opened up about her rape when she was a teenager.
Source: Instagram
Mili Avital was living in Israel when she was raped by an unspecified man. The little girl was only a teenager when the incident happened, and she was not comfortable about sharing what happened to her, and for the better part of 30 years, the mother of two held the horrifying event in her heart.
But in the height of the #MeToo movement, she could not stop herself from telling her experience, and on 11 October 2018, Mili wrote a piece on Haaretz about how she was raped and why it took her more than 30 years to talk about the incident.
Also Read: Who is Debbie Mucarsel-Powell husband, Robert Powell?
Mili wrote she talked to the person the rape hotline after the incident happened, and it wasn't to report about her rape. Instead, she wanted to tell the person on the other end of the line; she was going to kill herself. The wife of Charles Randolph talked about how the person on the other end of the line helped her put the knife down and instead talked her into coming to her house and helped her through the horrifying incident.
Before you leave, make sure to visit Glamour Fame to be in the know of all the happenings in the world of show business.
-->