Finn Wolfhard Girlfriend - Is the 'Stranger Things' Actor Dating Someone?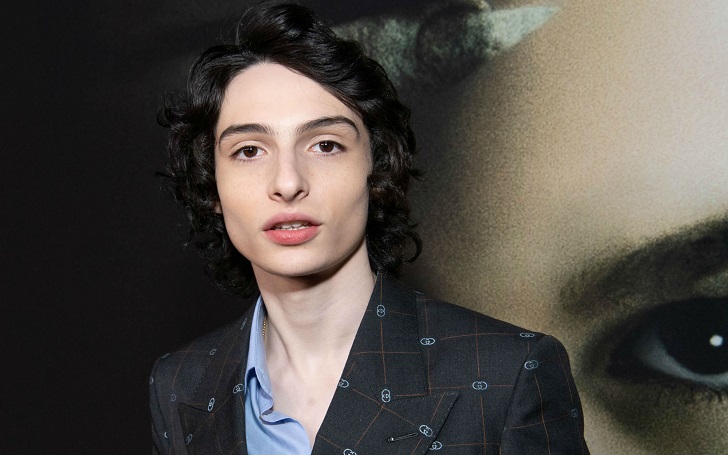 Finn Wolfhard is now no" stranger" (Yep, pun intended!) in the entertainment world. Making the debut in the industry from 'Aftermath,' his career reached a new height after starring as 'Mike Wheeler' in the Netflix series 'Stranger Things.'
Wolfhard made the life-changing decision to be an actor after watching the 'Spider-Man.' From a regular college boy to one of the most popular Canadian teen stars, he surely worked real hard to pursue his dreams. The 18-year-old played in notable movies and series like 'IT,' 'Carmen Sandiego,' 'The Turning,' and so on.
As talented as Finn Wolfhard is, his dating life isn't that bright, Sad!, we know, right? However, his relationship with the co-star, Millie Bobby Brown, has been the topic of gossip time and again. Is he really dating Brown? Stick with us to know about his dating life and many more.
Finn Wolfhard's Girlfriend; Is Finn and Millie Bobby Brown More Than Friends?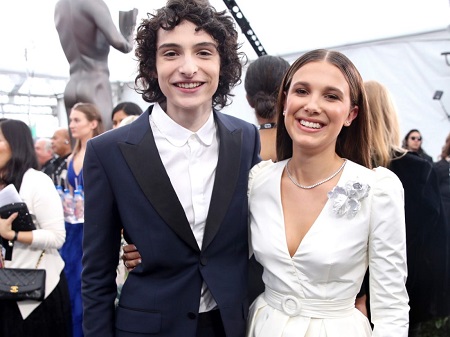 Finn Wolfhard and Millie Bobby Brown play on-screen lovers on the show Stranger Things.
Photo Source: Insider
Finn Wolfhard, who is ruling the millions of hearts, is not in a dating scene currently. Well, it is no surprise to the fans as he has always been busy with his acting career and studies, with no time for romance and all.
According to The Sun, Wolfhard is currently in a relationship with fellow actress Elsie Richter. Elsie is the daughter of English actress Dolly Wells and Mischa Richter. Her mom Dolly is best known for her work in Doll & Em (2013) and Di Bibl (2019).
You May Also Like: Some Interesting Details About Joe Burrow's Girlfriend Olivia Holzmacher and Their Relationship
Ever since Stranger Things came out on Netflix, fans couldn't help but ship the lead actors, Finn and Millie Bobby Brown. Wolfhard and Brown, who play on-screen lovers Mike and Eleven gained massive followings after their performance on the series.
Noah Schnapp tagged Finn and Millie to this!
Photo Source: Instagram User
Not only fans but also their co-star, Noah Schnapp, loved the fantastic chemistry between the on-screen lovers and even wanted them to "hook up." Noah, who portrays the role 'Will' on the Netflix sci-fi series, tagged Finn and Millie on the meme, which left fans wondering if they are more than friends.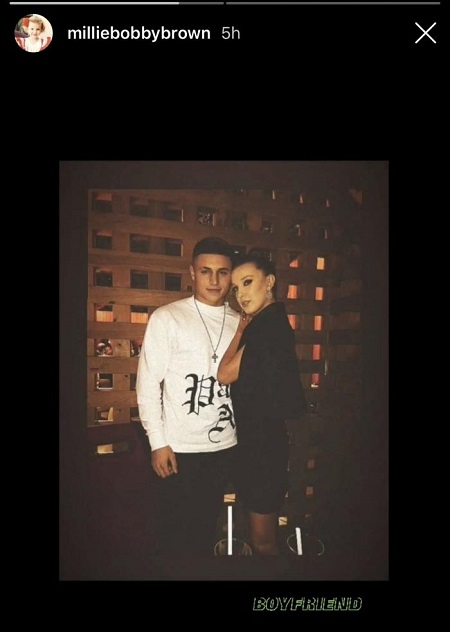 Millie Bobby Brown often shares her picture of her boyfriend, Joseph Robinson, on her social media.
Source: Somag News
However, to our dismay, Finn and Millie do not seem to be dating any time soon as Brown is head over heel for the English rugby player, Joseph Robinson. The British actress who has her own beauty brand named 'Florence by Mills' confirmed her relationship with Joseph in January 2020 via Robinson's Snapchat.
A little Out of Context, But We Thought you Should Know: Finn Wolfhard Dropped Out From His Band, Calpurnia For His Acting Career.
Apart from acting, Canadian star Finn Wolfhard was also the lead guitarist, singer as well as a songwriter for the former band, 'Calpurnia.' The band, which also featured guitarist and singer Ayla Tesler-Mabe, bassist Jack Anderson, and drummer Malcolm Craig dissolved in November 2019 after running for nearly three years.
Finn Wolfhard was doing great as a musician as well, but he let it slip away for his acting career.
Photo Source: Calpurnia Instagram
The 'It' star revealed the reason for the split from his band was a clash with his acting career and going "Commercial," or should we say, the band deviated from its original genre. The 17-year-old even stated at a point he was unhappy while playing in the band. The Canadian indie rockers announced their separation through an Instagram post on November 8, 2019.
Also Read: Who is Noah Schnapp Girlfriend? Is 'Stranger Things' Star Dating Someone?
Meanwhile, Finn and his former Calpurnia drummer Craig recently dropped the debut EP Soda & Pie on March 13, 2020, as part of The Aubreys. Soda & Pie is a mix of guitar-driven indie rock, which is about friendship and growing up in this weird time we are living in.
Don't forget to head to our Entertainment section for more exciting news and gossips. And stay updated with Glamour Fame to keep track of the entertainment world.
-->