Five Duggar Women Currently Pregnant Pose For A Family Photo Showing Off Their Growing Baby Bumps
Published Thu Aug 22 2019 By Alice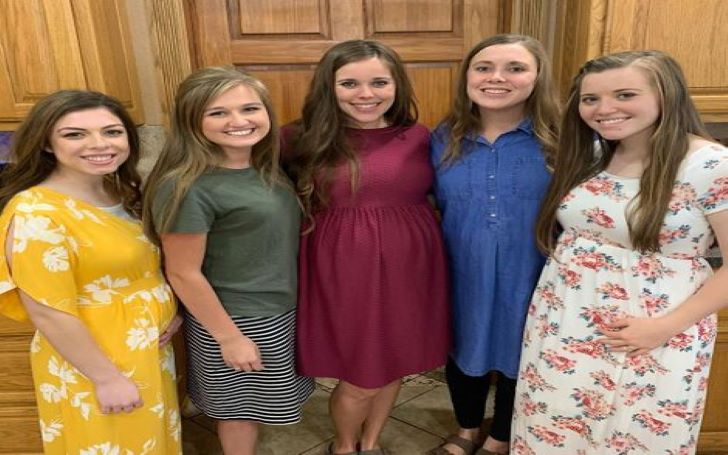 Five baby Duggars on board...
Michelle Duggar's daughters-in-law are catching up with her in terms of children. The Duggar Family are yet to welcome the new member in their family.
The quintet of baby-bump-flaunting ladies was all together on Wednesday and made sure to share the most iconic pregnancy picture on Instagram.
Duggar's family cousin, Amy Duggar shared a snap with her four cousins in-laws, Lauren Swanson, Abbie Burnett, Anna Duggar, and Kendra Caldwell as they shared the smiles.
Amy who is married to husband Dillon King is expecting her first child this October. Moreover, she revealed the gender of the child to be a boy.
Also, Duggar's family another daughter in law, Lauren is expecting her first baby together with her husband, Josiah Duggar. However, she is yet to reveal her due date, but it's speculated to be in October or November.
Furthermore, Anna is also pregnant with her sixth child with husband Josh Duggar, adding to nine-year-old Mackynzie, seven-year-old Michael, five-year-old Marcus, three-year-old Meredith, and one-year-old Mason.
John Duggar's wife, Abbie is expecting her first child as a daughter. Likewise, the duo shared the news through a sweet video on Instagram.
Watch: John David and Abbie Duggar Reveal The Sex Of Their First Child: 'We Couldn't Be More Excited'
Similarly, Kendra and her partner, Joseph Duggar are also yet to welcome their second child. They shared the news in June that they were giving the sister to their 14 months son, Garrett David.
Meanwhile, Counting On's Duggar family has also got another reason to celebrate as Duggars' daughter, Jessa Duggar recently welcomed her first baby as a daughter on May 26, 2019.
Though her delivery was not usual as Jessa gave birth to her daughter, Ivy Jane on the couch, the baby girl was born healthy weighing 7 pounds and 14 ounces.
-->