Five Facts You Might Not Know About Muhlaysia Booker
Published Tue May 21 2019 By Andrew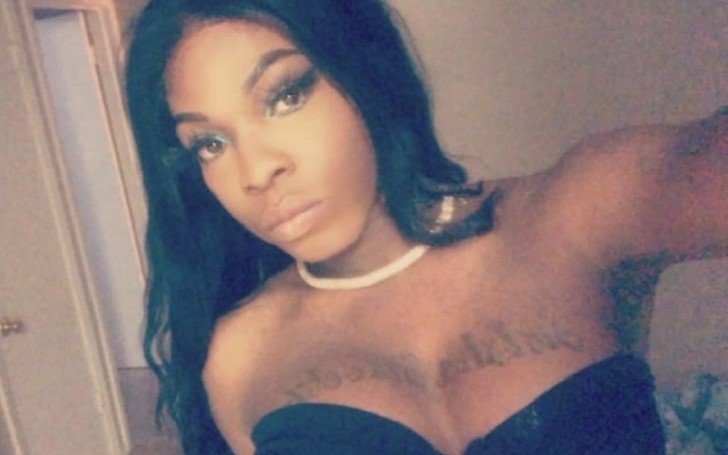 Malaysia Booker was a transgender woman who fell prey to one of the most brutal beating attacks in Dallas, Texas in April 2019 that went viral. To add up, she was later murdered in the same city.
Her murder suspect has not been identified yet and neither is the motive clear. However, speculations maintain that it was a hate crime against her sexuality. The video shot, while she was being beaten, went viral but later was flagged for its violent content. She was shot to death only months after the attack.
5. Malaysia Booker's dead body was found lying face down in a public street
Dallas police was the one to confirm the death of Muhlaysia Booker.

Muhalaysia Booker shot dead.
SOURCE: Primal Information
The police statement for the homicide read,
"The victim in this offense has been identified as Muhlaysia Booker, Black Transgender Female,"
Dallas police responded to a shooting call in the 7200 blocks of Valley Glen Drive back on Saturday, May 18, 2019, at approximately 6:44 a.m. Upon arriving on the crime scene the officers came across a Black female, lying face down in a public street. Dallas Fire-Rescue responded and pronounced the victim deceased from homicidal violence.
You may also like: Game of Thrones: Here Are The Reasons The Final Season Is The Most Disappointing Storytelling In The Entire Series!
It was only when the investigation took a full swing, "it was discovered that the homicide victim, Muhlaysia Booker, was also the victim of a brutal attack that occurred on April 12, 2019, at about 11:23 p.m.," maintained the police.
4. The attack that Malaysia Booker was subjected to, earlier went viral on social media
The earlier beating that Booker suffered from was filmed on a cell phone video and was uploaded to Youtube. Moreover, the attack went viral on the video streaming platform and also on social media platforms. Edward Thomas, 29, faced the official police allegation later but wasn't arrested.
Don't miss: James Charles Destroys Tati Westbrook And Jeffree Star In A New Video!
In the violent video, a suspect can be seen assaulting and jumping on top of Booker before a variety of others take on to assault the victim. Right after the attack subsided, she was hospitalized with serious injuries.
Police wrote in a report associated with the viral attack,
"While driving in the parking lot the victim was involved in a minor traffic accident. During a verbal altercation regarding the accident, a male suspect began to physically assault the victim before several other suspects joined in the assault. The victim sustained serious bodily injuries and was transported to UT Southwestern by witnesses at the scene."
On April 14, 2019, at approximately 9:30 p.m., wrote police, Dallas police detectives "arrested Edward Thomas a, B/M/29, for his role in the aggravated assault, which is being flagged as a hate crime."
Also read: Arnold Schwarzenegger Struck By Flying Kick At Sports Event
Police addressed the issue at the time expressing, "On April 12, 2019 at about 11:23 p.m., officers responded to an injured person call at a Dallas area hospital. Upon arrival, officers spoke with the victim, a Transgender female, who had been assaulted by known suspects. The victim stated she was assaulted after a being involved in a minor traffic accident at the Royal Crest Apartments at 3558 Wilhurt Avenue in Dallas. The victim stated that the suspects used homophobic slurs during the assault."
3. Booker worked as a professional performer at a cabaret
According to the Facebook page of Muhlaysia Booker states that she worked as an "Entertainer at Dallas Cabaret." Her facebook page full of mingling photos with friends also provides the information that she studied at LSU, went to South Oak Cliff High School, and lived in Dallas, Texas.
Booker was a professional Cabaret.
SOURCE: CBS Dfw
The deceased sure was famous for her blunt comments on the social media platform "Not A Drug Dealer But I'm Definitely One Of The Dopest B*tches ! 💕😜." Her comments are comprised of too much sexual content to be repeated over here.
2. Booker expressed her concern for the safety stating 'Please Be Safe Out There' while a Friend Called Her a 'Social Butterfly'
Booker went on to her Facebook profile on May 5 to write
"Please Be Safe Out Here Y'all Them Summer Deaths Be The Worst! Attend Less Block Parties Clubs And Other Social Events It's Sad Our Community Don't Know How To Enjoy Our Self Without A Death At The End Of The Event! Also, Be Cautious On Driving Public Transportation Lyft And Uber Car Wrecks And Accidents Have Been Also A Cause Of Numerous Deaths!!"
A friend responded, "I'm glad to see you feeling better lay and you still a social butterfly still out here worried about others. See that's why I love you. You fixing to glow up even more ❤️."
Breaking her silence about the brutal and gruesome April attack, Booker wrote, "I LOVE YALL SOOO MUCH 😩💕 THANK YOU SO MUCH ITS A BLESSING BEING LUCKY ENOUGH TO WITNESS THE LOVE AND RESPECT IM GETTING AND THANK YOU TO ALL MY GENUINE FRIENDS THAT BEEN WITH ME THROUGH THIS JOURNEY AND KNOWING THE REAL ME KNOWING NOBODY DESERVES THAT ❤️ I APPRECIATE IT SO MUCH BUT JUST WAIT ON IT 😉"
1. The Dallas Mayor Maintained that he was 'Deeply Saddened' by Booker's Death
The mayor of Dallas, Mike Rawlings posted on Twitter pouring out his emotion among fans about Booker's death. As Dallas is shocked with such a gruesome death, probably based on sexual orientation Rawling's words came as an ointment.
Previously during the attack against her, the mayor spoke out stating, "I am extremely angry about what appears to be mob violence against this woman." adding his efforts to subside such violence against sexual minorities.
-->