Former Dancing With The Stars Judge, Len Goodman Died At the Age 78
Len Goodman, the beloved ballroom champion and longtime judge on Dancing with the Stars, has passed away at the age of 78.
Len Goodman was a powerful name in the world of dance. He was a British dancer and choreographer. Born on April 25, 1944, in London, England, he gained widespread recognition as a judge on the popular dance competition show, "Strictly Come Dancing." With his expertise and sharp critiques, Goodman became known for his role as the head judge, providing insightful feedback to the contestants.
Len's passion for dance and his wealth of knowledge in ballroom and Latin dance styles have made him a respected figure in the dance industry. Goodman's charismatic presence and contributions to the world of dance have solidified his status as a beloved and influential personality.
Len Goodman's Married Life With Wife, Sue Barret
Len Goodman, the cherished English star, leaves behind his wife, Sue Barret. Len and Sue, who have a notable 21-year age gap, met in the early 2000s and surprised their loved ones by getting married during a Sunday lunch with close family and friends.
The Dancing With the Stars Judge humorously explained that he wanted to keep the affair low-key to avoid shocking his 96-year-old mother.
Reflecting on their marriage, Len revealed that he is willing to do anything to make Sue happy, even jokingly mentioning dancing the cha-cha naked. Sue prefers to stay out of the limelight, and Len often refers to her as "my wonderful Sue.
One Son With Lesley
Len Goodman had a long-term relationship with Lesley, which played a significant role in his personal life. Although not many details are available about their romance, it is known that their relationship resulted in the birth of Len's only child, James Goodman.
Len and Lesley's relationship brought them the joy of parenthood, with James growing up to become a dancer like his father. As Len's career in dance and television took off, Lesley remained a supportive presence behind the scenes.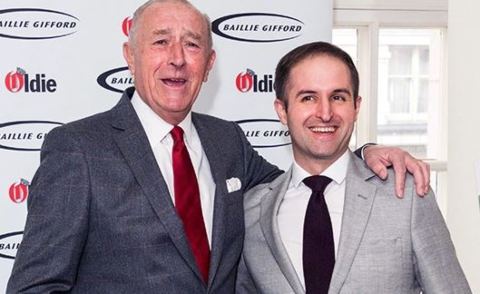 However, as time went on, Len's relationship with Lesley came to an end, and they eventually went their separate ways. The reasons behind their split and the subsequent details of their married life remain private, as Len has not publicly shared many details about that period of his life.
Despite the end of their romantic relationship, Len and Lesley continued to co-parent their son, James, ensuring his well-being and supporting his own dance aspirations. James has followed in his father's footsteps, carving out his own successful career as a dancer.
While Len's marriage to Lesley may have ended, the impact of their relationship remains through their shared son and the love and support they provided him throughout his life.
Divorced With First Wife
Len Goodman's relationship with Cherry Kingston holds significance in his personal history. The two were married for a period of time, although specific details about their relationship are not widely available.
However, it is known that they were dance partners and shared a deep connection through their mutual passion for dance. Over time, their relationship faced challenges, leading to their eventual divorce.
Despite the end of their marriage, Len and Cherry likely influenced each other's lives and careers during their time together, leaving an indelible mark on their respective journeys in the world of dance.
Len Goodman: Dancer By the Birth
Len Goodman is widely recognized for his illustrious career as a professional dancer, choreographer, and television personality. He began his dancing journey at a young age and went on to achieve remarkable success in the dance industry.
Goodman's expertise in ballroom and Latin dance styles propelled him to become a renowned dance teacher and choreographer. He worked with numerous acclaimed dance companies, showcasing his exceptional skills and artistic flair.
His contributions to the world of dance extended beyond performing and choreography. Goodman became a prominent figure in the television industry as one of the original judges on the immensely popular show Strictly Come Dancing in the United Kingdom.
Furthermore, Goodman gained international recognition as a judge on the American spin-off of Strictly Come Dancing, Dancing with the Stars. His wealth of knowledge, sharp wit, and British charm endeared him to the American audience, solidifying his status as a prominent television personality.
Len Goodman's career exemplifies his dedication, passion, and immense talent in the world of dance, leaving an indelible mark on the industry and captivating audiences worldwide.
Len Goodman Dies At 78
The former Dancing With the Stars Judge, Len Goodman passed away on April 22, 2023. He was 78 years old. Goodman had been battling bone cancer and spent his final days at a hospice in Royal Tunbridge Wells.
His death has left his family, friends, and fans mourning the loss of a beloved husband, father, and grandfather. Fellow Strictly judge Bruno Tonioli expressed his heartbreak and paid tribute to their long partnership.
While Strictly presenter Claudia Winkleman described Goodman as a "class act" full of twinkle, warmth, and wit. Even Queen Camilla expressed her sadness at his passing. Len Goodman's legacy as a ballroom legend and his contributions to the world of dance will be remembered and cherished.
In August 2020, the ballroom dancer had removed a skin cancer, also known as melanoma, from his face.
For More Content Stick With Glamour Fame
-->